Kaante (2002) is a highly memorable film today for its unconventional yet commercial treatment, performances, ensemble star cast, unique yellow-green colour tone, music; twist in the climax and of course, the adult content. As this celebrated film completed 20 years on December 20, director-producer Sanjay Gupta opened up exclusively to Bollywood Hungama in detail about the film and a lot more.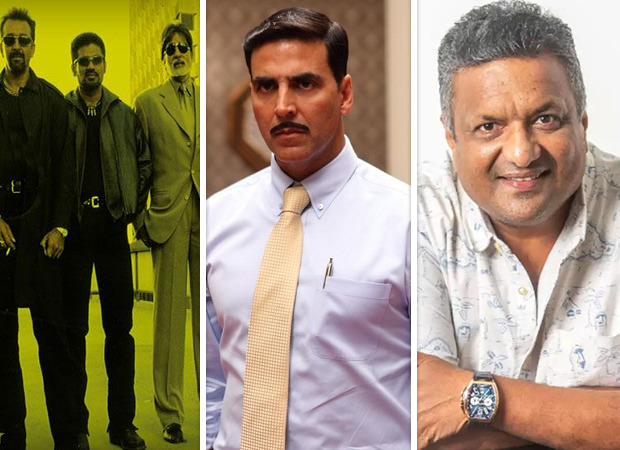 20 Years of Kaante EXCLUSIVE: "The film was going to be called Dagdi Chawl and it had nothing to do with Reservoir Dogs. It was inspired by the incident on which Special 26 was based" – Sanjay Gupta
How did you get the idea to make Kaante?
Kaante was born out of a lot of frustration. From 1996 to 2000, I had not signed any new film. Two of my films were stuck for the longest time – Khauff (2000) and Jung (2000). We all left Jung due to the differences with the producer. I didn't know what to do next. Then, I chanced upon this idea about six gangsters. It was going to be called Dagdi Chawl and it had nothing to do with Reservoir Dogs (1992). It was inspired by the incident on which Special 26 (2013) was based. It was based on the Tribhovandas Bhimji Zaveri robbery and it remains unsolved till date. My idea was – the six men who committed the robbery return to their base in Dagdi Chawl. One of them is a cop. Externally, they pulled off one of the greatest heists of all time and but internally, one small thing f**ks them up. This is how the idea was born. Nobody was willing to back me. I went to meet Sanjay Dutt. He was shooting in Filmistaan. I merely requested him to present the film. I wanted to make the film in Rs. 1 or 1.5 crore with newcomers. He heard the script and said, 'I want to do Ajju's role'. I told him 'Fir toh mujhe baaki actors bhi tere stature ke lene padenge. I can't have one star and 5 newcomers. It doesn't balance out'. To which he said, 'I don't care'! I then argued, 'I don't have a producer'. He said, 'We'll produce it together'. From here on, the film just kept on growing in terms of scale and star cast.
Do you mean to say no producer was willing to back Kaante?
Yes. I had gone to every big producer and each one of them turned it down after the narration. They even told me, 'Sanjay ji, don't make this film'. That was the era when Shah Rukh Khan's love stories were ruling. They reasoned, 'Sab heroes 40 plus hai, romance nahin hai, humour nahin hai, music nahin hai. Dry picture hai'. I could not explain to them that all these aspects will become the highlight of the film. I wanted to tell them 'You don't need Johny Lever to do funny scenes'. How do I explain to them that my lead heroes can also do comedy?
Similarly, during Shootout At Lokhandwala (2007), I was told that 'Poora second half toh climax hai'. To make them understand, I used to argue, 'Did you like Die Hard (1988)?'. They'd reply, 'Woh toh kya picture hai yaar'! I would then reply 'By your logic, Die Hard's climax starts at the 13th minute when the terrorists enter the building. Wahan se toh climax chalu ho gaya na? But that's how the journey of the film was. Similarly, mere picture ki kahani aisi hai.'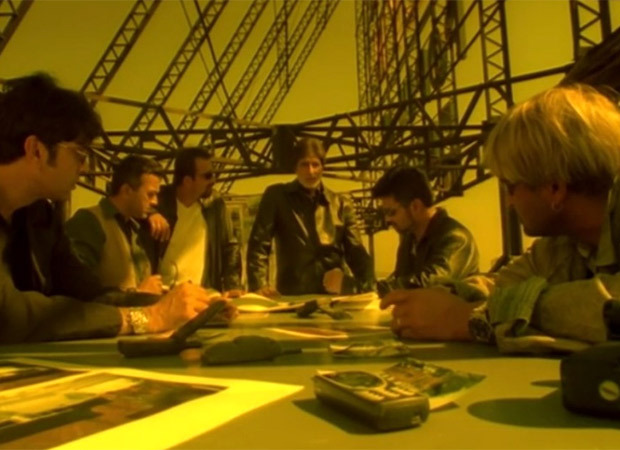 How did the setting of Kaante change from Dagdi Chawl to Los Angeles?
Once Sanju came on board, we had a rewrite. The film became bigger. We thought, 'What if we set the film abroad?'. It'll have a better look and feel. I had this fascination of shooting with a Hollywood crew. Kaante is the first and probably the one mainstream Hindi movie which had a crew from Hollywood. Everybody in the unit was from the West. I just went from India with the six actors and one AD as we wanted someone who can show the Hindi dialogues to the actors. The post-production and music were also done abroad.
Do you mean to say that Kaante wasn't inspired by Reservoir Dogs?
No, it wasn't. I knew about the film. I had a copy of it. I tried watching it but I couldn't as I found it very boring. Back in the 90s, I only enjoyed action films of Bruce Willis, Arnold Schwarzenegger, Sylvester Stallone etc. Lekin Reservoir Dogs mein toh sab sirf baatein hi kar rahe the!
How did you get the idea of using the unique green-yellow colour tone? No other Hindi film had opted for this kind of colour ever before…
I have grown up watching films by Tony Scott. If you see his films like Top Gun (1986), Beverly Hills Cop II (1987), Revenge (1990), The Last Boy Scout (1991) etc., there was always a certain tonality. Michael Bay was an offshoot of Tony Scott who also used a certain tone in The Rock (1996), Bad Boys (1995) etc. Around the same time came another nice film called Swordfish (2001). Hence, I was clear that I also wanted something similar. In those days, we didn't have DI in India. We had to shoot it in film. While filming in LA, I visited the Panavision head office. We made that filter and tested it there. I remember the Whites called it the 'curry filter' because Kaante was an Indian film!
If you see Kaante, the whole film has been shot in Los Angeles and yet, there's not a single shot of Beverly Hills. This is because I didn't want to show the flashy areas of LA. I wanted to show Downtown LA and places like San Pedro Street. These were the locations where Swordfish, The Usual Suspects (1995), Se7en (1995) etc were shot. Se7en was my inspiration for the look as well.
As per IMDb trivia, Akshaye Khanna was offered Lucky Ali's role…
It is true.
The trivia page also states that Sunny Deol was offered Kumar Gaurav's role…
No, that's not true. Let me put the record straight. All the actors played the roles that were offered to them, except for the one played by Lucky Ali. I met Akshaye Khanna and had given him three different narrations. He was not very convinced. According to him, his character Mac was the villain of the film. I reasoned that's not the case and remarked, 'In sab haramiyon mein yeh ek hi seedha aadmi hai'. It's how you look at it. But since he was not convinced, we couldn't sign him.
Then I met Lucky Ali for the music along with Sanju in the latter's vanity van. We were talking to him when I excused myself and went out. I messaged Sanju while I was standing out, 'What about Lucky Ali playing the cop?'. He also liked the idea. We offered the role to Lucky and he immediately accepted it. Similarly, Amit ji was also sold at the first narration. This was before 'Kaun Banega Crorepati' and Mohabbatein (2000).
Kaante marked the acting debut of Mahesh Manjrekar. How did you get the idea of signing him?
I, Sanju and Mahesh used to be together day and night. This was a time when Vaastav (1999) had not even released. Mahesh would animatedly narrate scenes from his film. I asked him one day whether he has given thought to be an actor. He said that he always wanted to be one and that he ended up becoming a director. That's when I offered him a role in Kaante. He was immediately ready to do the part.
The IMDb trivia also mentions that Isha Koppikar and Rohit Roy, who featured in 'Ishq Samundar', had a lengthier role and that it was edited out…
Not at all. Isha just did the item song in the film. That's it. I loved her in the song 'Khallas' in Company (2002). I asked her if she'd like to act in 'Ishq Samundar'. She agreed. As for Rohit Roy, he was the emcee for an event held to promote Kaante. He expressed the desire to be in the film. He said, 'For the sake of posterity, Kaante mein mera ek shot hona chahiye'! So I decided to incorporate him in the 'Ishq Samundar'.
Since you shot in the USA in September 2011, when the 9/11 attacks took place, did you face any problems?
Yes, we did. I was on the way to shoot when the first plane hit. I was on location when the second plane hit. Mr Bachchan had gone to attend the Morocco Film Festival to receive the Lifetime Achievement Award. From there, he went to Turkey. He took a flight to Los Angeles via the United Kingdom. When the explosions took place, his flight was mid-air. The flight was turned around because LAX (Los Angeles International Airport) had shut down for 4 days. It resulted in a delay in our shoot. He was held up in London, waiting for the flights to open. He took the first flight that flew from London to Los Angeles.
Kaante had so many profanities and yet, it was passed by the Censors. How did that happen?
We were clear that we could not afford a censor visual cut. The negative of Kaante was in LA. If the Censor had given cuts here, it would have been a problem because we didn't have the footage. We were clear that censor mein picture poori ki poori pass honi chahiye. Woh humne karayi.
How?
We pulled the right strings. However, we got audio cuts. In five places, the word 'c*****a' had been used. That was turned into 'bhootiya' and other words. The first dialogue of the film was '12 May 2000…iss din hum 6 c*****e pehli baar mile the'. We replaced the abusive word with 'punter'. It was easy to do it as it was a voiceover and hence, we had no lip sync issues.
One of the most fascinating trivia is that Quentin Tarantino saw Kaante and he praised it…
Due to his love for cinema, he's one of the few directors who doesn't shoot in digital. He has brought a theatre named New Beverly Cinema in Los Angeles where he plays movies on print. He has kept a print of Kaante in this theatre. Every 3 to 6 months, Kaante releases in this theatre. Just three months ago, Kaante had re-released there.
Have you ever met Quentin Tarantino?
No. I have never met or interacted with him.
Quentin Tarantino's incendiary debut paired with the Bollywood epic it inspired! RESERVOIR DOGS & KAANTE screen in 35mm this Tuesday, August 16th. Tickets: https://t.co/kLQhJupHj7 pic.twitter.com/LVsEyHSLqf

— New Beverly Cinema (@newbeverly) August 14, 2022
The articles on the internet claim that Kaante was one of the most expensive films ever made…
No. That's a fallacy. It was costly but not ridiculously expensive.
What was the budget of Kaante?
It was Rs. 24 crores. All three partners had to put Rs. 8 crores each. Pritish Nandy invested Rs. 8 crores and even Raju Patel pitched in Rs. 8 crores. The Rs. 8 crores that I put was collected from all-India pre-sales of distribution. So, even before the film's shooting started, I had made money!
Did Kaante emerge victorious during the awards season?
It won a lot of technical awards. I don't recollect much as I was in the hospital. A week after the release of Kaante, I met with a terrible car accident and was admitted to Lilavati Hospital. I was there for nearly 10-11 weeks. Hence, I couldn't enjoy the success of the film. As for awards, the only ceremony I attended was the Stardust Award. Kaante won the Award for the Hottest Film while I got the award for the Hottest Director.
A shot in the 'Gumshuda' song in Chalte Chalte (2003) was inspired by Kaante. Your thoughts?
I got a call from Farah Khan when they shot the scene. She told me 'We have given an ode to you in the film' and explained the scene. I told her, 'Very sweet of you all'!
Kaante's music was also a success and enhanced the pre-release hype…
Kaante was the first film which had a mix of music directors – Anand Raj Anand, Vishal-Shekhar and Lucky Ali. I was very clear that I didn't want any one person. Anand Raj Anand later hijacked the film as 80% of the songs were his. But 'Maut' was by Lucky Ali while 'Chod Na Re' was by Vishal-Shekhar.
Kaante's music was released on March 31, 2002. The film was released 9 months later. And 4 months after the release of the film, the songs were still playing on television. These used to be paid spots. So for one year, T-Series paid for the ads. It was the second-largest-selling album of all time after Aashiqui (1990) and its record was beaten by Aashiqui 2 (2013). For a non-love story film, it's the largest-selling album of all time.
Some years ago, you mentioned that you'll like to make Kaante 2. Is there any update?
The script is ready. Somehow, dil nahin kar raha hai to call it Kaante 2. Kaante is a cult and iconic film. I don't want anybody to feel that we are trying to cash in on Kaante. And when you are cashing on, it never works. We made Shootout At Lokhandwala and the next part, Shootout At Wadala released 6 years later. And 8 years later, we began work on Shootout 3. So it's only when you are excited or when you have got something worth it that you should make a film.
It's the season of remakes. Ever thought of making a remake of Kaante?
Nahin yaar. Are you mad (laughs)? Where will I find another Amitabh Bachchan, Sanjay Dutt, Mahesh Manjrekar, Suniel Shetty etc? They were the soul of the film. More than their characters, it was them that did magic. When you recall Mahesh Manjrekar, you recall him and not his character. The same goes with Sanju and others.
Also Read: EXCLUSIVE: Sanjay Gupta bats for REDUCTION of star fees in post pandemic times: "Aapko Rs. 100 crores lene hai toh lo, lekin aap Rs. 150 crores ka dhanda toh kara lo"
More Pages: Kaante Box Office Collection , Kaante Movie Review
BOLLYWOOD NEWS – LIVE UPDATES
Catch us for latest Bollywood News, New Bollywood Movies update, Box office collection, New Movies Release , Bollywood News Hindi, Entertainment News, Bollywood Live News Today & upcoming movies 2022 and stay updated with latest hindi movies only on Bollywood Hungama.