The Willamette Valley AVA, which stretches across Oregon from Eugene in the south to Portland in the north, is known around the world for its stunning Pinot Noir. Over the last 40 years, the 5,000-square-mile region has become a destination for truly treasured bottles. But with that much ground to cover—and more than 780 wineries to potentially visit—it can be a daunting task to narrow down your bucket list.
As Wine Enthusiast's resident Oregon wine reviewer, I know this land well. Here are my current favorite Willamette Valley wineries to visit, along with pro tips from those in the know. It's an eclectic mix of the old and the new, with some nifty ideas on where to eat and stay.
The Eyrie Vineyards
McMinnville
The modern Willamette Valley wine era launched when the Lett family planted Pinot Noir and a host of other varieties in 1965. Walking into the tasting room at the Eyrie Vineyards' winery in downtown McMinnville inspires a special kind of awe.
"In a region of increasingly opulent tasting rooms, the historic Eyrie Vineyards keeps the focus on the beauty inside the glass," says Mimi Martin, founder of the Wine & Spirit Archive, a drinks industry education program. "This should be everyone's starting point for understanding the Willamette Valley's ethos and history. Literally tasting that history from Eyrie's expansive library collection is the best way to learn."
You May Also Like: Exploring the Willamette Valley Through McMinnville, Oregon
Reservations are required for the $40, 75-minute signature tasting. While visiting, inquire if any library wines—a bit of liquid history, which can go back decades—are available.
Where to eat: A meal at James Beard Foundation Award-nominated restaurant ōkta from Executive Chef Matthew Lightner provides an unparalleled dining experience. Lightner, who has experience in Michelin-starred kitchens including Mugaritz in Spain's Basque Country and Atera in New York, creates tasting menus made with in-season, hyper-local ingredients. His 10-course summer menu, which places local vegetables on a pedestal, is not to be missed.
Where to stay: The Tributary Hotel adjacent to ōkta is a logical and rewarding choice. Select from among the hotel's eight suites, which feature amenities such as a soaking tub, fireplace or a private terrace, not to mention access to ōkta's dining and cellar experiences.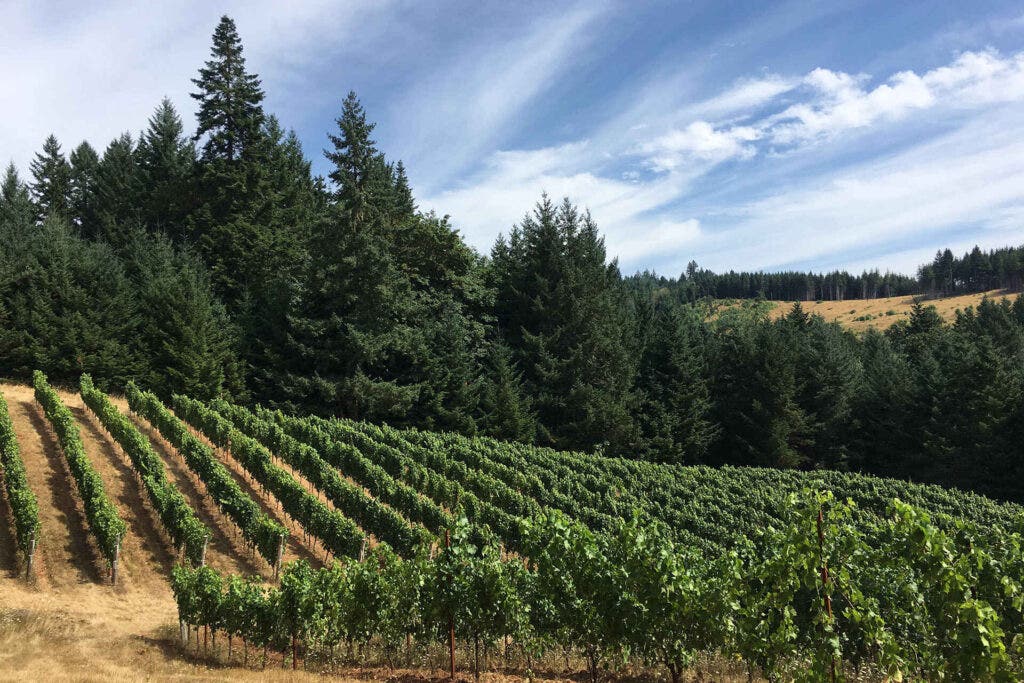 Brigadoon Wine Co.
Junction City
Nestled deep in the woods just north of Eugene is Brigadoon. In this rustic setting on an old timber property, founders Chris and Sheree Shown join their winemaking son Matt in producing everything from Pinot Noir and Pinot Blanc to some of the best Riesling in the state.
"What impresses me the most about Brigadoon's wines is their pure focus," says Boris Wiedenfeld-Needham, president of Bo's Wine Depot, a wine shop in Eugene. "Chris and Matt don't try to over-stylize their wines. They try to help them express exactly what makes their vineyard unique."
Walk-ins are welcome at Brigadoon's tasting room, which is located outside the small town of Junction City. In addition to the excellent wines, the tasting also features wonderful valley views and homemade parmesan crackers that are as addictive as Ted Lasso's biscuits. Tasting flight prices vary.
Where to eat: Bar Purlieu in Eugene offers rustic French bistro-style cooking and an impressive wine list that includes bottlings from top Oregon producers, such as Antiquum Farm and Beaux Frères. An exquisite combination is the mushroom tart with a bottle of Trousseau from the Eyrie Vineyards.
Where to stay: The Gordon Hotel in Eugene, recently named one of TripAdvisor's hottest new U.S. hotels of 2022, features seven stories of community spaces, artwork and beautifully appointed rooms. With excellent in-house dining options and a hidden speakeasy bar, you may never leave the hotel. Insider tip—certain suites feature standalone tubs for soaking the night away.
Beckham Estate Vineyard
Sherwood
The experience at Beckham Estate is a blend of art and winemaking. Built by winemaker and ceramics artist Andrew Beckham, the winery's tasting room is nestled in the Chehalem Mountains. Beckham was the first commercial producer of terra cotta amphorae for winemaking and brewing in North America, and so a visit to his tasting room may feature anything from Pinot Noir aged in French oak to a Trousseau aged in amphora.
You May Also Like: The Best Willamette Valley Pinot Noirs to Drink Right Now
Mallory Smith, co-owner of Sunday School Wine, a wine education program, says, "Beckham's wines feel ancient and other-worldly. They are rustic and elegant at the same time. Maybe it's the texture lent by the amphora vessels? Their building complexity is delightful and astounding. It sneaks up on me and always catches me off guard."
Appointments are required for tastings and tours of the winery, estate vineyard and the ceramics studio where Beckham creates his clay amphorae. Experiences start at $30 per person.
Where to eat: Our Table Cooperative, located at the base of Parrett Mountain in Sherwood, takes farm-to-table to heart during its Friday evening happy hours. That's where you can pair wine from nearby wineries with wood-fired pizzas topped with fresh local ingredients. Saturday brunches feature a delicious farmhouse hash made with organic veggies and eggs.
Where to stay: The Century Hotel in Tualatin offers spacious rooms, many with a view of the shimmering waters of Tualatin Lake. In addition to an indoor swimming pool, Century Hotel hosts local favorite Brix Tavern on its main floor.
David Hill Winery
Forest Grove
Commercial winemaking in the hills of Forest Grove dates back to the late 1800s. Willamette Valley wine pioneer Charles Coury staked a modern claim by planting on David Hill in 1965, creating the David Hill Winery. Today, owners Milan and Jean Stoyanov offer visitors a variety of wines from estate vineyards, ranging from Pinot Noir to Sylvaner. Some of which have a direct connection to Coury's original plantings.
"There are few vineyards in Oregon with a direct lineage to our previous and current wine culture. Undisputedly, David Hill is one of them," says Jeff Vejr, the owner and winemaker at Golden Cluster wine shop, as well as the co-owner of Portland spots Les Caves Winery Bar and French Riviera-inspired eatery L'Orange.
Leave time to pull up an Adirondack chair in front of the old farmhouse and take in a view of the valley, which seemingly stretches to infinity. Tasting experience prices vary and are by appointment only.
Where to eat: Urban Decanter is a wine bar and wood-fired kitchen specializing in dishes ranging from burrata and flatbreads to herb-crusted hen legs and a filet of salmon. Pair Urban Decanter's fire-roasted vegetables with a glass of Pinot Gris from Maysara Winery to achieve a transcendent state.
Where to stay: Get funky in Forest Grove with a stay at the Grand Lodge Hotel, formerly a Masonic and Eastern Star retirement home. The Grand Lodge features 90 guest rooms, a year-round outdoor soaking pool and a bevy of quirky bars and restaurants. There's frequently live music on the premises, and legends of a dancing, resident ghost.
Domaine Willamette
Dundee Hills
Sparkling wine fans should make a beeline for Oregon's first sparkling wine facility dedicated exclusively to producing méthode traditionnelle wines in its underground aging cellar. Guests can stroll the beautifully maintained gardens of Domaine Willamette or enjoy a glass of brut rosé in a magnificent new tasting room reminiscent of a Swiss ski resort.
"Building on the foundation laid by pioneers such as Ponzi, Argyle, Roco and others, Domaine Willamette adds another dimension to Oregon's emerging reputation for sparkling wines," says Tom Danowski, executive director of the Oregon Wine Board. "Not only is Domaine Willamette driven by quality wines and sensational hospitality standards, it further cements Oregon's position among the best new world sparkling wine producing regions."
You May Also Like: Willamette Valley AVA Turns 40: The Spots Moving the Wine Region Forward
Food and still wines are also available at Domaine Willamette, which is part of the Willamette Valley Vineyards family, a collection of more than 10 tasting rooms and estates. A glass of Bernau Estate Pinot Noir with steak frites prepared by executive chef DJ MacIntyre is a particularly glorious combination. Walk-ins are welcome, with reservations an option. Prices vary.
Where to eat: The Joel Palmer House, founded nearly 30 years ago by Jack and Heidi Czarnecki, is a mushroom mecca. The fungi-dominated cuisine accompanies an equally legendary wine cellar. The "morel" of the story is: If you love mushrooms and Willamette Valley Pinot Noir, do not miss this legendary Dayton restaurant.
Where to stay: You can't ask for a more conveniently located wine country stay than The Dundee Hotel. Rekindle summer camp memories in the Squad Room, which houses six bunk beds and an entertainment area. The hotel building also features several winery tasting rooms, including one operated by Evening Land Vineyards.
Remy Wines
Dayton
Queer winemaker Remy Drabkin defies convention. At Remy Wines, instead of the valley's signature Pinot Noir, Drabkin focuses on grape varieties such as Dolcetto, Lagrein, Nebbiolo and Sangiovese. Drabkin also makes a brilliant sparkling Blanc de Noir called "Black Heart."
"Remy lives the saying 'be the change,'" says Oregon Wine Press editor Michele Franciso. "She's the mayor of McMinnville, founder of Wine Country Pride and creator of the Queer Wine Fest. Her new winery is even constructed using a carbon-neutral concrete formula she co-invented and shares, free of charge, with other environmentally-conscious builders."
The Remy Wines tasting room is situated beneath a grove of trees surrounding a farmhouse from the 1990s, making it one of the most relaxing spots in the Willamette Valley. Reservations are strongly encouraged for the $30 tasting, and be sure to ask about the picnic basket option.
Where to eat: Loam in Dayton is home to a tapas-style breakfast, brunch or, on Friday and Saturday, dinner made from scratch with locally foraged and sourced ingredients. Whether it is the lamb smash burger or the salmon toast with in-house baked rye bread and Pacific Northwest lox, you can't go wrong. Insider tip—try the bulgogi short ribs.
Where to stay: Two words: Airstream glamping. The Vintages Trailer Resort in Dayton is pure circa 1950s fun with its 36 fully restored trailers, outdoor grills, firepit areas, a general store and a swimming pool. Rent a cozy Airstream Bambi equipped with a queen bed, kitchenette and private bathroom with shower for a romantic pairing.
Day Wines
Dundee
Brianne Day's winery, Day Wines, in downtown Dundee, offers visitors the opportunity to taste wines made with fruit from all the state's wine-growing regions. The tasting room's stylish outdoor patio is the perfect spot to relax and enjoy that diversity. A local favorite is Day's "Lemonade" rosé, made with fruit sourced from organic and biodynamic vineyards.
"Day Wines is a breath of inclusive, creative and gracious fresh air," says Kirk Sutherland, beverage director at Ava Gene's restaurant in Portland and the owner/winemaker at Portland-based Erde Wines. "Brianne and her team provide warm, friendly hospitality paired with delicious and innovative wines. Brianne also hosts a bunch of fun and exciting events, including a killer drag show."
Walk-ins are welcome and prices vary. Bonus: Summertime weekends feature a food cart in the parking lot.
Where to eat: Chef Dario Pisoni's Rosmarino Osteria Italiana in Newberg offers some of the best Italian comfort food around. Get there on Sundays to drink Barolo during Dario's "all-day pizza and gnocchi" extravaganza.
Where to stay: It is difficult to beat the Black Walnut Inn & Vineyard in the Dundee Hills for peace, quiet and luxurious accommodations. The nine-room inn looks more like a Tuscan villa than an Oregon vineyard. Chic rooms offer extraordinary views of vineyards and the majestic Cascade Range peaks. Insider tip: Snuggle up with a glass of wine next to the firepit when the sun goes down.
Dion Vineyard
Cornelius
In 1973, Ron and Joanne Johnson, along with Ron's parents, Al and Phoebe, planted the first grapevines in what is known today as the Laurelwood District AVA. Today, Ron and Joanne's son Kevin Johnson operates Dion Vineyard with co-winemaker and wife Beth Klingner. Their specialty is old vine Pinot Noir and a sparkling wine program that will knock your socks off.
"Visiting Dion is a treat you will surely remember," says A.J. Weinzettel, host of the Weinnotes podcast and author of a weekly wine newsletter. "Tasting their Wedding Tree cuvee sparkling wine sends goosebumps up and down my arms every time I visit. The history behind the wine and seeing the tree on the label makes you long to be one of the hawks flying over the peaceful vineyard."
You May Also Like: The Near-Death and Resurrection of Willamette Valley Chardonnay
While walk-ins are welcome, it is best to call ahead to make sure space is available at the peaceful Cornelius tasting room. Once you get a glass of wine in your hand and pull up a seat on the deck, you won't want to leave. Prices vary.
Where to eat: Syun Izakawa in Hillsboro is a restaurant locals try to keep a secret. Sushi of the highest quality, an impressive sake selection and knowledgeable staff are the keys to Syun's years of success.
Where to stay: The Orenco Hotel at Orenco Station in Hillsboro is a ten-room boutique hotel within easy walking distance of restaurants and stores. The two-person Queen Manor room with its bedroom fireplace is a perfect room during cooler months.
---
FAQs
Is It Expensive to Go Wine Tasting in Willamette Valley?
While "expensive" is in the pocketbook of the beholder, the Willamette Valley is a bargain compared to many West Coast wine regions. A typical tasting of five to six wines runs $20 to $35, though some run upwards of $50 if choosing a larger tasting package. Additionally, many Willamette Valley tasting rooms will reduce or waive tasting fees with wine purchases.
Do You Need a Car to Tour the Willamette Valley?
Whether it is a rental vehicle or a car service, you will need wheels in the Willamette Valley. Once you make the one-hour drive from Portland to wine country, it is quite easy to hit several tasting rooms on foot in towns such as Carlton, Dundee or McMinnville.
Another option is hiring one of the region's wine country tour services—Black Tie Tours and Backcountry Wine Tours are highly regarded.
What Are the Willamette Valley's Most Popular Wineries?
Argyle Winery in the northern Willamette Valley and King Estate Winery in the southern Willamette Valley were both popular destinations in 2022, attracting 47,000 and 40,000 visitors respectively.
Published: August 7, 2023