Few things are more liberating than hitting the open road — whether that means a simple weekend road trip with friends and family or a year-long, cross-country expedition living the van life as a "digital nomad." If you're looking to do just that, you need a well-equipped basecamp. If traditional tent camping the whole way is "roughing it" too much, but you're not looking to splash out on an uber-luxurious, quarter-million-dollar class A motorhome, a compact, lightweight travel trailer might be just what you need.
Buying any new (or new to you) RV is exciting, but it can be confusing, a little overwhelming, and even downright stressful. Every company offers a long list of standard and optional features, and it's tough to know what you really need, especially if you've never done "the whole RV thing" before. That's why we rounded up the best models from the most popular brands, including Airstream, Jayco, Winnebago, and Casita, to compare all the features, specs, and options that matter. This is our 2023 travel trailer showdown.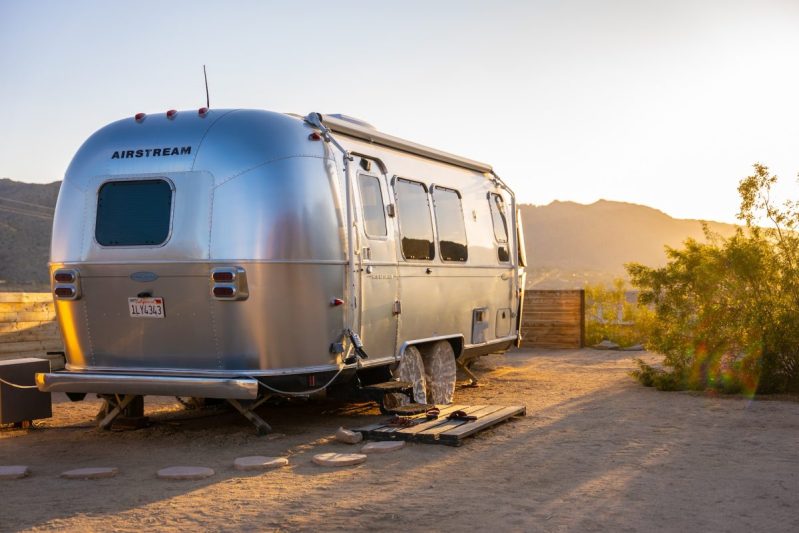 Airstream travel trailers
Airstream's classic "silver bullet" travel trailers hardly need an introduction. The iconic design has changed little in decades; today, they're still some of the most instantly recognizable models on the road. The brand's catalog includes a wide variety of models, from the entry-level 2023 Basecamp with a starting price of $46,000 to the 2023 Classic that bases closer to $190,000.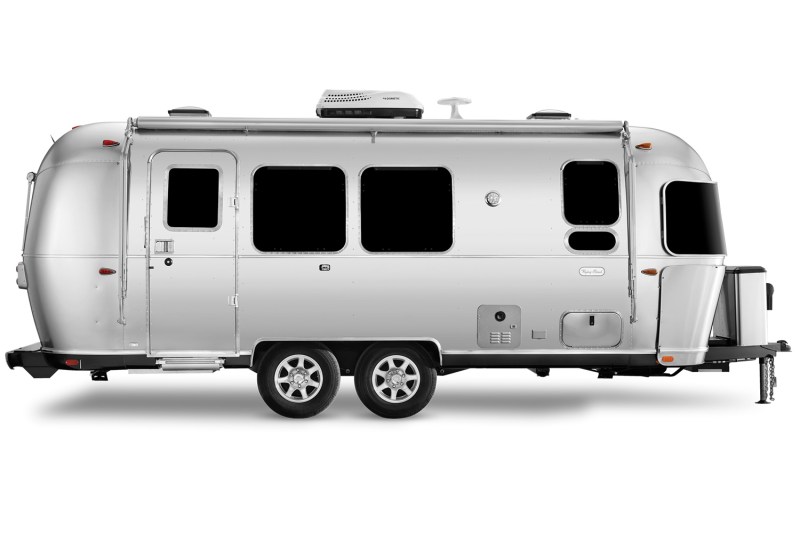 Airstream Flying Cloud
The Flying Cloud is Airstream's most popular model. Originally introduced in 1949, it has a rich history and has long been among the brand's top sellers. Due to demand, it was reintroduced in 2009 and continues to offer the best variety of floor plans with a balance of comfort, convenience, and price. With a starting price tag under $100,000, it falls squarely in the middle of Airstream's catalog of travel trailers.
Starting Price: $94,400
Available Lengths: 23', 25', 27', 28', or 30'
Sleeps: 4, 6, or 8
Axles: Double
Kitchen: Premium finishes, including a full sink with a residential-style faucet, three-burner gas stove, refrigerator, and microwave
Bathroom: Standard bathroom with separate shower stall
Stand-out Features: Memory foam mattress, retractable Sunbrealla awning, HD TV
Learn More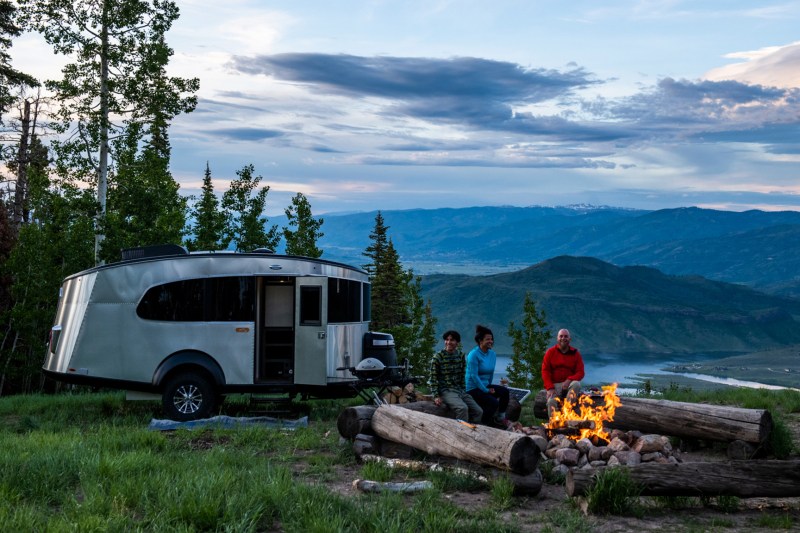 Airstream Basecamp 20
Aistream's second-best-selling model is unlike anything else on the road. With an aluminum-wrapped exterior, the Basecamp 20 travel trailer is unmistakably an Airstream. But the interior features a more "adventure-forward" design that sidesteps the ultra-premium luxury amenities of its bigger and pricier brethren. Think of it like a rugged, hard-sided tent on wheels, perfect for when a full-sized Airstream is too much, but a compact teardrop trailer just isn't enough.
Starting Price: $54,400
Available Lengths: 16′ and 20'
Sleeps: 4
Axles: Single
Kitchen: Basic with compact sink, two-burner gas stove, compact refrigerator, and microwave
Bathroom: Small wet bath with shower
Stand-out Features: Large rear cargo area, flexible living space, outdoor shower, heavy-duty, wear-resistant fabrics throughout
Learn More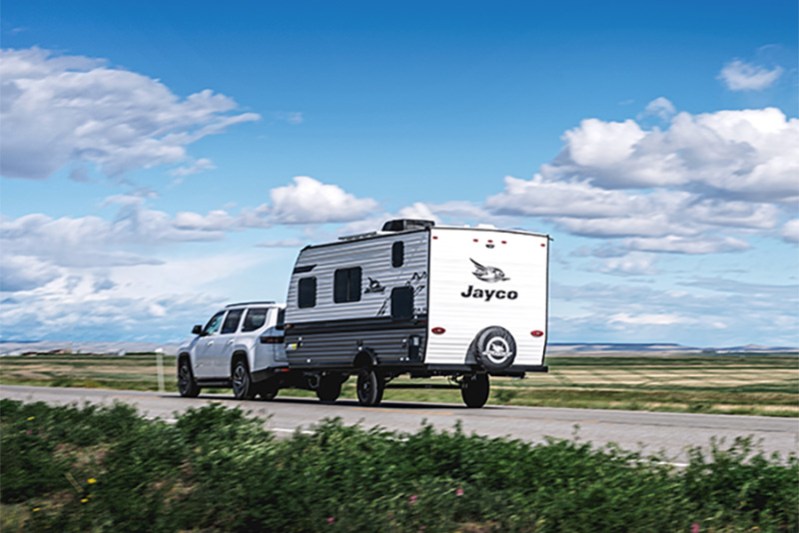 Jayco travel trailers
Jayco's travel trailers have been popular with budget-conscious RVers for more than two decades. Its biggest selling point: Price. Jayco's are among the most affordable and full-featured travel trailers on the market. Here are the most popular Jayco travel trailers:

2024 Jayco Jay Flight
The Jayco Jay Flight has been the top-selling travel trailer for more than ten years. With a wide variety of floor plans and lengths ranging from 25′ 4" to 40' 4", it's ideal for every type of camper, from solo travelers to couples to larger families. Plus, Jayco recently began adding many more modern features, like solar prewiring, LED exterior lighting, and a dedicated smartphone app to monitor and tweak most settings wirelessly.
Starting Price: $32,232
Available Lengths: 25′ 4" to 40' 4"
Sleeps: Up to 10
Axles: Double
Kitchen: Residential-style with three-burner cooktop, microwave, and refrigerator
Bathroom: Full-size bathroom with skylight
Stand-out Features: Solar-prewiring, solid hardwood cabinets, outside shower, on-demand tankless water heater
Learn More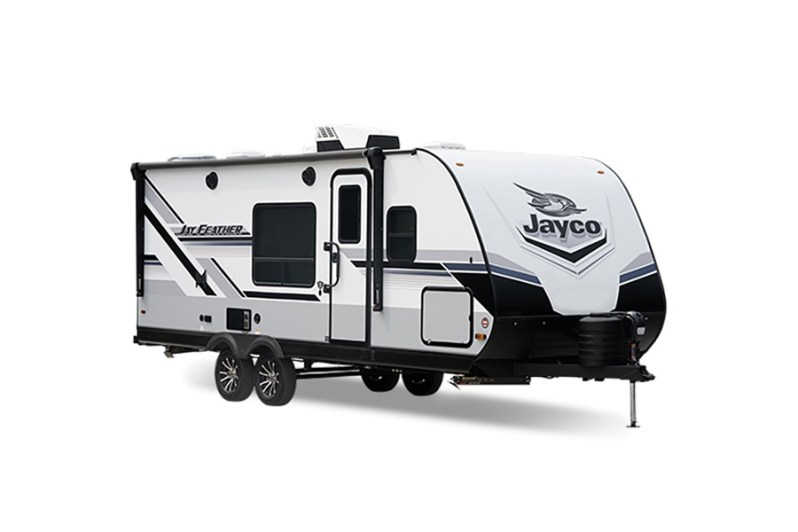 2024 Jayco Jay Feather
For campers looking to upgrade from Jayco's entry-level travel trailer, there's the 2024 Jay Feather. It's a more rugged, adventure-ready rig with weather protection, double-sided perimeter walls, and two-inch-thick laminated flooring — all of which make this a solid year-round travel trailer.
Starting Price: $41,078
Available Lengths: 24′ to 33′ 2″
Sleeps: Up to 9
Axles: Double
Kitchen: Residential-style with a three-burner cooktop, microwave, and large refrigerator
Bathroom: Spacious bathroom with residential-style fixtures and a skylight
Stand-out Features: Solar prewiring, smart LED TV, 10-cubic-foot fridge, 0- to 100-degree weather insulation
Learn More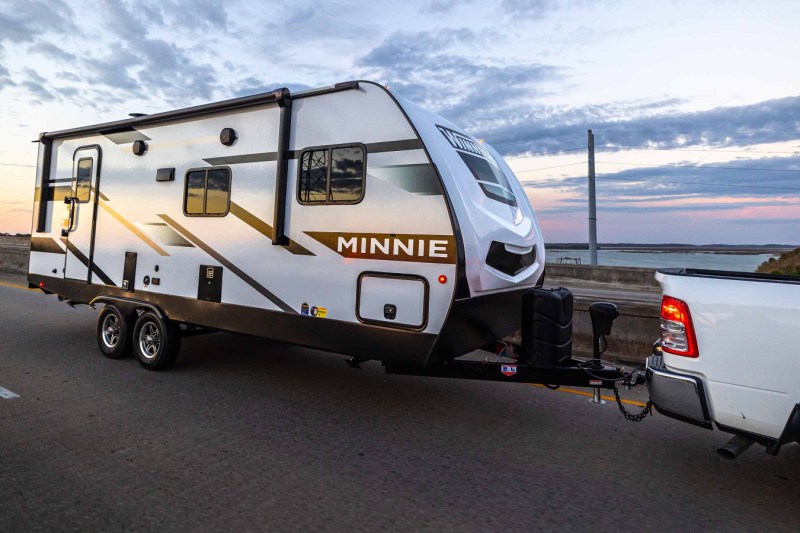 Winnebago travel trailers
The only name that's arguably more iconic than Airstream in the world of RV'ing is Winnebago. For decades, the Minnesota-based manufacturer has made some of the most affordable, reliable, and accessible travel trailers. Its catalog is deep, but these are the two top models worth shopping for in 2023:
Winnebago Micro Minnie
Winnebago's best-selling Micro Minnie is designed to pack a ton of features into a surprisingly small footprint. At just seven feet wide with a starting curb weight of less than 3,400 pounds, it's easily towable by even smaller electric vehicles. Even the entry-level model comes with a long list of standard features, but this travel trailer can also be kitted out for serious off-road adventures with off-road tires, solar power, and more.
Starting Price: $37,182
Available Lengths: 19' 5" to 22' 5"
Sleeps: 3 to 5
Axles: Single or Double
Kitchen: Sizable kitchen with a double-door refrigerator, three-burner cooktop, and convection microwave
Bathroom: Compact bathroom with separate shower stall and a skylight
Stand-out Features: JBL exterior speakers, outdoor gear storage, walkable roof, power awning
Learn More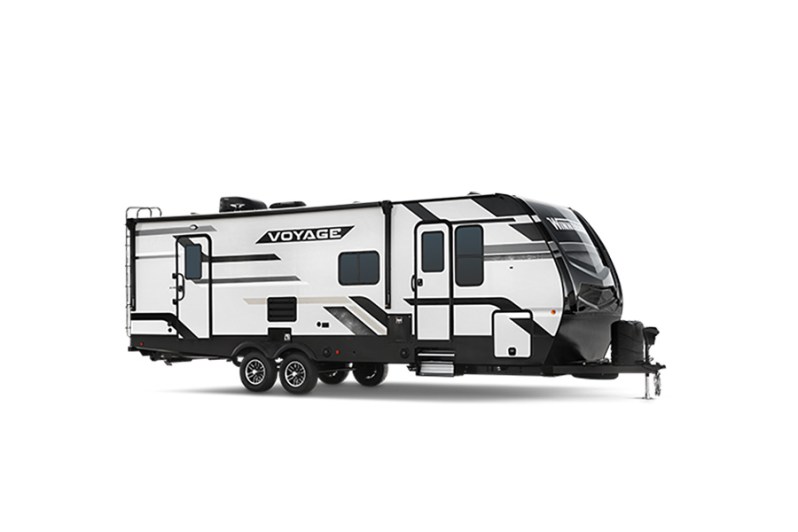 Winnebago Voyage
For RV campers who just can't leave the conveniences of home at home, Winnebago's aptly named Voyage is designed to get you from A to B in style and comfort. That includes spacious floor plans that measure up to nearly 40 feet, kitchens built for entertaining, tons of storage, and a long list of residential appliances.
Starting Price: $64,664
Available Lengths: 27' 11" to 38' 11"
Sleeps: 4-8
Axles: Double
Kitchen: Large, residential-style kitchen with four-burner cooktop with an oven, microwave, and a double-door 15-cubic-foot fridge
Bathroom: Oversized bathroom with a walk-in shower stall and skylight
Stand-out Features: Large HD TV, fireplace, optional king bed, and multiple slideouts for an expandable floor plan
Learn More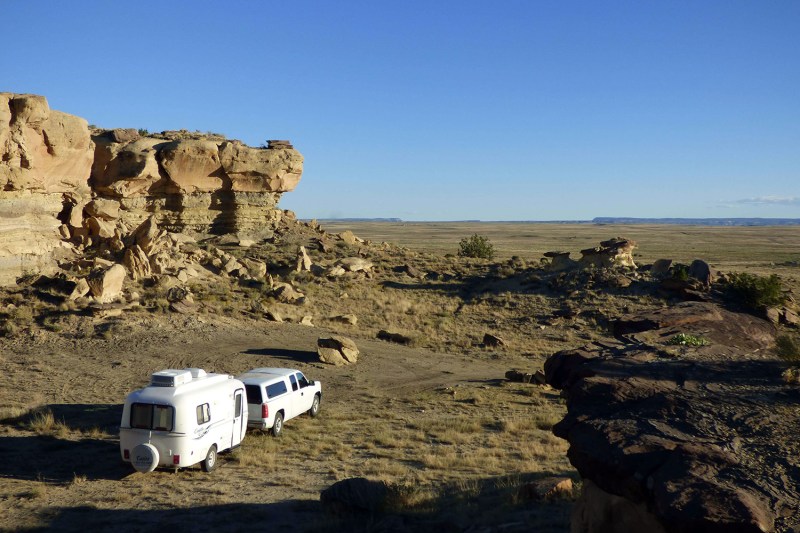 Casita travel trailers
Casita's egg-shaped travel trailers are a unique alternative to Airstream's aluminum-clad "silver bullets" and traditional "stick-built" RVs. They're made from a two-piece fiberglass shell — a design that's extremely durable and watertight. Plus, they're significantly lighter than almost any comparably sized model on the market. The 17-foot Deluxe Casitas measures less than seven feet wide and, at roughly 2,480 pounds (dry weight), they're towable by almost any SUV and even some crossover vehicles.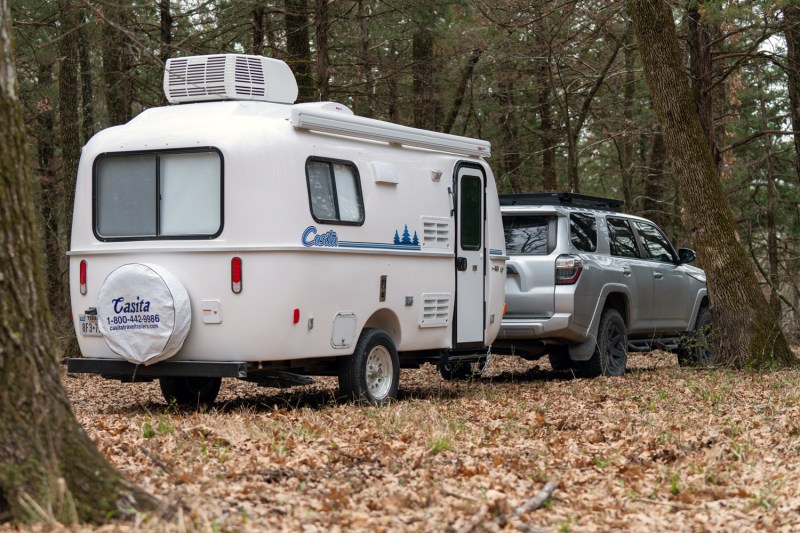 Casita Freedom Deluxe
Casita's flagship two-person travel trailer, the Freedom Deluxe, packs all the essentials and features a couple might need into a highly compact space. That includes a bed at the rear, a dinette, a full kitchen, and even a wet bath.
Starting Price: $32,694
Available Lengths: 17'
Sleeps: 2
Axles: Single
Kitchen: Compact kitchen with a small sink, two-burner gas cooktop, and an optional microwave
Bathroom: Compact wet bath with a flush toilet
Stand-out Features: Outdoor shower, swiveling captain's chairs, solar prewiring, and an optional built-in surge protector
Learn More
Casita Spirit Standard
The Spirit Standard mostly relies on the same tried-and-true layout of the Freedom Deluxe. But, this model trades the wet bath at the front for a pair of bunk beds and the swiveling captain's chairs for a convertible dinette to add room for one more camper to sleep. Plus, this model is even lighter and more affordable than its flagship brother but with many of the same features.
Starting Price: $30,996
Available Lengths: 17'
Sleeps: 3-5
Axles: Single
Kitchen: Compact kitchen with a small sink, two-burner gas cooktop, and an optional microwave
Bathroom: Compact wet bath with a flush toilet
Stand-out Features: Outdoor shower, solar prewiring, and an optional built-in surge protector
Learn More
Editors' Recommendations