Picks of the week
The Happiness Lab x Sesame Street
Widely available, episodes weekly from Monday
If The Happiness Lab – a podcast by Laurie Santos, the professor behind Yale's happiness courses – isn't life-enhancing enough, here comes a special collaboration with Sesame Workshop, the nonprofit organisation trying to make kids smarter, stronger and kinder. Abby Cadabby, Big Bird and Grover tackle problems with sparkly socks, the ups and downs of a typical day and the magic of gratitude – there are lessons for all ages. Hannah Verdier
Pop Culture With Chanté Joseph
Widely available, episodes weekly
"Naomi Campbell and PrettyLittleThing – is there any hope for sustainable fashion?" The collaboration that has rocked the fashion world is the topic being unpicked by Chanté Joseph in the return of this pop culture podcast. She's joined by Guardian fashion journalist Chloe Mac Donnell (who wrote about the subject in last week's Fashion Statement newsletter, which you can sign up for here) and sustainability consultant Emma Slade Edmondson. Hollie Richardson
Political Currency With George Osborne and Ed Balls
Widely available, episodes weekly
Once fierce adversaries across the dispatch box, the former MPs have found new respect for each other's analysis in recent years. They've decided to call themselves the, err, "OsBalls", and put their debates on a podcast, just as party politics picks back up in the autumn. HR
When It Hits the Fan
BBC Sounds, episodes weekly
From the former Sun editor David Yelland and spin doctor to the late queen, Simon Lewis, the first episode of a new podcast about crisis management is gifted with Gillian Keegan's hot mic moment and a dose of Prince Harry. But the biggest revelation is that the Sun's Charlie the sniffer dog, a regular at celebrity parties in the early 00s, was just an ordinary labrador. HV
Magnificent Jerk
Widely available, episodes weekly from Monday
When Maya Lin Sugarman looked into her family history, she found out that her uncle Galen Yuen had written a "kinda gangstery" screenplay that became the 1997 thriller Crazy Six, starring Rob Lowe, Burt Reynolds and Ice-T. In this series, Sugarman tells us the true story – the one that "Hollywood didn't want" – which turns out to be surprisingly moving. HV
There's a podcast for that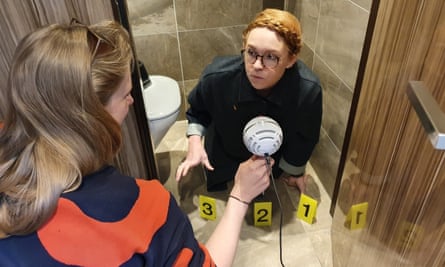 This week, Hannah Verdier picks five of the best surprise hits, from Tom Hanks' reject to a dirty wedding guest.
This Is Gay
Awards and accolades are one thing, but another way to tell if your podcast has made it is when a spin-off TV series is commissioned. That's what happened to Kirk Flash, whose low-key but very funny audio hit about the intricacies of contemporary gay life won a British Podcast Award and made it to BBC Three. The buzz around Flash's smartly-observed sketches built up after just six episodes, thanks to his homophobic smart speaker, advice on emergency douching and a discussion of the perils of holding hands on the high street.
Who Shat on the Floor at My Wedding?
Beautiful brides Karen Whitehouse and Helen McLaughlin had a perfect summer wedding, complete with a boat trip, a jazz band and an open bar. But later they were forced to launch a "poodunnit" to find out who left them an unwanted wedding gift. What began as a foray into podcasting when they were bored during the Covid lockdowns became a word-of-mouth hit with comparisons to My Dad Wrote a Porno. "Detective" Lauren Kilby helps the pair drive the case, exploring motives, timing and whether the deed was a dirty protest or a crime of passion.
Millennial
In 2014, Megan Tan was a lone wolf of podcasting, recording diary-like episodes from her closet. The intern in her mid-twenties had little audio experience, but her relatable tales of navigating life struck a chord with listeners and two years later Radiotopia (home to hits such as Ear Hustle) adopted her as one of its own. "How millennial to make a podcast about being a millennial," Tan admits in her first episode, but in the era of Girls she came across not as self-indulgent, but hard-working and frank, dealing with real problems such as her parents' split.
They Walk Among Us
True crime has long been podcast catnip, but prolific British couple "Benjamin and Rosie" (later unmasked as Benjamin and Rosanna Fitton) have achieved long-running success with their simple tales of wrong 'uns in plain sight. No Hollywood stars, no glossy production and no catchy theme tune here: just sinister stories. The phenomenon built over seven seasons, with the mysterious couple going for global domination with the launch of They Walk Among America. With meticulous research, colourful characters and no shortage of love triangles, it's no surprise this slice of British intrigue picked up a cult following.
Dead Eyes
When actor and comedian Connor Ratcliff was fired from a minor role on HBO's Band of Brothers, he turned his rejection into a podcast. He then spent 30 episodes ruminating on whether Tom Hanks was responsible with his dislike of Ratcliff's "dead eyes". When Hanks's children told him about the podcast, he emailed Ratcliffe, even though the chances of him remembering that fateful day 20 years later were slim. The show was a real slow burner and a strange comfort to anyone who'd recently experienced rejection and the eventual confrontation with Hanks is the most pleasant one imaginable.
Why not try …
Unreformed, which explores "reform schools" described as modern-day slave plantations in America's deep south.

Ever had a bad hair cut? Then This Is Not What I Asked For is for you. Celebrity hairstylist Jonathan Andrew speaks to guests about bad hair days.
In Mugshots with Michael Crick, the journalist presents uncensored profiles of key people in the news, from Paul Dacre to Vladimir Putin.
If you want to read the complete version of the newsletter please subscribe to receive Hear Here in your inbox every Thursday