With more than three million lakes statewide, Alaska tends to be a special spot for the avid fly or reel fisherman. Others possess slightly different reasons for this "Last Frontier" state to hold a distinctive spot in their heart, like experiencing the vast, untamed wilderness, the rugged coastline, and the jagged, snow-capped mountain peaks. Whether it is due to Alaska's close proximity to Russia (some 55 miles apart) or its exceptional naturalistic climate, Alaska is more than just a state; it is a tranquil state of mind and home to dozens of small Alaskan towns ranked among favorites in the United States.
Sitka
The picturesque town of Sitka, located in the panhandle of Alaska in the Alexander Archipelago, is home to the Sitka National Historic Park, otherwise named Totem Park, as well as the Alaska Raptor Center, which is well-known for its premier care and education of the status of the Bald Eagle. Sitka also offers the Fortress of the Bear, a non-profit sanctuary where visitors can view these majestic creatures in a safe environment. There are also several activities in downtown Sitka that make this small fishing town popular, including the Sheldon Jackson Museum and the fish hatchery at the Sitka Sound Science Center. Plus, the Herring Cove Trail, a 3.5-mile loop, offers stunning views of Beaver Lake and a waterfall.
Homer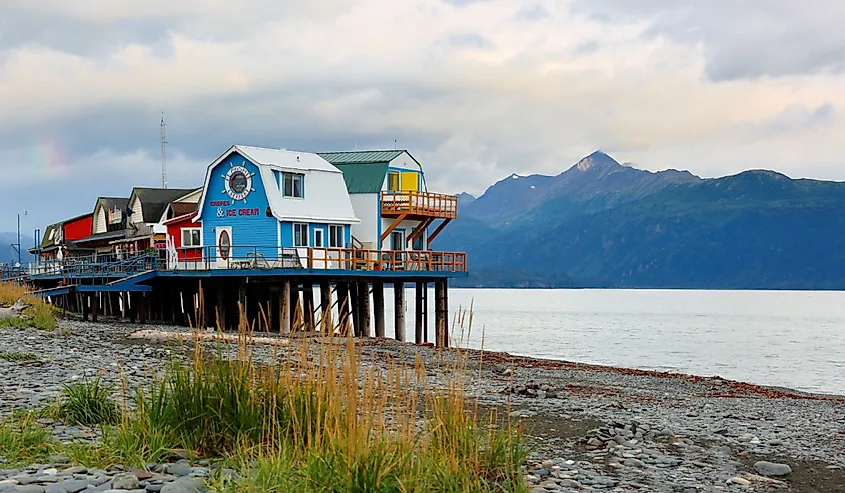 Known as the "Halibut Fishing Capital of the World," the cute town of Homer keeps bringing visitors back for more. From the Alaskan helicopter tours with scenic panoramas, and the Kachemak State Park and its photographic wonders to Bishop's Beach Park and the ability to walk straight into the water for almost a mile during low tide, the town of Homer continually astounds visitors with its ability to showcase nature in its glory. There are even several great dining experiences to be had in downtown Homer, including Captain Pattie's Fish House, The Chart Room Restaurant, and Fresh Catch Café, all of which offer fresh seafood caught that day right off the banks of Kachemak Bay and beyond.
Skagway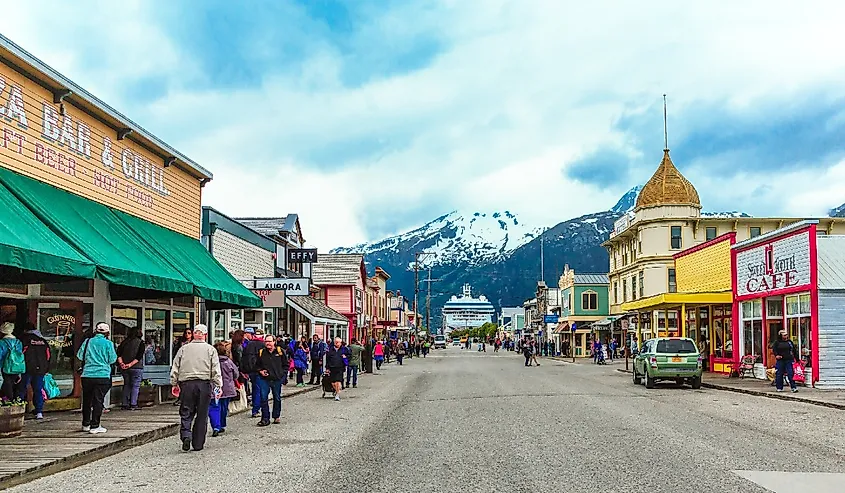 Skagway is on the Alaskan panhandle and, though it has at most 1,500 residents, it is possibly the most popular town in Alaska, beating out both the cities Juneau and Anchorage. Offering several activities, like tours into the Yukon Territory, a Glacier Point Wilderness Safari, Lower Reid Falls, and Yukatania Point, Skagway does not fail to deliver with its scenic, pastoral vistas and vast, stunning panoramas.
There are also several fun and exciting adventures to be had in downtown Skagway, including checking out some of the buildings from the Klondike Gold Rush on State and Broadway Streets, stopping into Skagway Museum and Antiques, and checking out the Gold Rush Cemetery, the first cemetery to be started in the town of Skagway.
Seward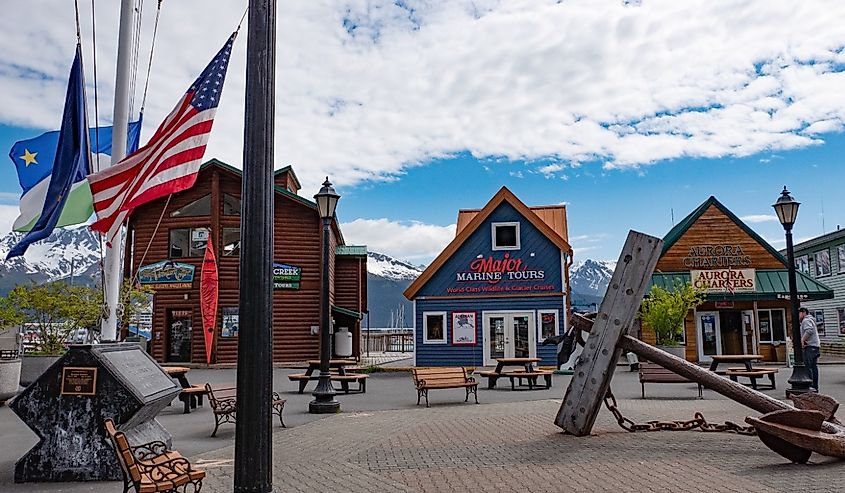 In close proximity to Resurrection Bay, the charming town of Seward, located on the Kenai Peninsula, is quite popular for visiting Kenai Fjords National Park, Miller's Landing, and Holgate and Bear Glaciers. There are also several other attractions that make Seward a favorite, including Waterfront Park and Two Lakes Park, both of which offer breathtaking views while hiking through picturesque scenery. Downtown Seward also has exhilarating activities to enjoy with friends or family, like checking out the Alaska SeaLife Center on Railway Avenue, which offers viewing and photographing of several types of sea life, including octopi, puffins, and ice seals, going on the Wilderness Dog-Sled Ride, and taking a kayaking adventure out on Resurrection Bay.
Ketchikan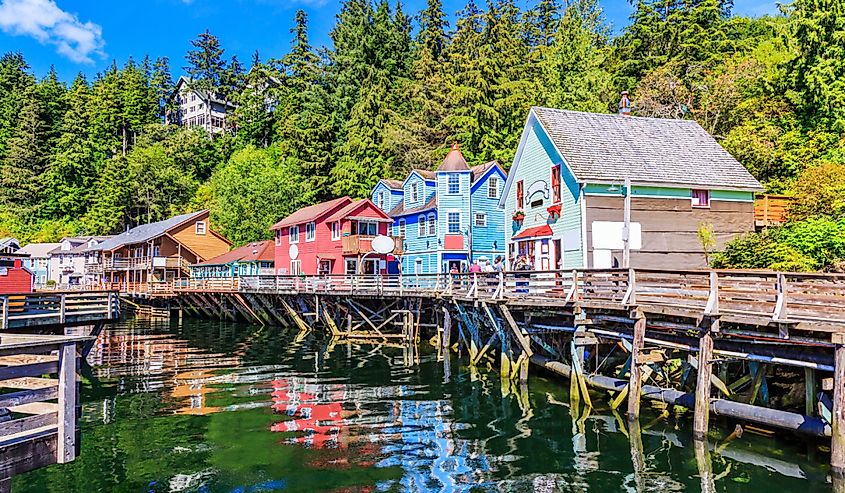 Founded as a site for canning salmon in the 19th century, the town of Ketchikan has expanded to be a great vacation spot and a favorite among many. Along with duck tours, kayaking tours, photo safaris, and whale-watching tours, there are several opportunities in town for fun and excitement, like city tours on the Cable Car Trolley, the Canopy Ropes & Zipline Adventure Park, and the Authentic Native Experience, giving visitors a taste of living as a native in the Tongass National Forest. Plus, Ketchikan has several awesome dining opportunities, including Alaska King Crab Company and Sweet Mermaids on Front Street, and the Alaska Fish House on Salmon Landing. Arctic Bar on Water Street, the oldest bar in Ketchikan, even offers live music on the weekend.
Talkeetna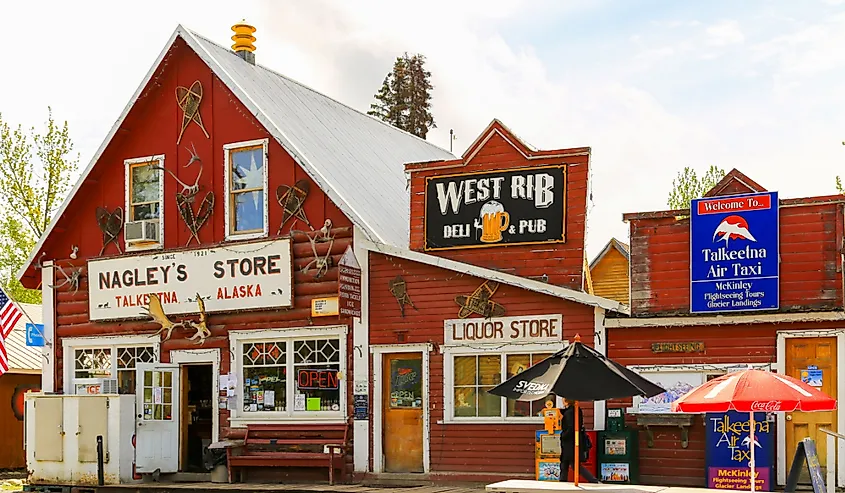 Take a two-plus hour drive north from Anchorage and you will find the small town of Talkeetna. Though it is a small town, some even call it a hamlet. Talkeetna offers more adventure than some more populated places in Alaska. This town is most famous for the Talkeetna Riverfront Park, with views of the Susitna River. There are also several informational activities to do in Talkeetna, like strolling around downtown and checking out some buildings that have been there longer than most of the residents, including Talkeetna Roadhouse, which was built in 1917, Nagley's Store, dating back to 1921, and the Fairview Inn, from 1923. Plus, if you are hungry, check out West Rib Pub & Grill on Main Street and Foraker Restaurant on Talkeetna Spur Road. Both have great food.
Kodiak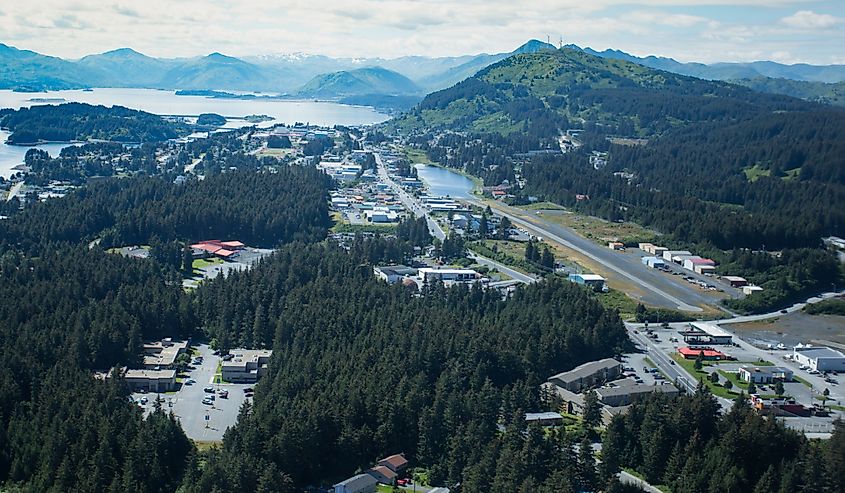 The pretty town of Kodiak, one of only eight communities on Kodiak Island, has a plethora of opportunities for excitement, from ATV and four-wheeling, kayaking and rafting, and ziplining to checking out Fort Abercrombie State Park, which offers hiking, fishing, swimming, and picnicking. There is also the Kodiak National Wildlife Refuge, which has a variety of trails. If you would rather stay inside for the evening, even though there are several options for camping, the Kodiak Island Resort offers visitors a free breakfast, wi-fi access, beach access, and is pet friendly. Plus, if you want to eat downtown, Kodiak, Henry's Great Alaskan Restaurant, the Chart Room Restaurant, and Kodiak Hana Restaurant all offer great food.
Valdez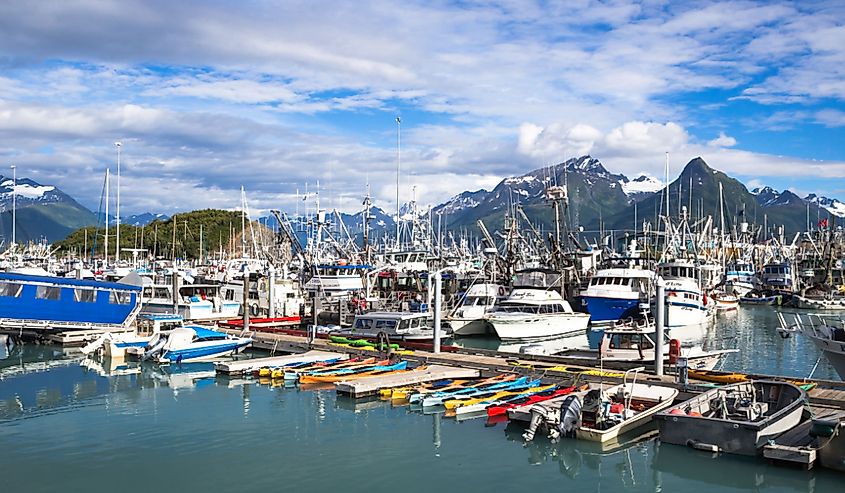 Hidden between Anchorage and Cordova in the Chugach Mountains is the town of Valdez. Known best for Gold Rush Days, a five-day festival in August honoring a parade, bed races, and a portable jail pulled through town to arrest men without beards, Valdez is a hot spot of fun and excitement. Along with several restaurants that offer excellent seafood, including the Fat Mermaid and Silver Bay Seafoods on Harbor Bay and Poor Betty's on Galena Drive, Valdez is also home to a variety of activities, as it is on Prince William Sound, like a six-hour boat tour of Columbia Glacier and a seven-plus-hour boat tour of Meares Glacier. For lodging, there is the Valdez RV Park, if you brought your own home, and Robe Lake Lodge, if you didn't.
Petersburg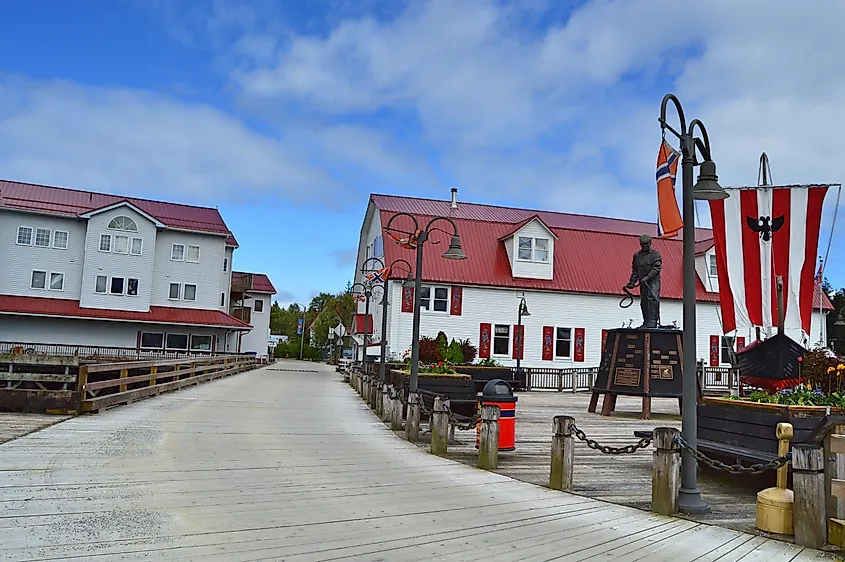 The town of Petersburg, at the northern tip of Mitkof Island, sitting alongside Frederick Sound, is best known for its close proximity to the Tongass National Forest and the Stikine-Leconte Wilderness. There are also several parks and hiking trails in and near the town of Petersburg. Some of the parks are Outlook Park, Eagle's Roost Park, Beecher Pass State Marine Park, and Sandy Beach Park, while the trails include the Boardwalk Nature Trail, the Petersburg Lake Trail, and the Hungry Point Trail. There are even some nice restaurants in Petersburg, like Inga's Galley for seafood and the Salty Pantry for its pastries.
Healy
Concealed three-quarters of the way from Anchorage to Fairbanks on George Parks Highway is the small town of Healy. It is home to approximately 1,000 people and the Denali National Park, offering the Denali Fat Truck tours, the Denali Canyon Wave, and the Aurora Quest from Denali to visitors and residents alike. There are also several interesting things to do in downtown Healy, like Dog Sledding at EarthSong Lodge, sightseeing on a covered wagon with Black Diamond Resort, and checking out Donna's House of Petals for that perfect keepsake to commemorate the trip. And, if you're hungry, stop by 49th State Brewing or Black Diamond, which has great Bison chili.
North Pole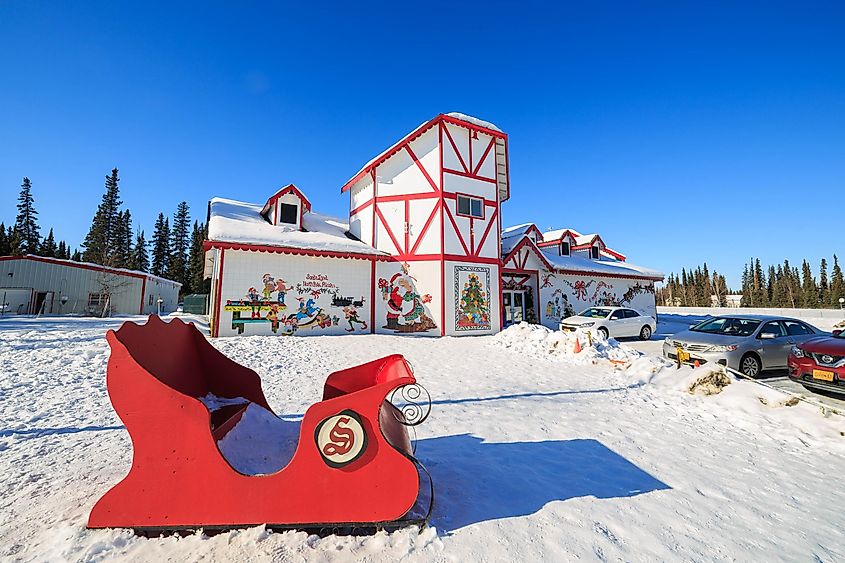 A substantial distance closer to Fairbanks, the town of North Pole is most famous for two things: being home to Santa Claus and being Christmas every day of the year. Whether you've been naughty or nice, everyone, but mostly those who have been nice, want to see the North Pole, or at least the town of North Pole. The main attraction is the Santa Claus House, a specialty gift shop that is based on Christmas. There are also a variety of outdoor adventures in or near the town of North Pole, including the Chena Lake Recreation Area and Alaska Wildlife Guide LLC, both great for seeing the Aurora Borealis, otherwise known as the Northern Lights.
Utqiagvik (formerly Barrow)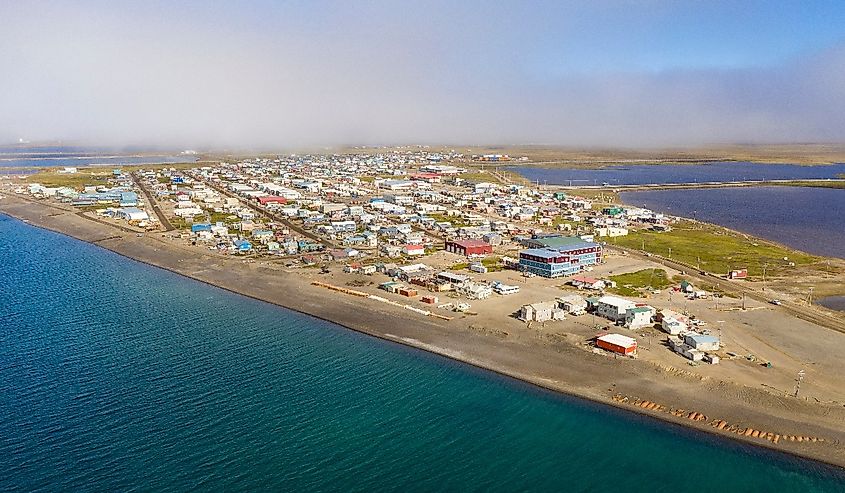 Far to the north, further than you thought you could travel, is the town of Utqiagvik, formerly named Barrow. With a population of about 5,000 people, Utqiagvik is north of the Arctic Circle and receives 24 hours of sunlight from May to August and no sunlight from November to January. Though this town cannot be reached except by airplane, that doesn't mean it doesn't have some fun activities for those who make it there. Photography of bears, snowy owls, and other animals and birds that are native to the area is always popular. Plus, if you want to eat at the top of the world, Niggivikput is great for steak.
So, whether you are visiting the town of Sitka to check out the Bald Eagles at the Alaska Raptor Center, Lower Reid Falls in Skagway, the Santa Claus House in North Pole, or Niggivikput Restaurant in Utqiagvik, there is something for everyone in the majestic state of Alaska. From helicopter tours to boat tours to tours of the Aurora Borealis, the Frontier State is always a wonder to behold any time of the year.