At a glance
Expert's Rating
Pros
Easy to use
Works together with your Hue lights
Good image quality
Cons
Lofty price tag
Subscription required for some features
No local storage
Our Verdict
The feature-rich, indoor and outdoor Philips Hue Secure wired camera boasts good image quality and smooth integrating with Hue smart lights. However, a subscription is required to fully utilize all the camera's features, and the price tag is steep.
Price When Reviewed
$199.99
Best Prices Today: Philips Hue Secure
Signify, the company behind Philips Hue smart lighting, has just launched a line of security cameras for home surveillance. The Philips Hue Secure cameras can, of course, be used on their own, but it's the interaction between the cameras and the overall Hue smart lighting ecosystem that is the main attraction.
The Philips Hue Secure camera we received for testing is the wired version; a wireless version will soon be released. The Hue Secure looks like any modern IP camera, and it comes with a wall mount that holds the camera in place using a strong magnet. It's worth mentioning that the camera can also be purchased with a table stand instead of the wall mount, but you'll have to shell out an extra $30.
Easy installation
Installing the Hue Secure wired camera only takes a few minutes. The three-meter-long power cord is attached to the bottom of the camera body and plugs into a suitable power outlet. There are (of course) advantages and disadvantages to the wired version; a battery-powered camera is easier to deploy, but a wired camera never needs to be recharged.
The Philips Hue Secure camera works with the same easy-to-use Hue app that Hue smart lights do. One thing to keep in mind is that you'll need a Hue Bridge if you want the camera to work together with other Hue devices, such as Hue Secure contact sensors, older Hue motion sensors, or Hue smart lights.
This review is part of TechHive's in-depth coverage of the best security cameras.
That leads us to the main selling point of Philips Hue's new security cameras: the interaction between the camera and the lighting, and there are plenty of nice features to experiment with in the app.
Visual and audible alarms
If the camera detects movement, you can choose to receive notifications directly on your mobile device, and depending on what triggers the movement–a person, an animal, a vehicle, or a package–you can then choose whether to activate the alarm. Among the alarm options is the ability to flash some or all of your Hue lights red or white, while an 80-dB alarm can warn household members of trouble (it's not quite loud enough to alert neighbors). An integrated speaker and microphone allow for two-way chat with anyone in vicinity of the camera.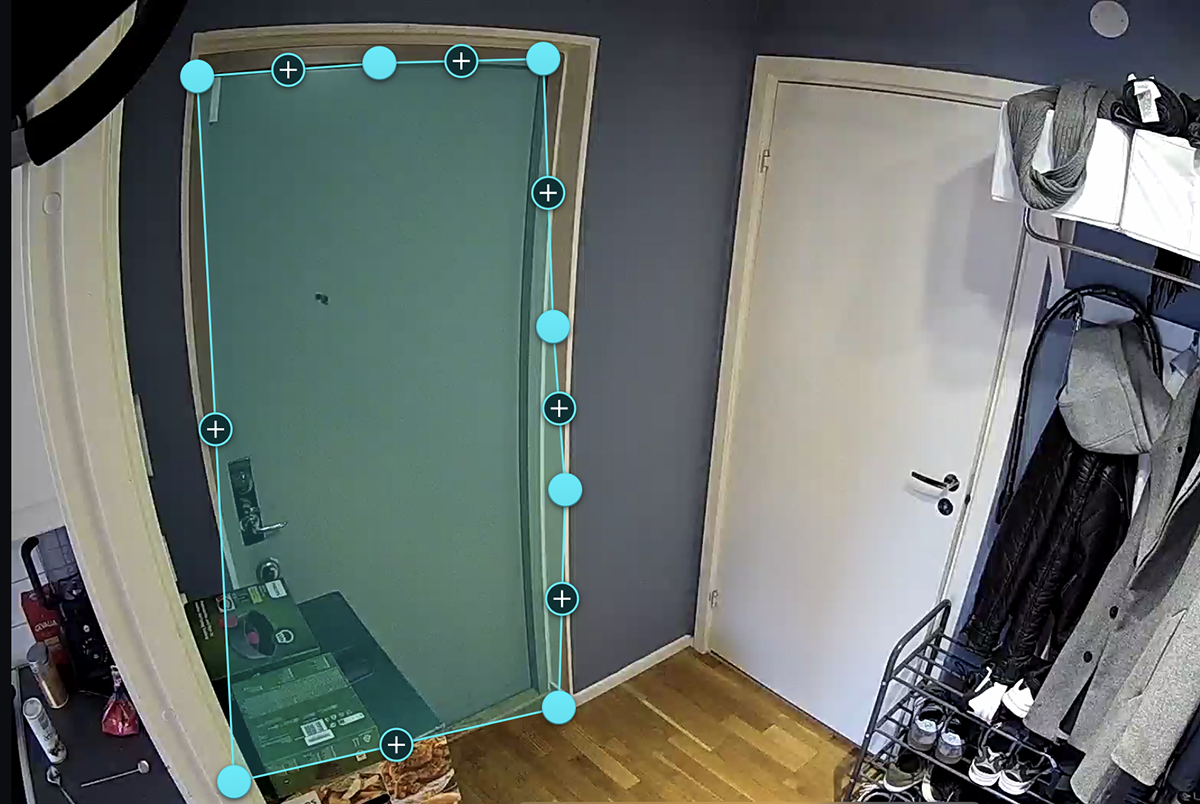 Andreas Bergsman
When it detects motion, the camera records a video clip that is stored for different lengths of time depending on the Hue Secure plan you choose. Yes–just like most manufacturers, Signify wants to milk as much as possible out of its users, and if you want access to all the functions and storage options of the Hue Secure camera, you'll have to pay more. With a paid subscription, the camera starts recording as soon as motion is detected. It then encrypts the video, saves it to the cloud, and allows you to export the video to your mobile device.
Subscription plans
There are three different subscriptions. The free version gives you access to standard features, including live streaming, light and sound alarms, and instant messaging. For custom activity zones, AI object detection (including people, animals, vehicles, and parcels), and cloud video storage, you'll have to opt for one of two paid subscription plans. Hue Secure Basic covers 30 days of video storage for a single camera ($3.99 a month, or $39.99 a year), while Hue Secure Plus includes 60 days of storage for all your Hue cameras ($9.99 a month, or $99.99 a year).
In practice, the camera works well and the reaction time, from when a movement is registered until you receive a notification on your mobile phone, is very fast. The video resolution of 1080p is sufficient indoors, offering a good overview of any activity. But for a clear and detailed outdoor image at greater distances, a camera with 4K resolution is preferable–and unfortunately, Signify does not currently offer a 4K option.
Specifications
Product: Philips Hue Secure wired camera
Tested: October 2023
Manufacturer: Signify
Connection: Zigbee, Wi-Fi (2.4-5 GHz), smartphone with Android or IOS
Resolution: 1080p
Operating temperature: -20°C to +45°C
Viewing angle: 141.2 degrees (diagonal)
Audio: Speaker and microphone
Motion sensor: Yes
Motion zones: Yes
Storage: Cloud storage, subscription required (free 30-day trial included)
Subscription cost per month: From $3.99/month
Color: White or black
Price: $199.99 from Philips Hue
This review first was first published on M3, our sibling site, and was translated from the original Swedish.