The holiday season is upon us and it is the ideal time to explore new places with family. But, holidaying without your four-legged family members is no fun. Luckily, you don't have to leave them behind this time around.
Across South Africa, a number of hotels stand ready to warmly welcome your pets. Here are just 5 of South Africa's pet-friendly hotels:
The Oyster Box
The Oyster Box in Umhlanga stands ready to provide the best holiday for you and your furry companion. The 5-star hotel provides dog beds and dog menus, ensuring that the stay which your pet experiences is just as comfortable and unforgettable as yours. An added plus is that the hotel is located just by the beach, so lovely walks on the powdery sand or promenade are guaranteed.
The Twelve Apostles Hotel
The luxurious Twelve Apostles Hotel in Camps Bay is ideal for a luxurious getaway with the best views. At the hotel, pets are allowed in specific pet-friendly rooms and pet beds, bowls, as well as bespoke pet-friendly menus are available on reservation.
Unfortunately, the Twelve Apostles Hotel only allows dogs which are smaller than knee-height. Dogs must also be kept on a leash at all times when in public areas.
Southern Sun Sandton
Located on Katherine Street in Africa's richest square mile, Southern Sun Sandton is pet-friendly. When visiting the hotel, you can bring your furry companion along and relish in the comforts which will make both you and your pet feel right at home. Pet-friendly rooms are situated on the ground floor and there is a sliding door that opens to a private garden.
Your pet will receive a welcome treat on arrival and pet bedding to ensure their utmost comfort. There is also a pet gourmet menu for them to enjoy. Pet-friendly rooms come at an additional charge of R250 per night.
The Bay Hotel
The Bay Hotel firmly believes that a good dog owner enjoys the company of his furry companion no matter the place. Yes, even on holiday! Thus, the hotel has identified the Cabana Pool Club on the ground floor as the perfect place for pet-friendly stays. The rooms have a separate entrance and easy garden access.
There is an extra charge of R170 for pets and guests are expected to indicate in advance that they will be travelling with their pet.
Home Suite Hotels Rosebank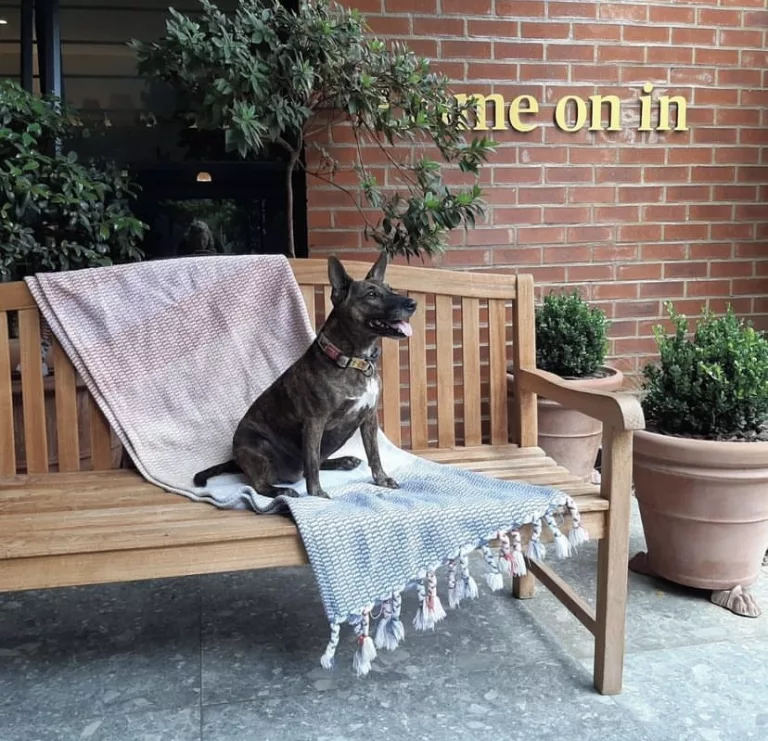 Home Sweet Hotels Rosebank strives to be a home away from home. It therefore comes as no surprise that pets are met with the warmest of welcomes.
At the boutique hotel, there is also a resident dog named Hazel and pet-friendly amenities are available for your two-legged companion. These include dog beds, food bowls and outside hangout areas such as the rooftop terrace where your dog can join you while you eat, work or play.