For as long as Antonio Bartolome has worked at USC, he has had the same question: Why doesn't USC have a fashion program? A school with such strong ties to the entertainment industry — in a city that's one of the hubs of the fashion world — seems like the ideal place for such a program.
"People find out that we don't offer any fashion programs and they're like, 'That doesn't make any sense,'" said Bartolome, the student services director at the USC Roski School of Art and Design. "You look at our campus on any given day and with what the students are wearing, it looks like a runway in a fashion show. And we don't have any kind of fashion program here?"
For the past several years, Bartolome has been working with others at USC Roski to bring such a program to the university. That dream became a reality this fall, when USC launched its first minor in fashion.
"Roski artists and designers have always possessed a strong vision and a commitment to ethical practices leading to unique and forward-thinking ideas that make me proud and leave me hopeful," said Haven Lin-Kirk, dean of the USC Roski School. "I'm excited that we are now offering all USC students an avenue where they may communicate their identities and beliefs through the multisensory world of fashion."
Expanding USC's fashion footprint in Los Angeles
USC's program comes out of a collaborative effort between the USC Roski School and other professional schools including the USC Jimmy Iovine and Andre Young Academy, the USC School of Dramatic Arts, the USC Kaufman School of Dance, the USC Marshall School of Business and the USC Annenberg School for Communication and Journalism.
Though the minor is considered interdisciplinary, it will be housed at USC Roski. Elective options include fashion studies, wearable production, smart fabrics, fashion in extended reality and digital worlds, costuming, dance and movement, and marketing. The minor may also serve as a path to two forthcoming progressive graduate degrees: the Master of Fine Arts in Fashion at USC Roski and the Master of Science in Fashion Innovation at the USC Iovine and Young Academy.
"Fashion is developing an intersectional identity spanning creative practice, technology, business and culture," said Thanassis Rikakis, dean of the USC Iovine and Young Academy. "The USC fashion partnership allows our students to engage, explore and expand the intersectional characteristics of fashion."
Building blocks of the USC fashion program
Fashion wasn't in place as a minor until this fall, but USC Roski students — particularly those in the design graduate program — have worked within the realm of fashion while at the university. Students like Paola Espinosa came into USC Roski wanting to focus on fashion, even if the school didn't have a program.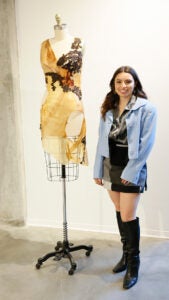 "At the time, there wasn't really anybody doing fashion in my cohort. So, I had to figure out how I was going to specialize the program around what I wanted to do," said Espinosa, who earned her MFA from the USC Roski School in 2022.
Although the actual fashion program wasn't in place when Espinosa started, her graduate work in design provided an interdisciplinary experience that the new fashion program aims to mimic. Espinosa earned her undergraduate degree in fashion/apparel design — with an emphasis on sustainability — from San Francisco State University. Espinosa saw USC Roski as the perfect opportunity to blend her experience with a passion for sustainability.
As an MFA student in design, Espinosa used her time at USC Roski to develop sustainable clothing and accessories. Part of that entailed using recycled textiles, as well as sustainable dyes created by students in the chemical engineering department at the USC Viterbi School of Engineering.
"It just kind of felt like a perfect match," Espinosa said. "I was trying to figure out what I wanted to do and how I can mix sustainability with clothing and what that even meant … and [USC] Roski really let me explore that."
Upon hearing that her alma mater had started a fashion program, Espinosa admitted that her initial feelings were bittersweet. On the one hand, she felt the program was long overdue, and is excited for what it means for incoming and prospective students. However, she also wishes the program was announced just a little earlier.
"I was immediately like, 'Dang it,'" Espinosa said with a laugh. "That would have been so beneficial for me and what I wanted to do, so I was a little bit sad that I didn't get to experience the program — missed it by a year."
However, as a proud USC alum, she looks forward to seeing what opportunities future Trojans will have and what type of footprint they will make on the fashion industry.
"USC is the perfect campus to have a fashion program — it's in the perfect location, so I was always surprised that they didn't have a fashion program before," she said. "I think so many students are going to be excited for a program like that."