We use affiliate links. If you buy something through the links on this page, we may earn a commission at no cost to you. Learn more.
REVIEW – This year I have tested a few indoor hydroponic gardening systems and the results have been quite good. As I mentioned in a previous review, my wife has experienced an amazing summer gardening season with plants that have been producing bountiful crops just about every day. As a result, I can't remember the last time we went to the market to buy greens. Although the weather is changing and creating challenges getting the greens to ripen on the plants, they are still producing.  Just yesterday, she picked these: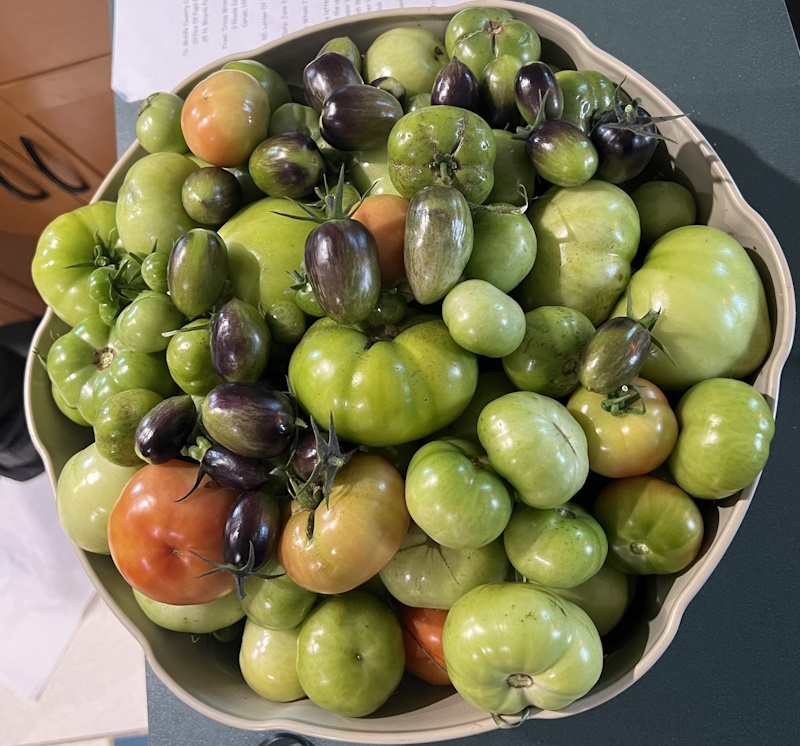 However, the change in seasons and weather does mean that my wife has to use indoor methods to get them to ripen. She is now focusing on growing indoors for the rest of the Fall season and the winter season and needs the proper tools and systems to keep her harvesting trends up. Enter the Auk – Innovative Auto Indoor Gardening System.
What is it?
The Auk – Innovative Auto Indoor Gardening System is a fully automatic indoor garden. It can grow up to 152 bags of herbs per year that can provide a steady flow of nutritious herbs, full of vitamins, antioxidants, essential oils, and other nutrients.
What's in the box?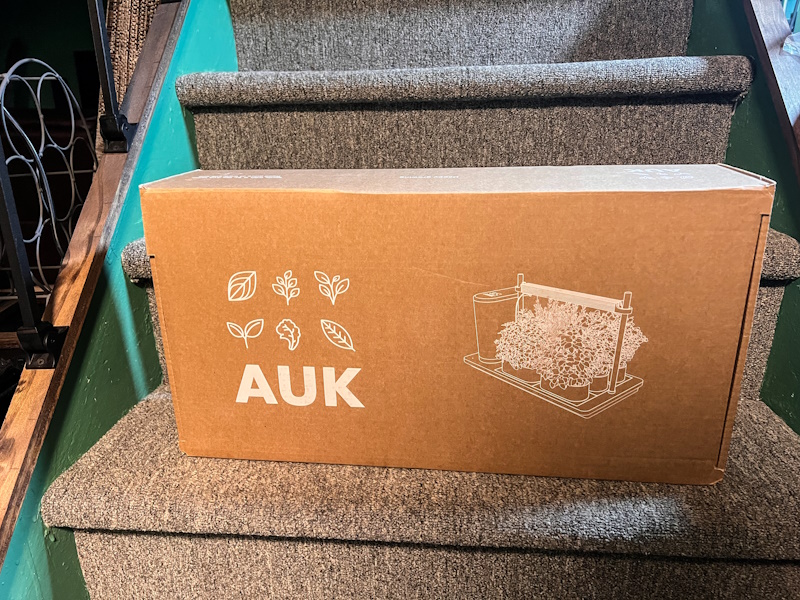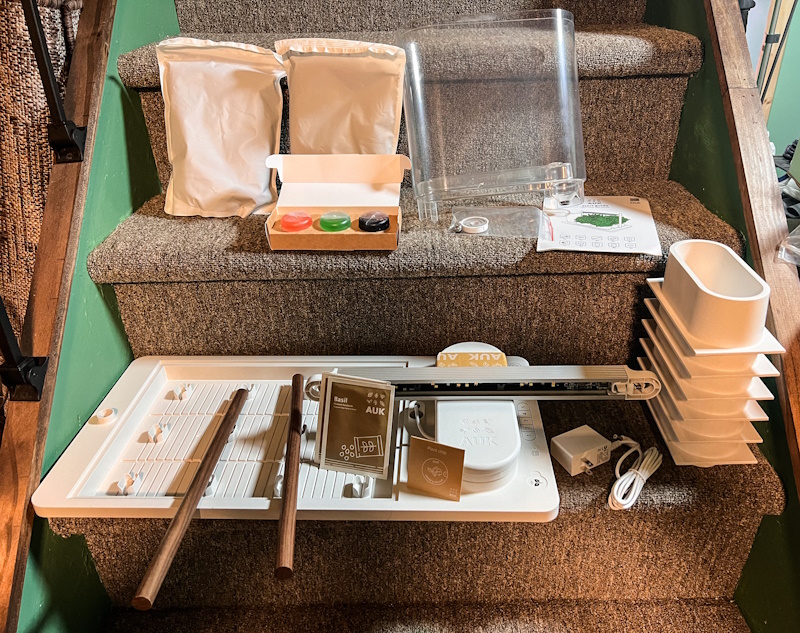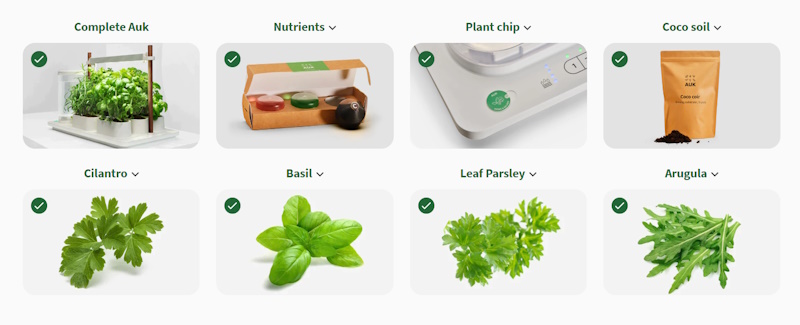 1 x Auk – Innovative Auto Indoor Gardening System
1 x Set of Nutrients
1 x Set of Plant Chips
1 x Set of Green Plants
Hardware specs
Length: 56 cm
Width: 29 cm
Height: 35 cm (50 cm with the long plant light rods)
Power Supply: 1,8m cable, EU socket
Weight approx.: 3kg
Water tank: 2.4 liters, refilled every 10-20th day (depending on plant growth speed)
Light: Custom, full-spectrum LED-light
Power Supply: 24W (9W daily average due to night mode)
Power Consumption: 6 kWh per month (around €0.5-1)
Place of origin: Manufactured in Europe
Seeds: Non-GMO from the Netherlands
Materials: Baseplate & pots Biocomposite plastic from France
Plant light: Norwegian Aluminium
Plant light rods: Pine or walnut from Europe
Design and features
The Auk – Innovative Auto Indoor Gardening System is similar in concept to most hydroponic gardening systems that I have encountered. it is mostly made of plastic with some other materials depending on the function. It features 6 individual growing trays that sit neatly on a larger tray. There is a separate section on the larger tray for the plant food and for the water reservoir. There is an electronic touchpad with controls on one side of the tray. There are also 2 holes, one on each side that support the poles that hold the growing light.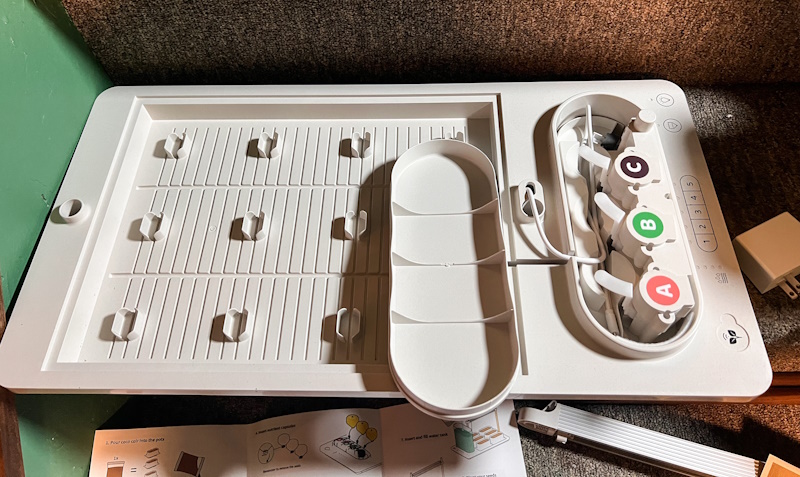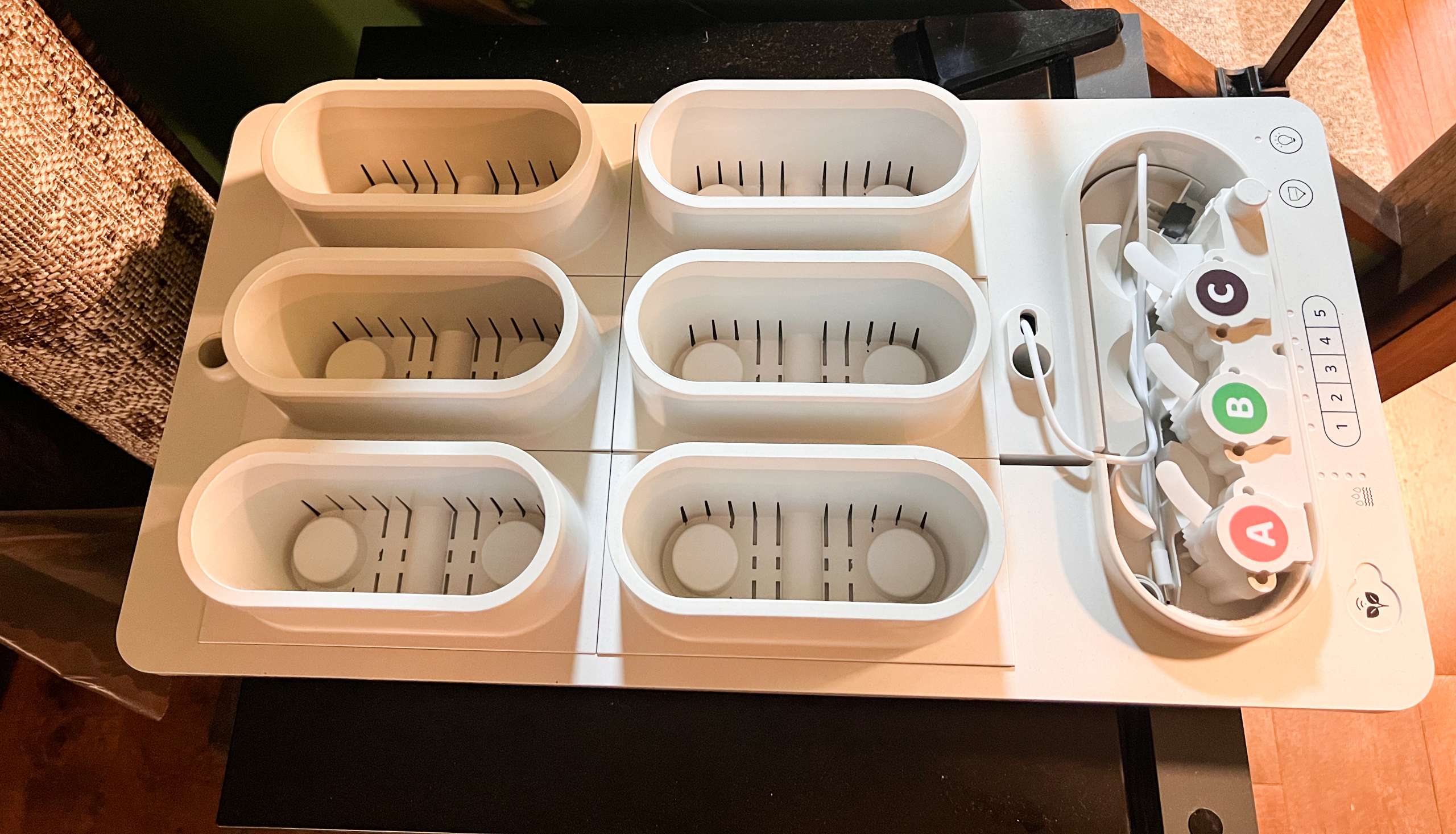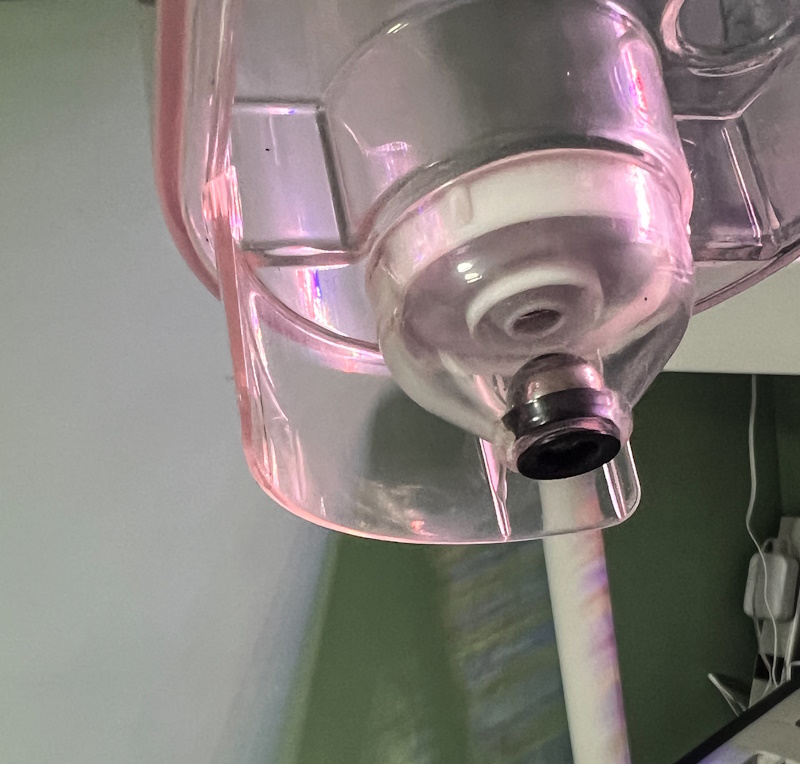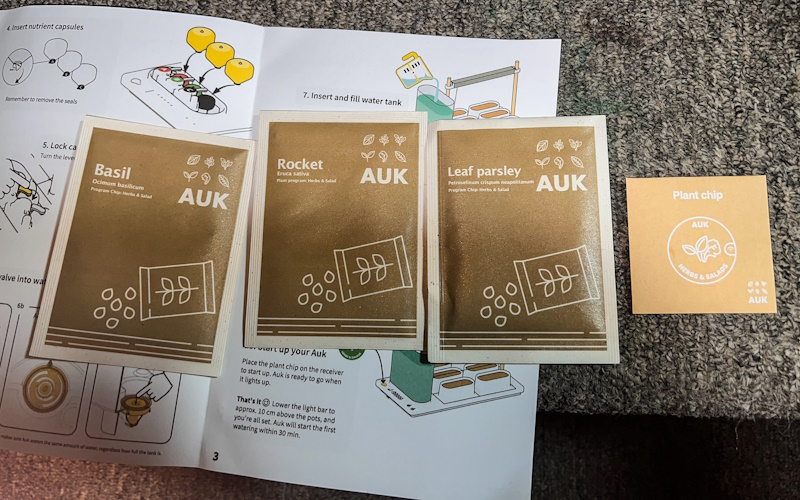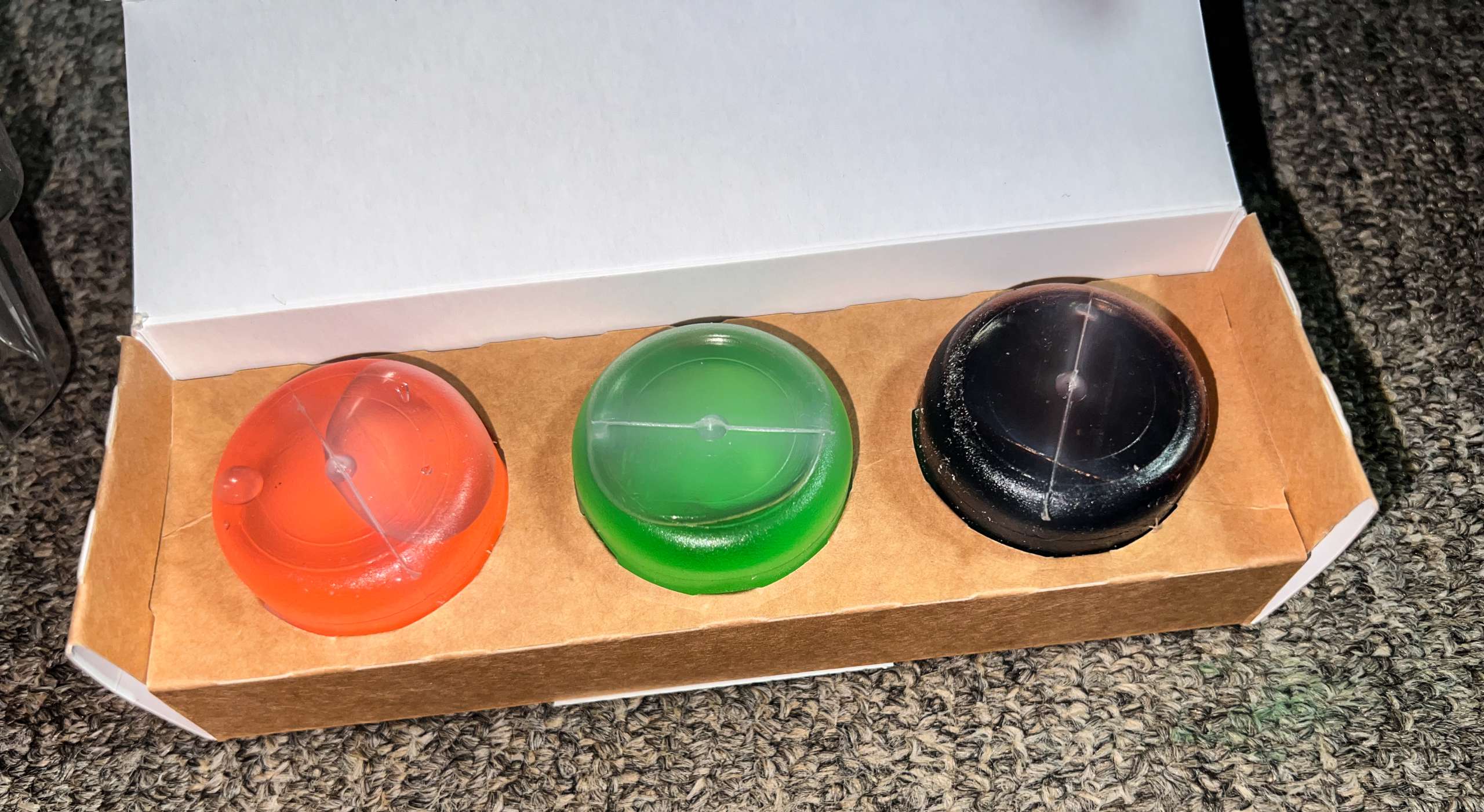 Setup
Setting up the Auk Innovative Auto Indoor Gardening System is quite simple. Simply fill the 6 growing containers with the provided Cocoa Coir (Soil), add the food capsules, and the water container, and attach the poles and growing lamp, and then you are ready to plant the seeds.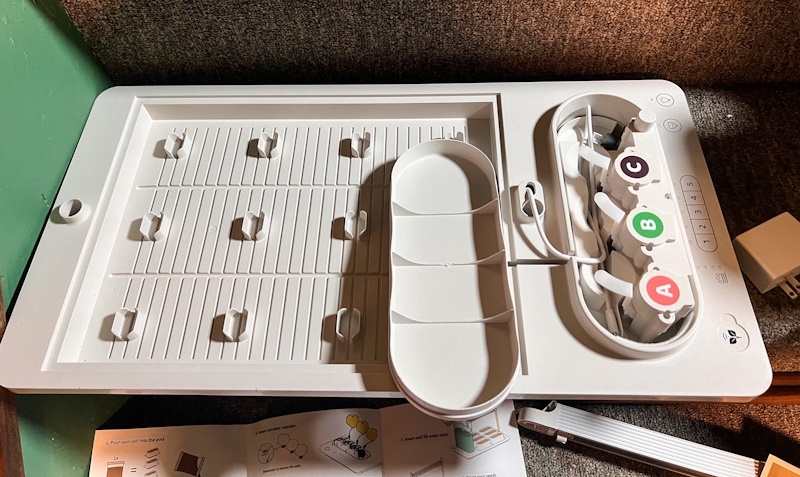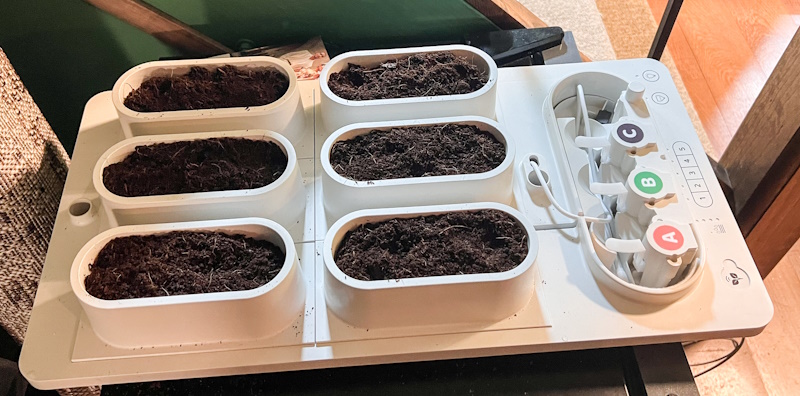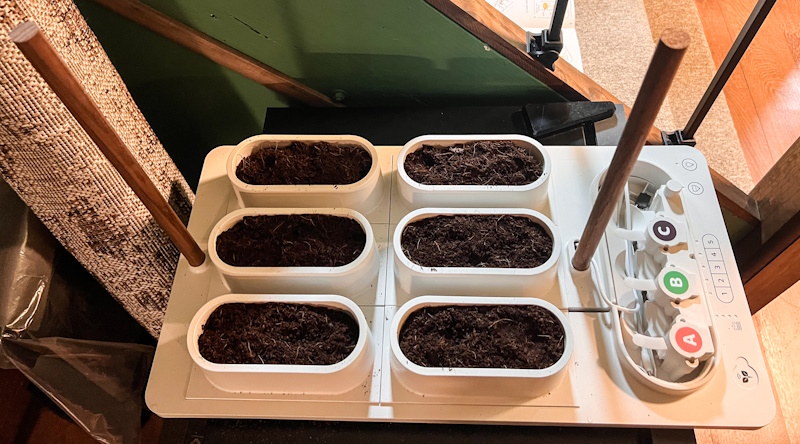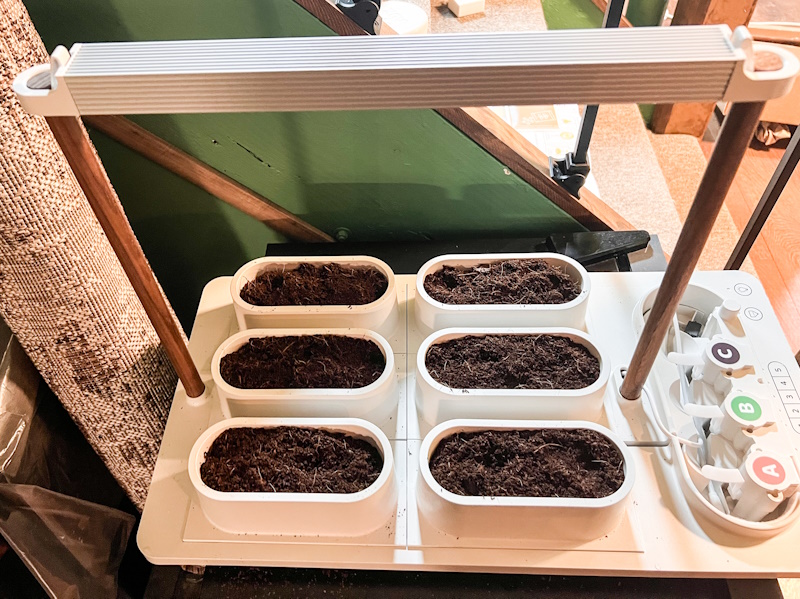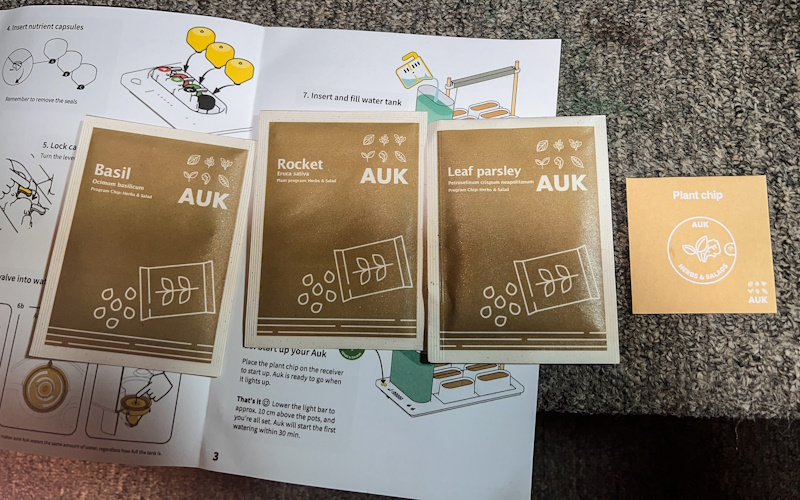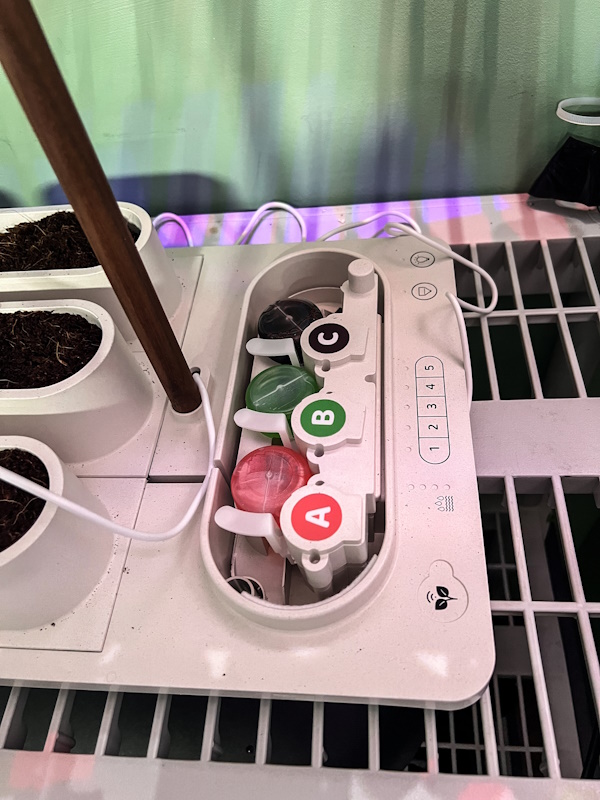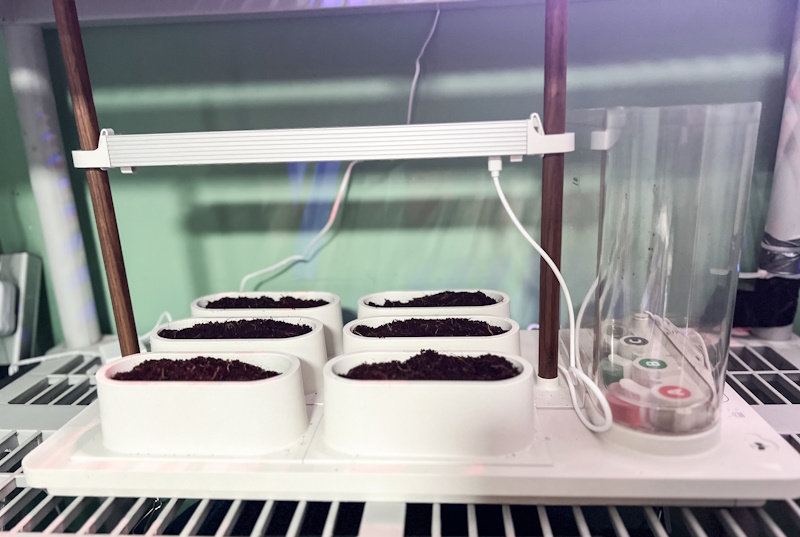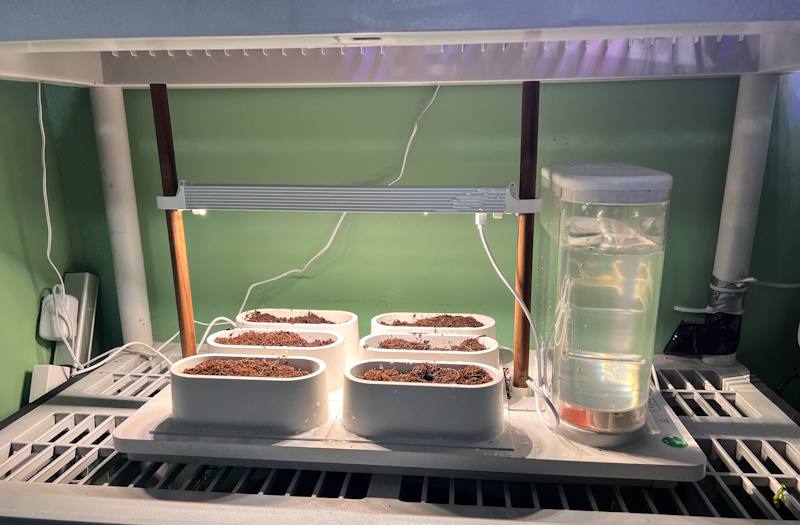 Performance
The Auk – Innovative Auto Indoor Gardening System lives up to the performance that I expected. Once the seeds are planted and the lighting schedule is set up, it is just a matter of ensuring the water level is correct, and then waiting for the plants to grow. Most of what my wife planted grew well. There was one section that took quite a bit longer than the others but that might just have been the type of herb. The lighting automation works very well and it is almost a "set I and forget it" process. The system that I received has short poles for the grow light which unfortunately restricts the height of the plants. I do see now that the new AUK system comes with longer poles. Also, there were no labels included in the system. The labels are necessary as reminders of what seeds are planted and where. The following are some photos from the growing journey: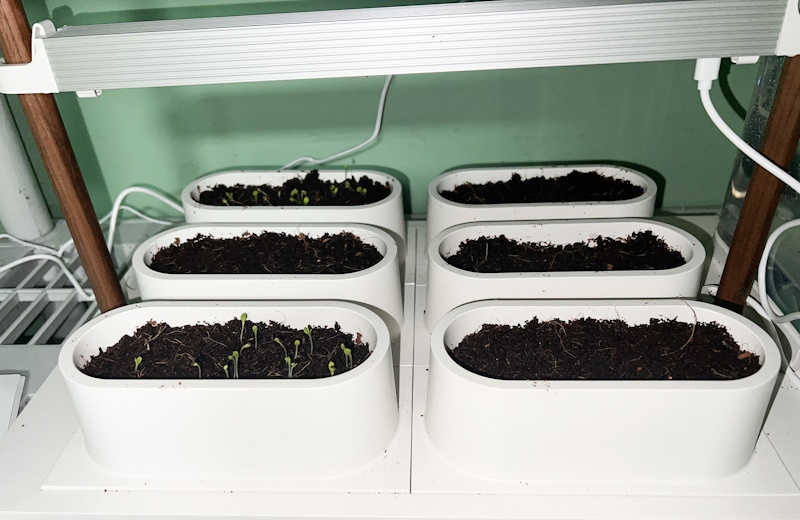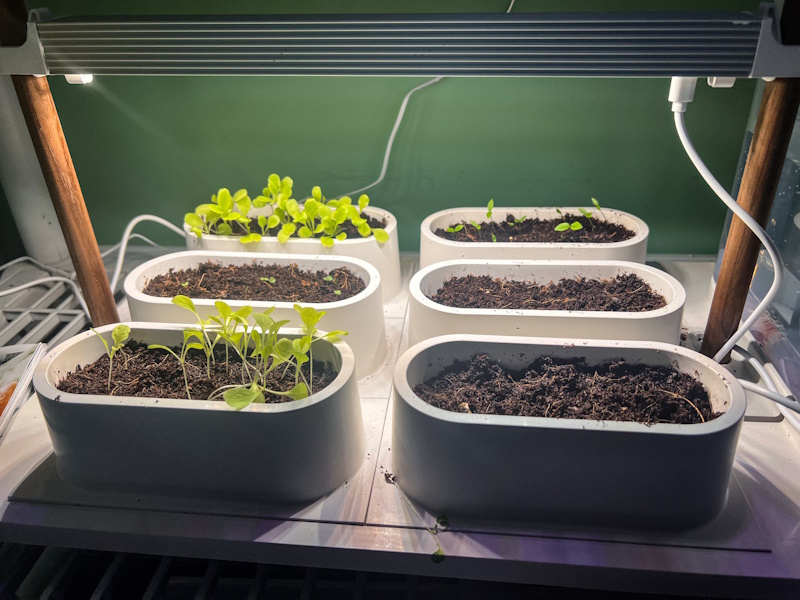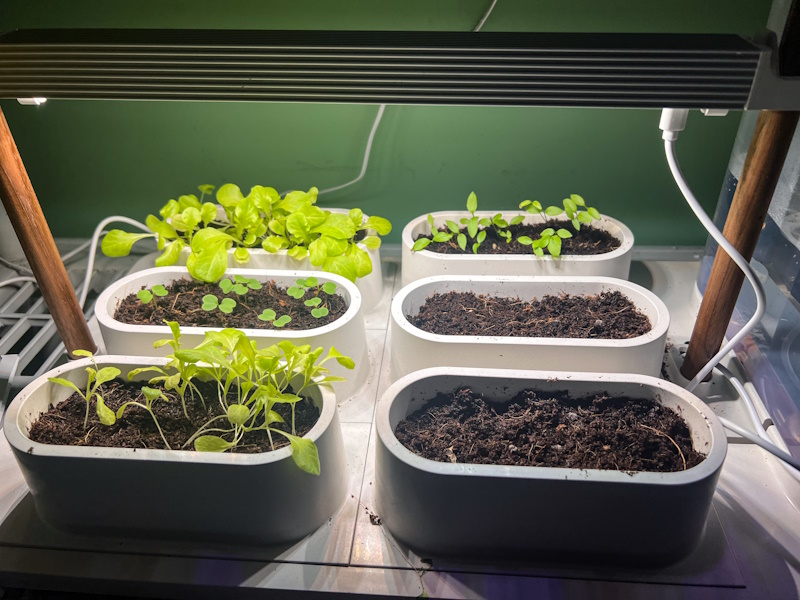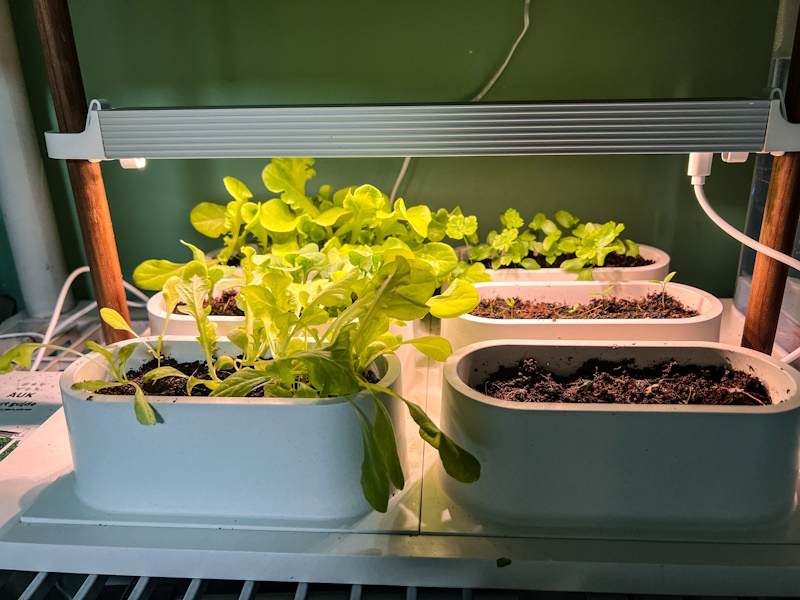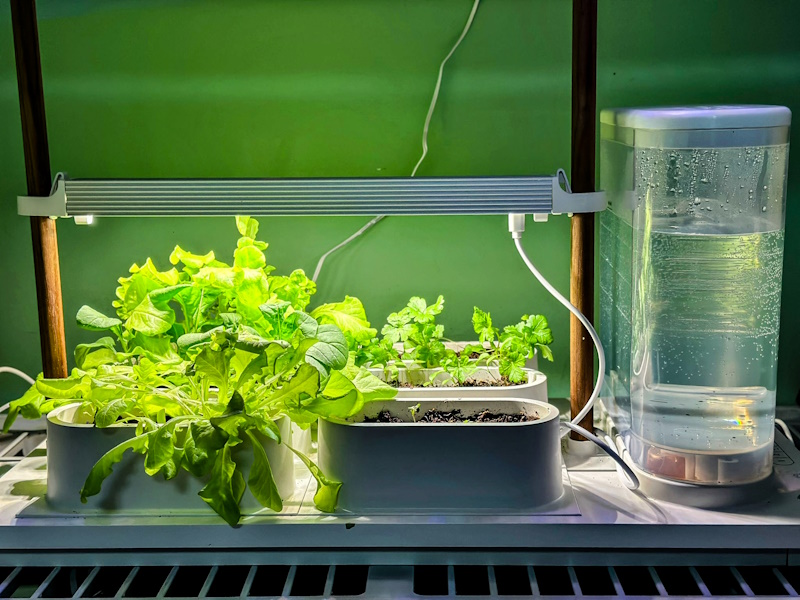 Here is a video that shows all that you need to know about using this Auk Innovative Auto Indoor Gardening System:
What I like
Sleek and attractive design
All ingredients and accessories are included
Very easy to set up and use
What I'd change
The poles that support the growing lamp should be longer
Labels should be included
Final thoughts
The Auk – Innovative Auto Indoor Gardening System is a very nice well-designed growing system that uses water, ingredients, and light to grow herbs/greens. The setup and growing process is easy with regular attention only needed to monitor the water level and the height of the growing light as the plants get taller. Having reviewed a few similar systems, I like this one and so far it is one of my favorites. My wife also gives it a thumbs-up!!
Price: $269
Where to buy: Auk website
Source: This sample of this product was provided by Auk.