We use affiliate links. If you buy something through the links on this page, we may earn a commission at no cost to you. Learn more.
REVIEW – I've been using the Vivint smart home security system for over three years now and have nothing but good things to say about this combination smart home/security system. It's alerted me to a hot water heater leak in my basement that could have resulted in a BIG mess had I not had water leak sensors, and it gives me peace of mind when I'm away from home because I can look in for a live view from the cameras that I have indoors and outdoors. I didn't know how they could improve the system, but they have updated their indoor cameras with the new Vivint Indoor Camera Pro. Let's set it up and see if it's a worthy upgrade.
What is it?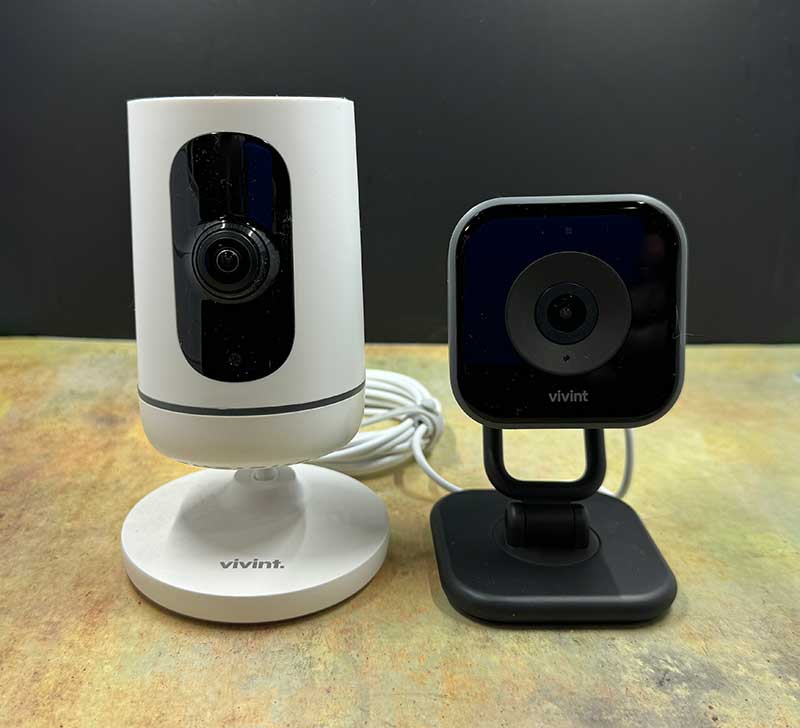 The Vivint Indoor Camera Pro is Vivent's newest indoor security camera that is meant to be a major update to their previous indoor Ping cameras (above left). What's different?
Custom detection zones for special alerts/notifications
microSD card slot for built-in recording even when your Wifi is down
Improved night vision
Person detection AI
Specifications
Click to expand hardware specs

COLOR: Black
SIZE: 4.2 in (h) x 2.6 in (w) x 2.6 in (d)
WEIGHT: 1.05 lbs
POWER USAGE: 12-24V AC or DC, 1.0A min.
AC ADAPTER: Input: 100-240V @ 50-60Hz AC, 0.2A; output: 12VDC, 1.5A
VIDEO RESOLUTION: Full 1080p HD w/ 2x HDR
FIELD OF VIEW: 150° horizontal, 80° vertical
NIGHT VISION: 2 high-powered infrared LEDs (850nm) with IR cut filter
AUDIO: Built-in speaker and microphone
CONNECTIVITY: WiFi connection: WiFi 6
PRODUCT PROTECTION PLAN: 1 year or the length of your Vivint Service Agreement, whichever is longer
REQUIREMENTS:
Minimum 1 Mbps upload and download speed for camera and panel only.
Minimum 2 Mbps upload and download speed for Vivint Playback/Smart Drive, camera, and panel.

.
What's in the box?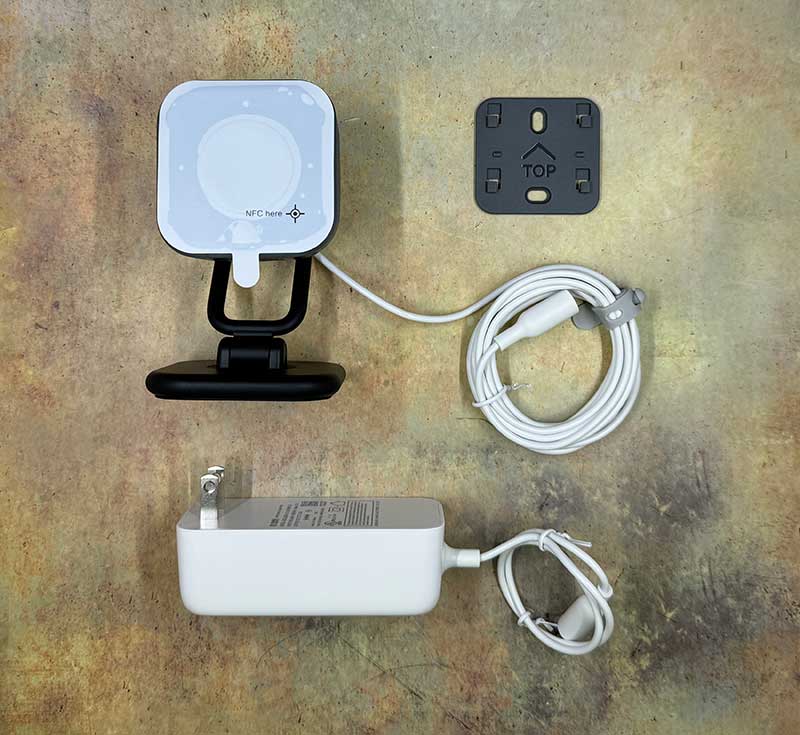 Vivint Indoor Camera Pro security camera
Mounting plate
AC adapter
Design and features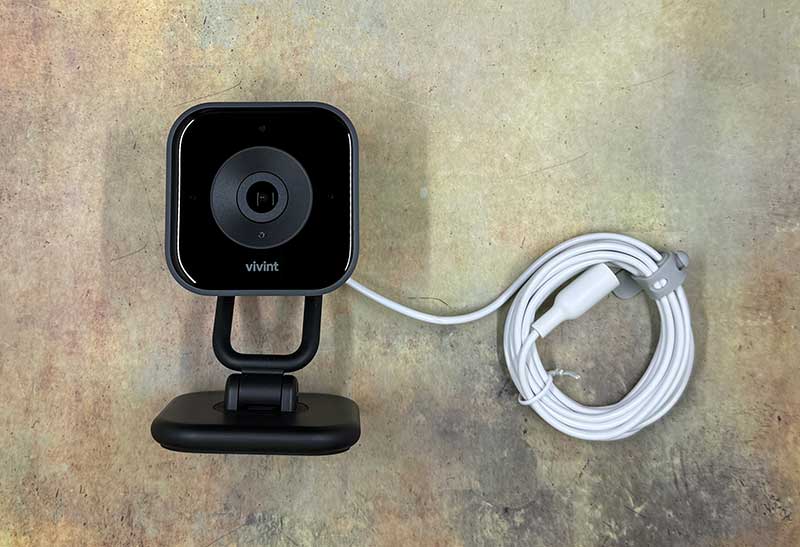 The Vivint Indoor Camera Pro reminds me of the little hopping desk lamp like the one from the Pixar movie intros. The camera has a black metal base and a dark grey plastic housing. But for some reason, they attached a white power cable instead of a black one…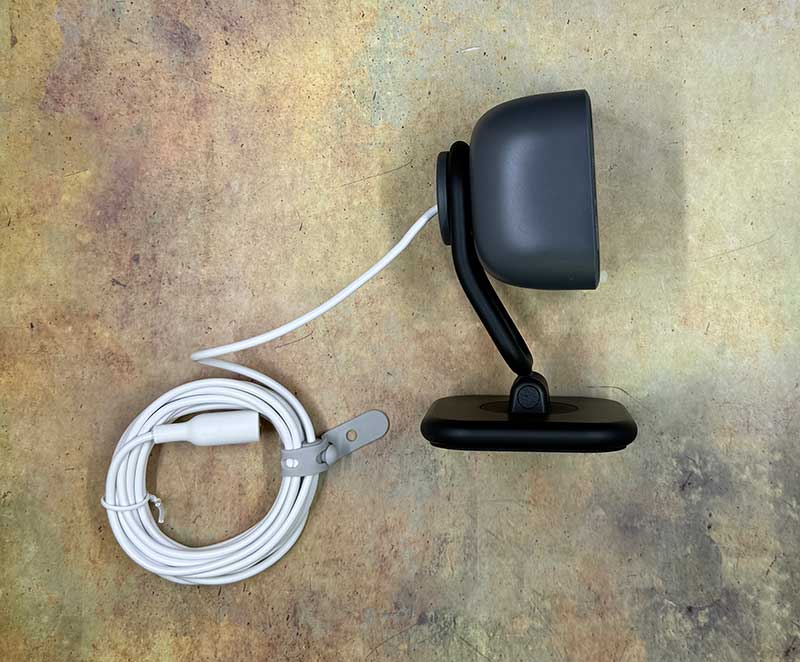 The camera can swivel/rotate on its base as well as pivot forward and backward on the "arm" so that you can create the perfect viewing angle.
The camera itself can also rotate.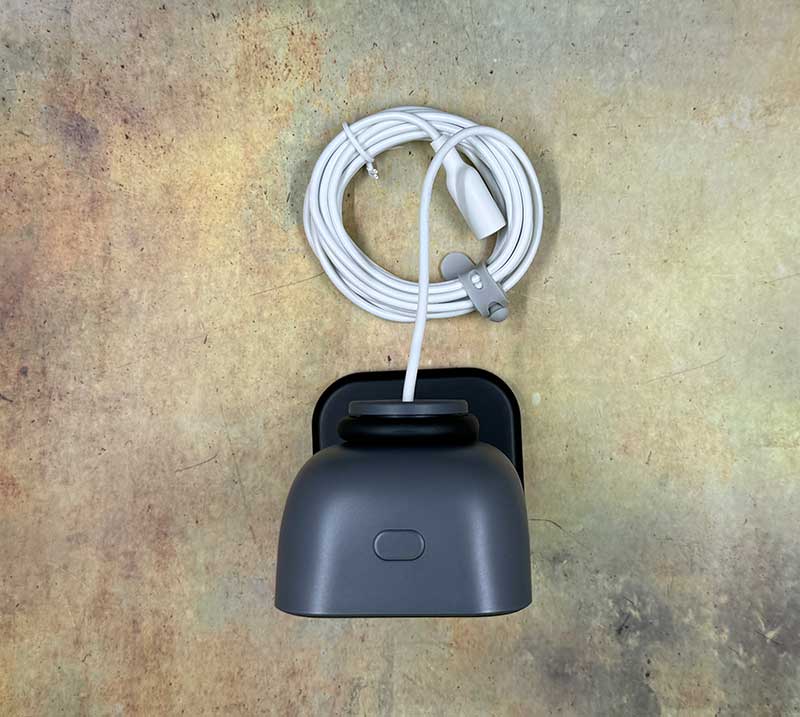 On the top of the Vivint Indoor Camera Pro is a button used during the setup process to initiate pairing with the Vivint smart hub.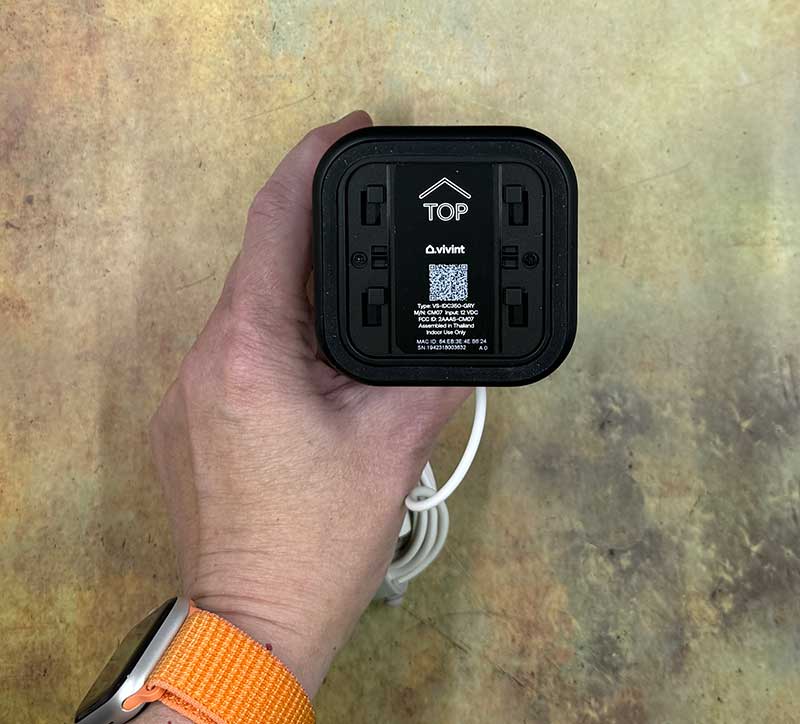 The bottom of the Vivint Indoor Camera Pro has a non-slip ring to keep it from sliding around on a shelf. You can also use the included mounting plate to attach the camera to a wall.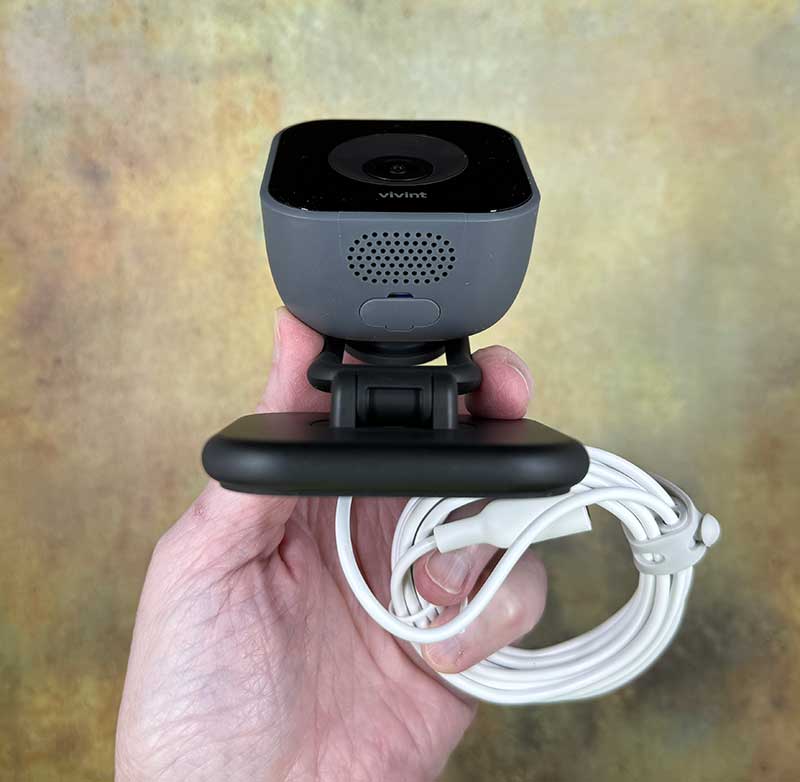 On the bottom of the camera, there's a speaker and a small rubber flap that protects the microSD card slot.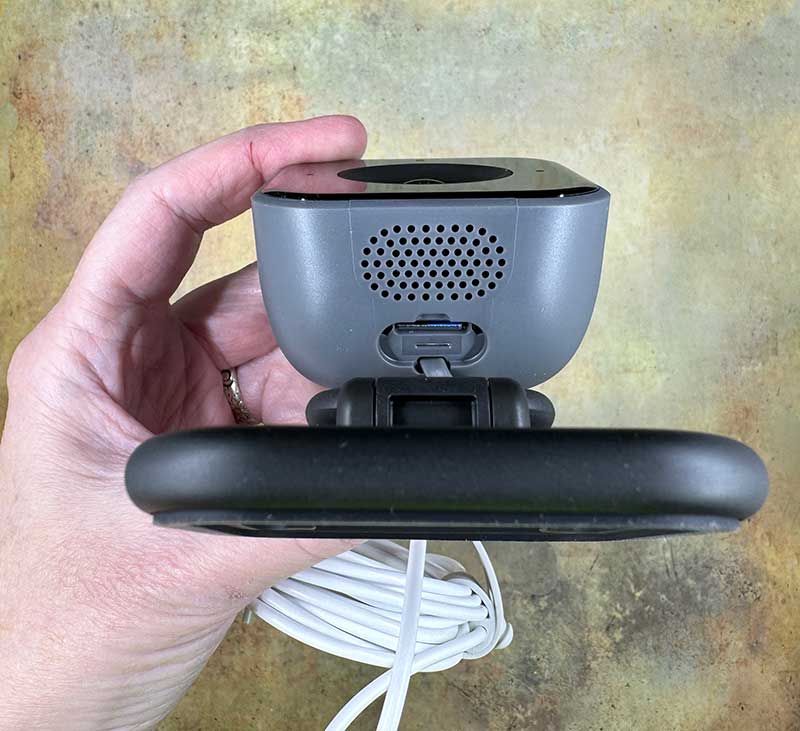 Unlike Vivint's previous Indoor Ping camera, the Vivint Indoor Camera Pro can record footage directly to a microSD card. This is useful when the internet is down and it cannot send footage to the cloud. This way, you won't miss any important events.
Connecting the Vivint Indoor Camera Pro to your Vivint smart home system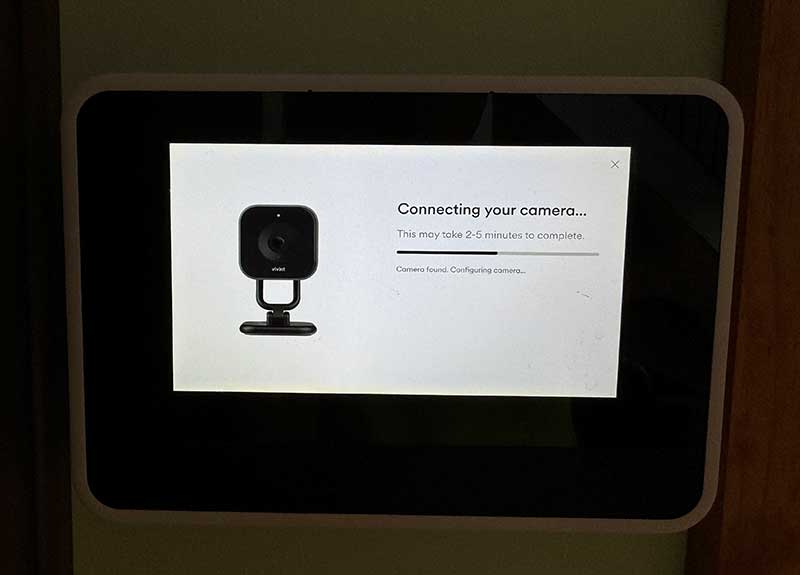 Adding the Vivint Indoor Camera Pro to your existing Vivint smart home security system is really easy. All you have to do is go into the smart hub device settings and choose to add a device. From there, the on-screen instructions tell you to press and hold the button on the top of the camera until you hear a message saying it's connecting.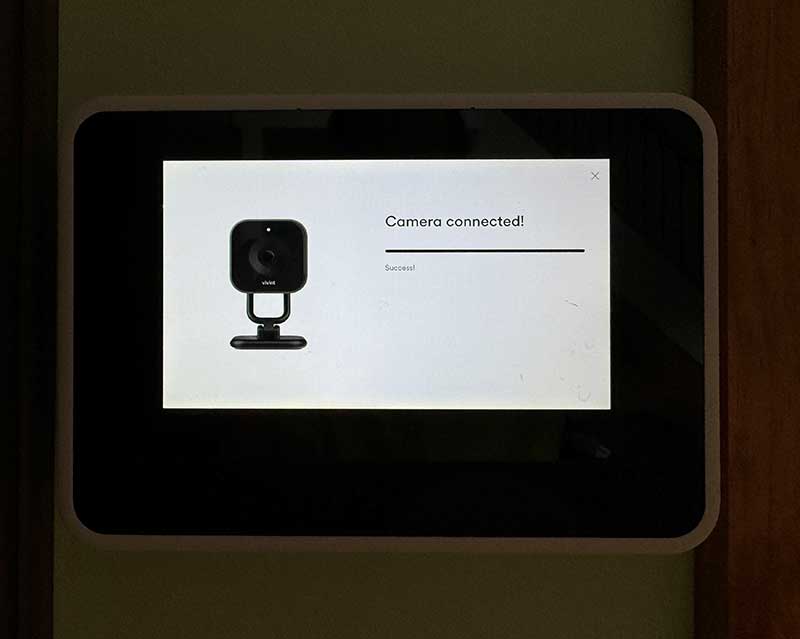 A few minutes later, the camera is connected without needing to type in WiFi SSIDs or passwords.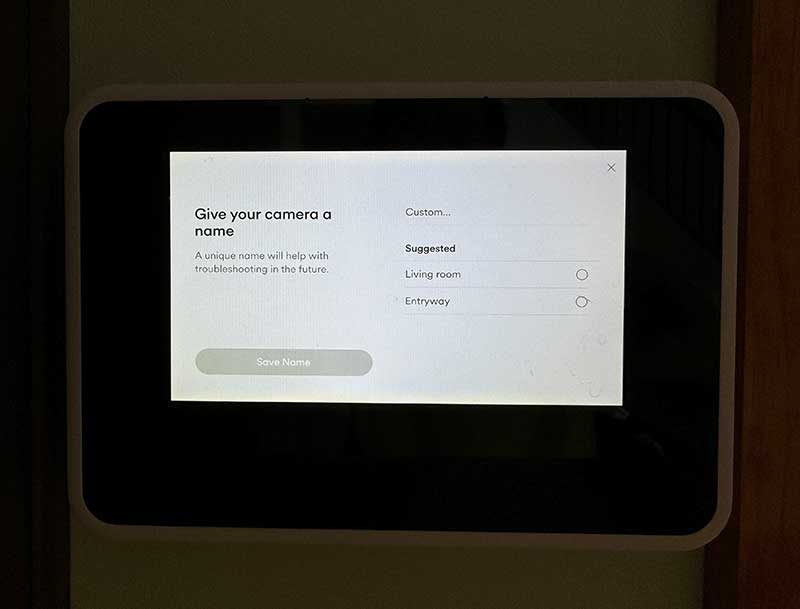 You can give the camera a custom name or pick from suggested names.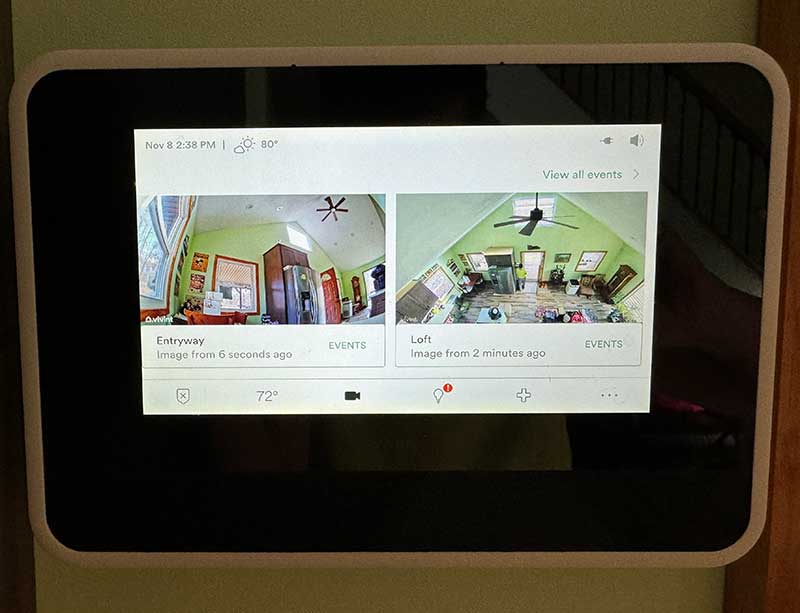 And then you'll be able to see a live view of the camera. In the image above, I added the Vivint Indoor Camera Pro as "Entryway".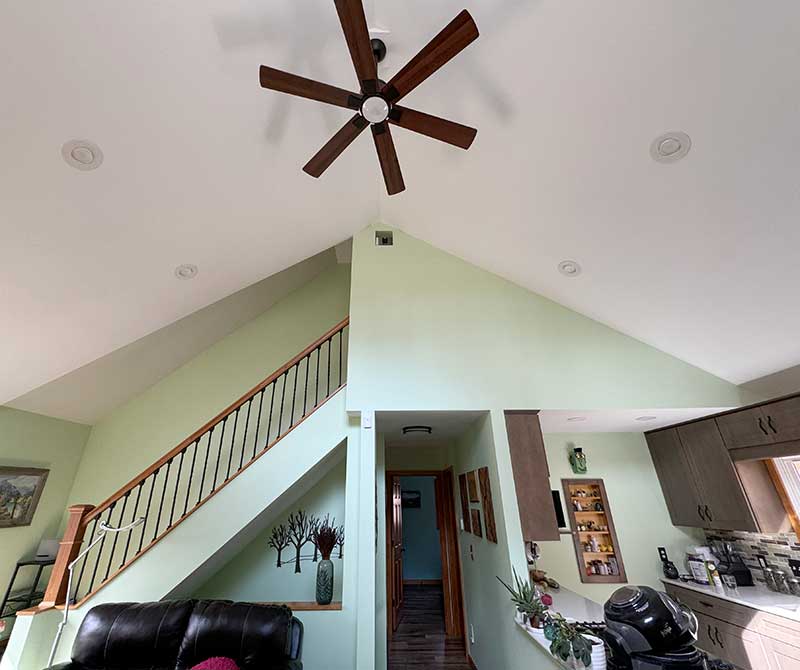 Can you guess where I placed it? 😉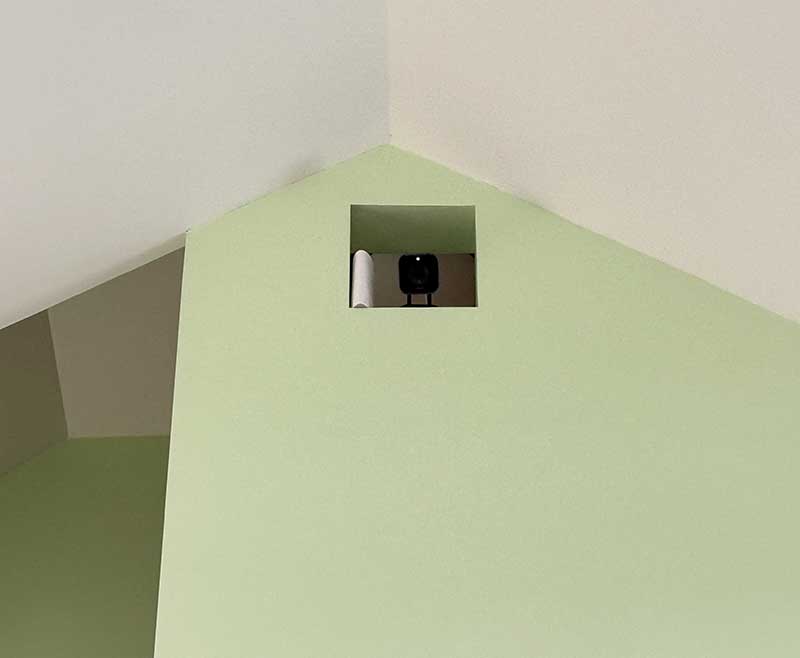 Yes, I requested a special "look out" opening/shelf in the wall when we remodeled the house three years ago. If you are wondering what the white thing is next to the Vivint Outdoor Pro camera, it's the hub for my Tempest Weather Station.
Let's compare the camera images from the original Vivint Ping camera with the new Vivint Indoor Camera Pro. Let's start with the Ping camera first.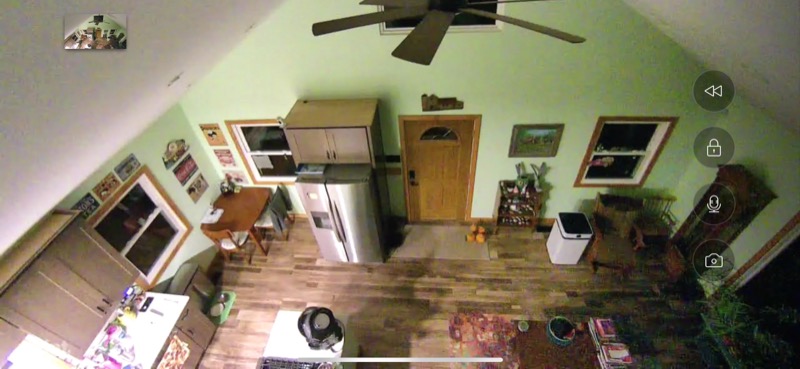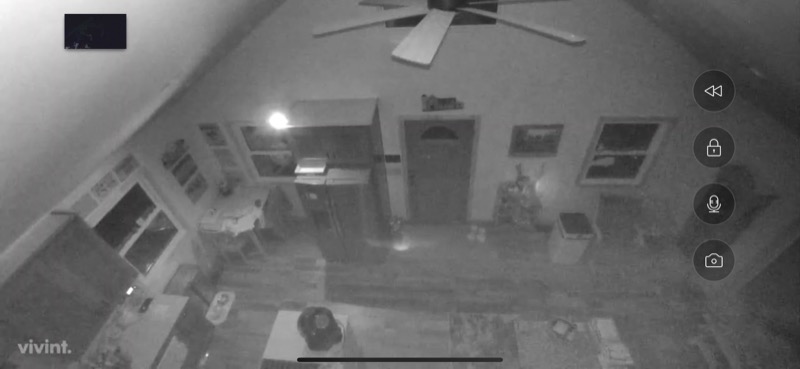 You will notice that the image isn't super sharp, especially when using night vision. And here is the same view from the new Vivint Indoor Camera Pro: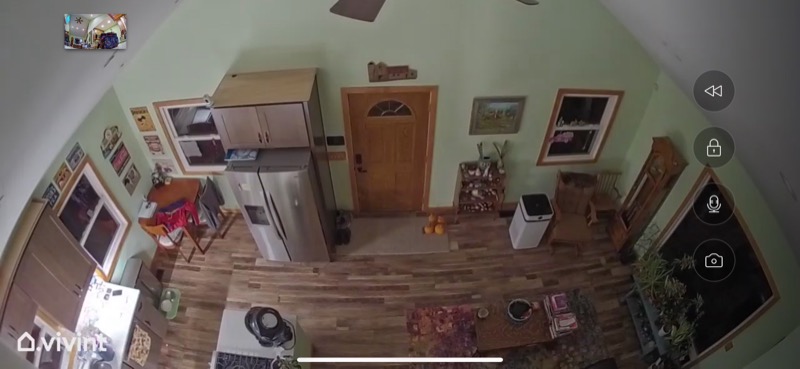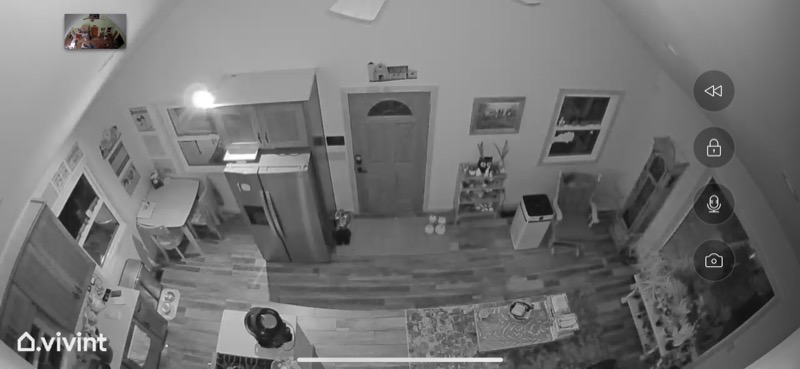 I think the Vivint Indoor Camera Pro's image is sharper, and the difference is very obvious in the night mode view.
Person detection and custom zone detection
The Ping camera was designed to detect pixel changes, but the new Indoor Camera Pro uses AI to detect people.
Here are some of the settings that you can customize for this camera.
Unlike the previous camera, you can set detection zones which comes in handy if you want to be alerted when it detects someone coming into an off-limits area like the snack cabinet!
When it comes to notifications, the Vivint system is fast! I receive alerts within 5-10 seconds max.
It's also important to note that the Vivint Indoor Camera Pro can detect activity and people through glass. Almost all the security cameras I've tested in the last couple of years use PIR sensors to detect light radiating from objects and they can't detect anything through glass. This camera can, and I think that's a huge deal if you want to place this camera looking out of a window. Having said that, the camera's night vision doesn't work through a window as the IR will glare against the glass.
What I like
Quick and painless setup
Better image in daylight and night mode
Records events to microSD card if Internet connectivity is down
Better physical design compared to the Ping camera
People detection even through windows!
Zone detection
What I'd change
Needs a black power cord to match the color of the camera
You can only use it if you already have a Vivint system
Final thoughts
I've been testing the Vivint Indoor Camera Pro for a couple of weeks now, and it's been rock solid. Every time I go into live view, it immediately connects and starts streaming the live view. It also sends notifications to alert me to events very quickly. I like that I can customize the zone and that it knows when it sees a person. This camera has better image/video quality than the Ping camera, especially at night. These cameras aren't cheap, so upgrading might not fit your budget. But if it is, I can recommend this camera to anyone with a Vivint smart home security system.
Price: $249.99
Where to buy: Vivint
Source: The sample for this review was provided by Vivint.