Summary
Experience the rich history and Hollywood glamor of Los Angeles by staying in one of the city's iconic historic hotels.
These hotels offer a unique blend of old-school charm and modern comfort, making them the perfect choice for travelers.
With a minimum rating of 8.0 on Kayak.com, these hotels are highly recommended, but travelers should verify all necessary details before making a reservation.
The world's entertainment capital, Los Angeles, is known for its extraordinary history and cultural extravaganza.
This iconic city was founded in 1781, and it boasts many historic hotels that legendary guests have once occupied. Truth be told, a stay in one of these hotels largely shouts the 1920s vibe in all its glam and glory.
Now, no matter if the visitors are aiming to explore the unmissable Los Angeles attractions or want to party in LA's vibrant clubs and lounges, it's only fitting to book an excellent historic hotel to experience how other celebrities feel when visiting this state. This blog is here to help travelers book the best hotels in Los Angeles that ooze old-school charm and rustic elegance.
All historic hotels listed below have a minimum rating of 8.0 on Kayak.com. However, all travelers need to do their due diligence and verify all the necessary details before making a reservation.
Related: 17 Things To Do in Los Angeles: Complete Guide To Exploring LA & Southern California
Year Built: 1989
Miyako Hotel Los Angeles has been a top Hollywood destination for travelers looking for an outstanding old-age hotel. Located in downtown LA's Little Tokyo district, this hotel is a perfect reflection of the modern interpretation of Japanese heritage.
When here, travelers can enjoy their stay in spacious and cozy guest rooms filled with modern amenities, including Japanese heated water bidets. Also, being centrally located, it's easier to access local restaurants and popular attractions like the Japanese American National Museum, Koyasan Buddhist Temple, and El Pueblo de Los Ángeles.
Year Built: 1946
Built in 1946, the Hotel Bel-Air Dorchester Collection is a much-appreciated historic gem at the heart of Los Angeles. For tourists looking for a timeless and luxurious experience during their visit to Los Angeles, this is the hotel to book. It is located amidst enchanting gardens and wooden hills and has been a go-to option for many for decades.
It features an iconic Swan Lake, exquisite accommodations, and excellent services, a dream for every traveler. All tourists are welcome to immerse themselves in the rich history and Hollywood glamor of this legendary establishment.
Year Built: 1931
Sunset Tower Hotel, located in West Hollywood, remains an excellent option for tourists looking for a historical hotel offering a luxury stay. This 4-star hotel, which was previously known as The St. James's Club and The Argyle, was constructed in 1931 and continues to be among the top 10 destinations for travelers in Los Angeles.
The hotel features exquisite art deco, relaxation and wellness spa, and many more, which are essential for travelers seeking a serene and all-inclusive historic hotel in Los Angeles.
Related: Three Days in Los Angeles: 10 Bucket List Things To Do in 72 Hours
7
Chateau Marmont – Luxurious Accommodation with Poolside Views
Year Built: 1929
Historic Chateau Marmont hotel, Sunset Strip, Los Angeles
Welcome to the beautiful Chateau Marmont, a popular historic hotel with 62 luxurious accommodations, including poolside garden cottages and private bungalows. Established in 1929, this hotel remains a legendary Hollywood haven to date. Despite standing for many years, the hotel has maintained its historic allure, making it a hot spot for celebrities and travelers.
Set in the heart of Los Angeles, Chateau Marmont offers the perfect blend of history and modern luxury. It is on top of the bucket list for tourists looking for a historic haven to stay during their visit to Los Angeles.
6
Beverly Wilshire – Elegant Historic Hotel in LA
Year Built: 1928
Beverly Wilshire was constructed in 1928 and later elegantly remodeled without losing its touch of timeless history. Over the years, this hotel has been a go-to option for distinguished guests, offering a great blend of history and contemporary themes.
The hotel has opulent accommodations alongside renowned dining venues. Also, the fact that it's located near Rodeo Drive makes it easily accessible to the city, making it an ideal choice for travelers who are planning to visit Los Angeles for shopping.
Year Built: 1927
Built in 1927, Hollywood Roosevelt is an iconic treasure In Los Angeles. Thanks to its rich history of the Hollywood golden era, this hotel has, over the years, remained a top choice for people looking for aged but iconic hotels to stay in during their visit to Los Angeles. The good thing is that it is located at the heart of Hollywood, guaranteeing newbie travelers a seamless and vibrant experience of Los Angeles.
Related: 10 Of The Best Experiences You Shouldn't Miss Out On In Los Angeles
4
Hotel Normandie – Historic Gem with Modern Comforts
Year Built: 1926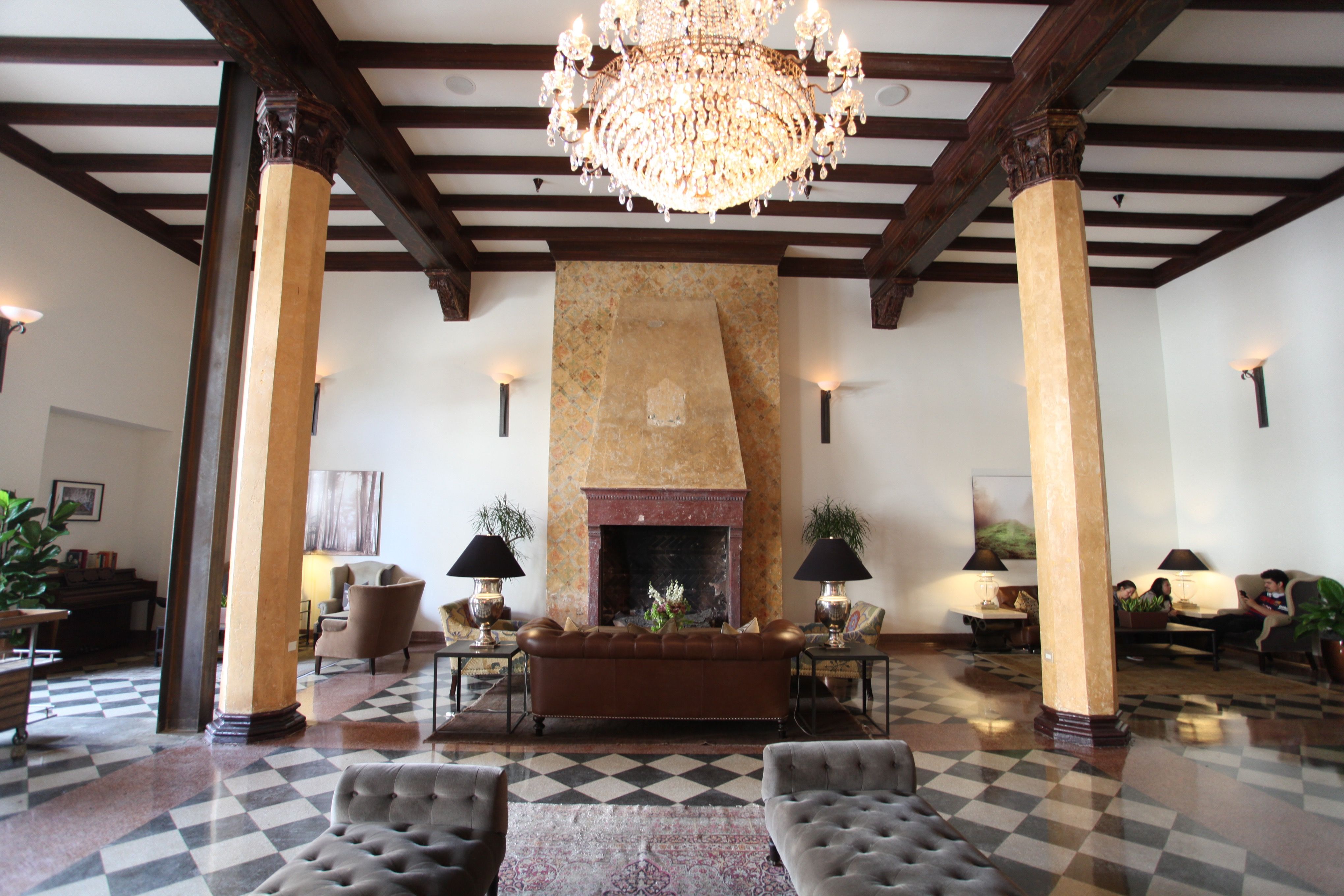 Fully restored lobby with original Moorish details, Hotel Normandie LA
Hotel Normandie was built in 1926 and later renovated, giving it a clean and glamorous look. This historic gem in Los Angeles combines its rich heritage with modern comfort.
Nestled in the vibrant Koreatown district of LA, Hotel Normandie is perfect for tourists who want to experience a unique blend of history and contemporary amenities.
This hotel is near various great attractions in Los Angeles, such as the Wiltern Theatre, Echo Park Lake, Grammy Museum, Hollywood Boulevard, and many more.
Year Built: 1926
Constructed in 1926, Hotel Figuora in Downtown LA has been an icon to reckon with for its vibrant past. For tourists looking for great places to lay down and cool off after a busy day exploring Los Angeles, this 4-star property is the perfect destination. The hotel features many resort-like amenities and a fascinating & eccentric decor, characterized by forest green and teal hues, wood beams, plush sofas, art books, and old-styled casings, all of which resonate with the idea of old-fashioned elegance.
Year Built: 1924
Charlie West Hollywood was initially built in 1924 and remains a classic treasure in Los Angeles.
Nestled in West Hollywood, this historic hotel is a perfect old-world charm with a touch of modern comforts. This hotel has hosted iconic figures such as Marilyn Monroe and Clark Gable. It offers luxurious accommodations and an elegant rooftop pool with scenic views of Los Angeles. Additionally, it's easily accessible to the Sunset Strip, making it a perfect choice for leisure travelers.
Year Built: 1922
Hotel Per La was built in 1931 and stands as an elegant gem in the heart of Los Angeles.
This is a highly recommended hotel for travelers looking to stay at a historic accommodation while exploring Los Angeles attractions. As one of the best historic hotels in LA, this hotel invites travelers to step back when enjoying modern luxury. There are premium 4-star rooms and luxury suites, all incredibly chic and well-appointed – perfect to accommodate travelers who like to stay in style.