Today's best Black Friday deals
Abode Iota Home Security Kit | $329 $259 at Amazon
The Abode Iota Home Security Kit includes everything you need to get started with securing your home. This handy kit consists of a mini door and window sensor, key fob, and the all-important Gateway that houses a built-in camera, siren, and backup battery. In addition, Abode's kit allows you to go completely DIY, or you can tack on professional monitoring for a small monthly fee.View Deal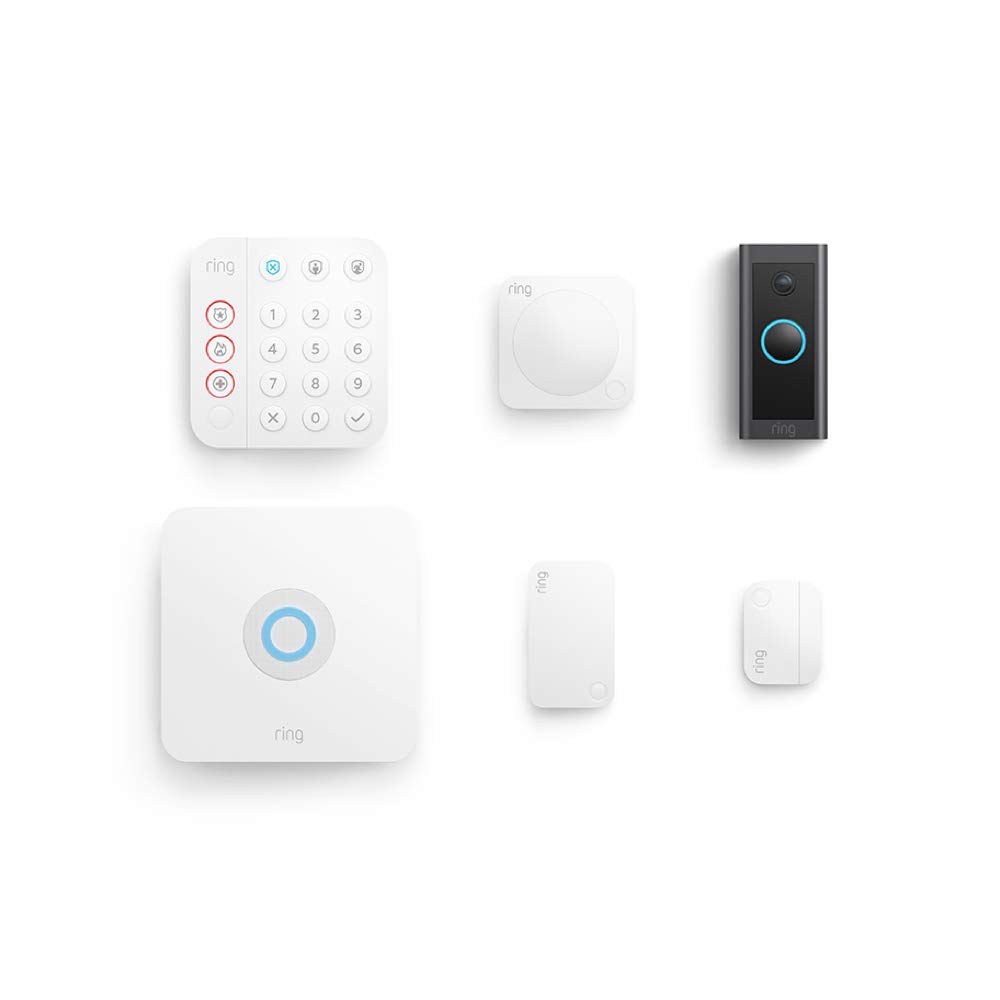 Ring Alarm 5-Piece Kit (2nd Gen) bundle with Ring Video Doorbell Wired: was $264 now $234 @ Amazon
The five-part Ring Alarm kit is already an ideal way to secure a small home, but the included Ring Video Doorbell ensures your front door is protected too.View Deal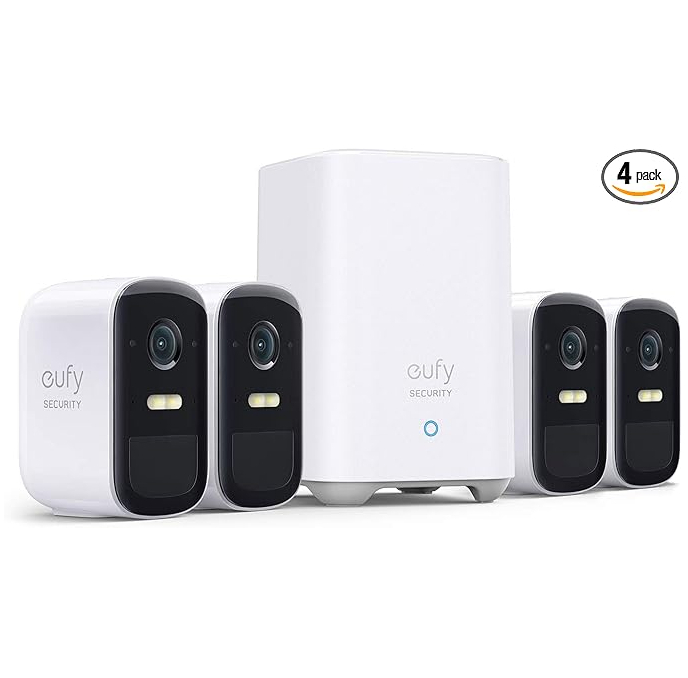 eufyCam 2C Pro 4-Cam kit | $519 $379 at Amazon
Need even more cameras in your home? There's 40% off the 4-pack of eufyCam 2C, and you can save over $200! Perfect for your HomeKit property.View Deal
Abode Security Kit: specs
Professional Monitoring/Monthly Price: $22/month
Number of Sensors Included: 1
Cellular Backup: Yes
Battery Backup: Yes
Smart Home Compatibility: None
Abode's $140 Security Kit is the company's newest home security system that ditches most of the extra features its more expensive counterparts offer in exchange for a lower starting price. For example, gone are all of the extra radios you'd want in a smart home. But that doesn't mean you can't use the Security Kit to monitor your home's windows and doors, or even add on extra devices like a video doorbell or motion sensor to keep tabs on your house. 
I tested the Abode Security Kit in my home office for a few weeks, and it does everything you'd want from one of the best DIY home security systems, and even offers more advanced automation features that are sure to please tech enthusiasts. 
It's a basic home security system, which is exactly what it's meant to be. 
Abode Security Kit review: Pricing and availability
The basic Abode Essentials Start Kit is available directly from Abode for $139.99. In the box is the Abode Security Kit hub, a door or window sensor and a key fob to remotely manage the system. You can add one of Abode's Wireless Video Doorbells to the basic kit, bringing the total cost to $179.99. Or if you don't need a video doorbell, you can add a keypad and a motion sensor to the basic kit for $179.99. 
All three bundles are available directly from Abode. 
Abode has a few different subscription plans, ranging from $6.99 a month to $22.99 a month, the latter of which is what you can expect to pay for a plan with professional monitoring. 
Abode Security Kit review: Design and setup
The Abode Security Kit is a barebones home security system, by design. After buying the base kit, which includes the hub, a key fob and a window/door sensor, you can add more pieces to the system piecemeal, if you want. Additional window sensors are $29.99, while a motion sensor is $39.99, or a keyboard is $89.99. 
The Security Kit hub is a black box that looks more like a Wi-Fi access point than a security hub. It features a built-in 93db siren, a battery for power backup should you lose power, and an LTE connection for those times when your Internet is out. On the backside of the hub is a port for the included power cable, and an Ethernet port for the hub's internet connection.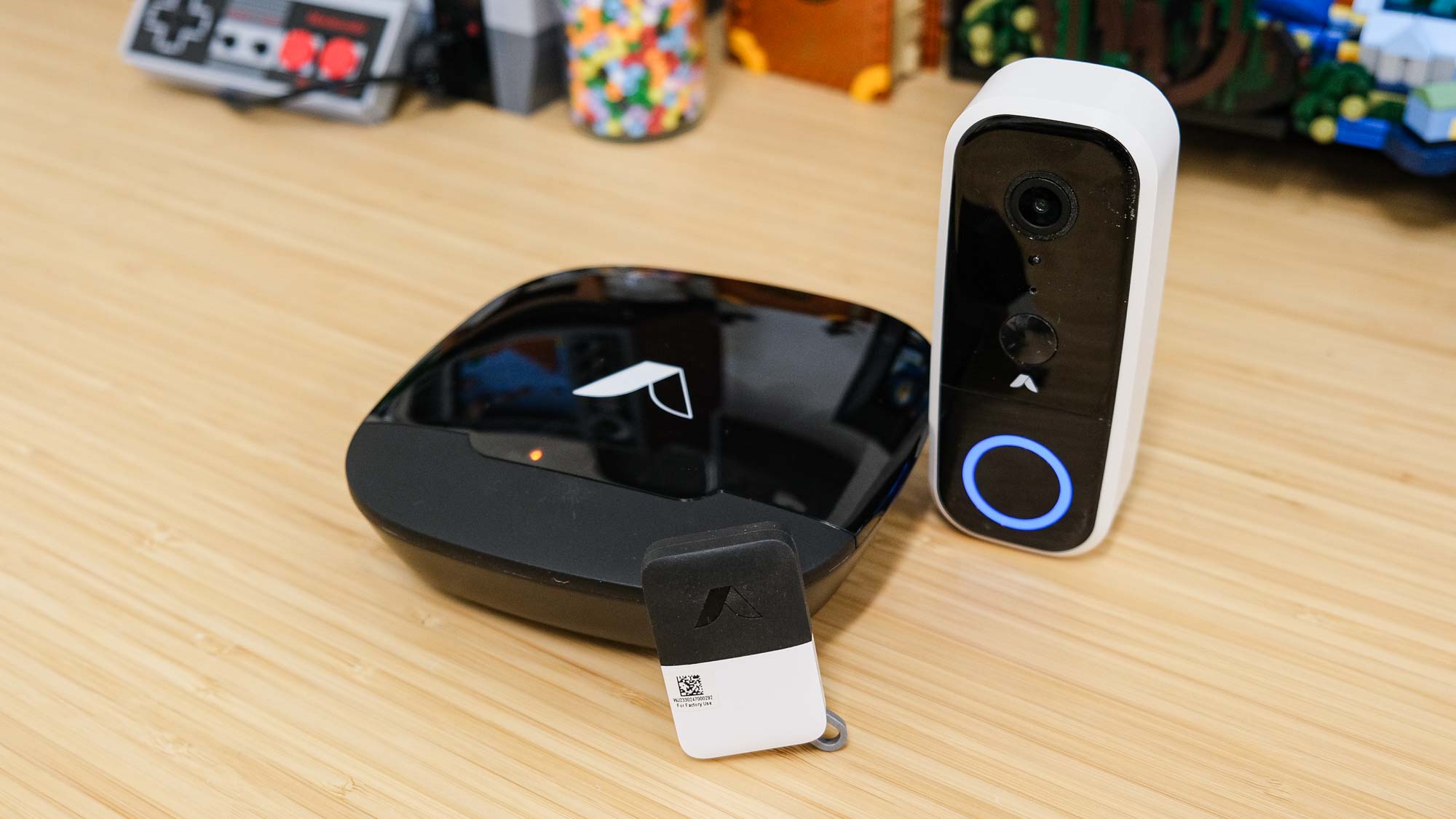 The included door/window sensors don't break the mold: each are two pieces that you attach to a door or window, and whenever the magnetic connection is broken, it sends a signal to the hub, letting it know if the entry point into your home is open or closed.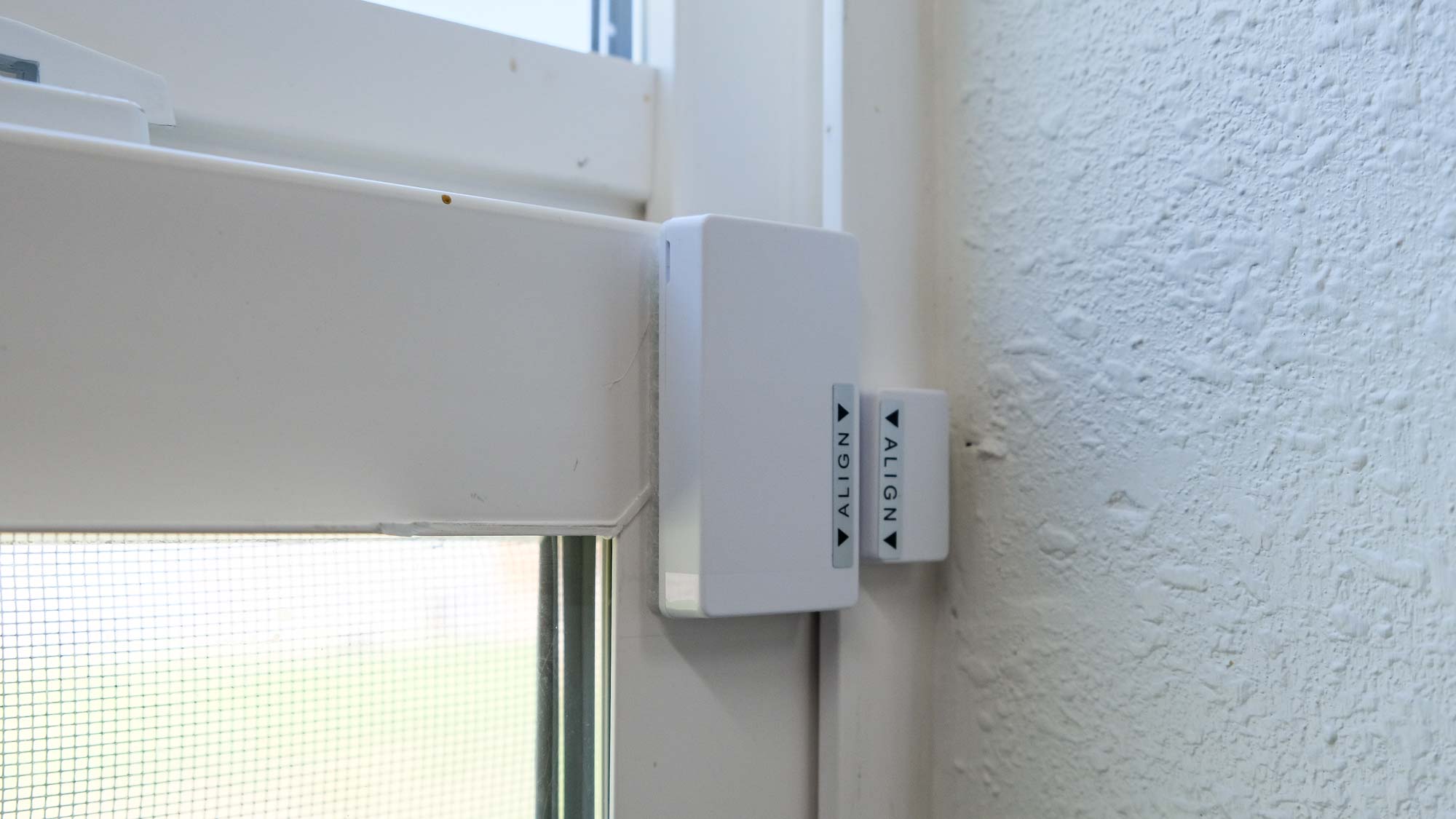 The key fob looks like a standard key fob you'd get with your car, but with fewer buttons. There are only four, in fact. The only button I've routinely used after a few weeks of testing is the X, which is pressed to disarm the system after I've opened a door when the system is in Home mode.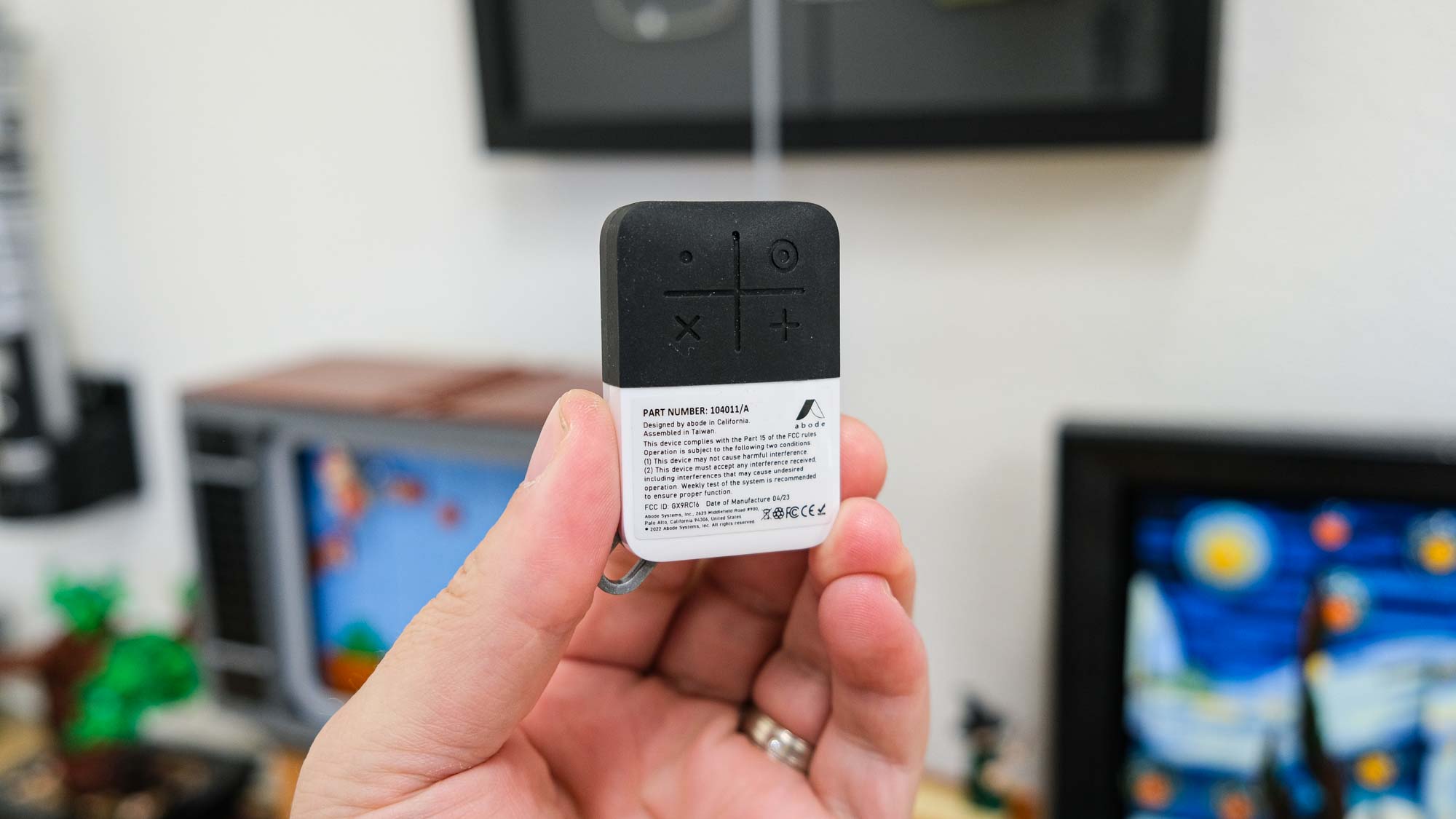 The top two buttons will arm the system, in either away or home mode, while the fourth button — a plus sign — is a panic button that will trigger the alarm when it's held in for five seconds. However, you need to request the button be activated through the company's support page.
As I mentioned earlier, I received a Security Kit bundle that included Abode's Wireless Video Doorbell. The doorbell looks similar to most video doorbells currently on the market, with an LED encircled button visitors press to trigger the digital chime.
The installation process for the entire kit, including the video doorbell, took less than 20 minutes. You start by connecting the hub to power and Ethernet, and then adding more devices and installing them around your home. I installed three different door/window sensors with relative ease, ensuring there wasn't too big of a gap or height difference between the two pieces to prevent false alarms. I also paired the key fob to the hub and added the Wireless Video Doorbell to my system in that amount of time.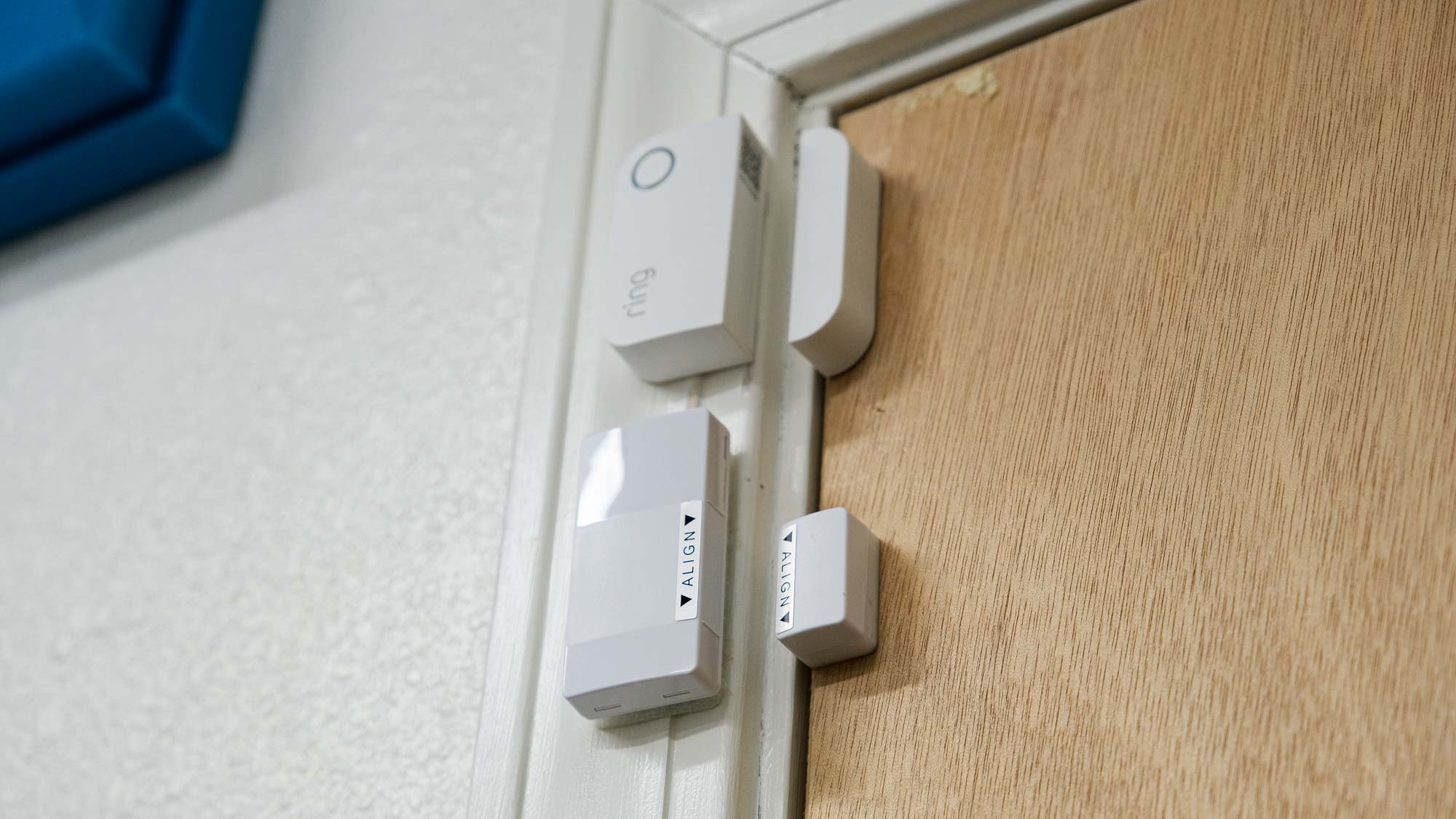 Once the initial setup process is complete, you can move the Security Hub away from the Ethernet connection to have it connected to your home's Wi-Fi network.
Most of the process requires following each step in the app, which is easy to understand and doesn't require a lot of tech-savvy.
Abode Security Kit review: Performance and app features
After the initial setup is done, you're ready to begin using the system and customizing how it behaves. Like most security systems, there are three distinct modes for the Security Kit. Home, Away and Standby.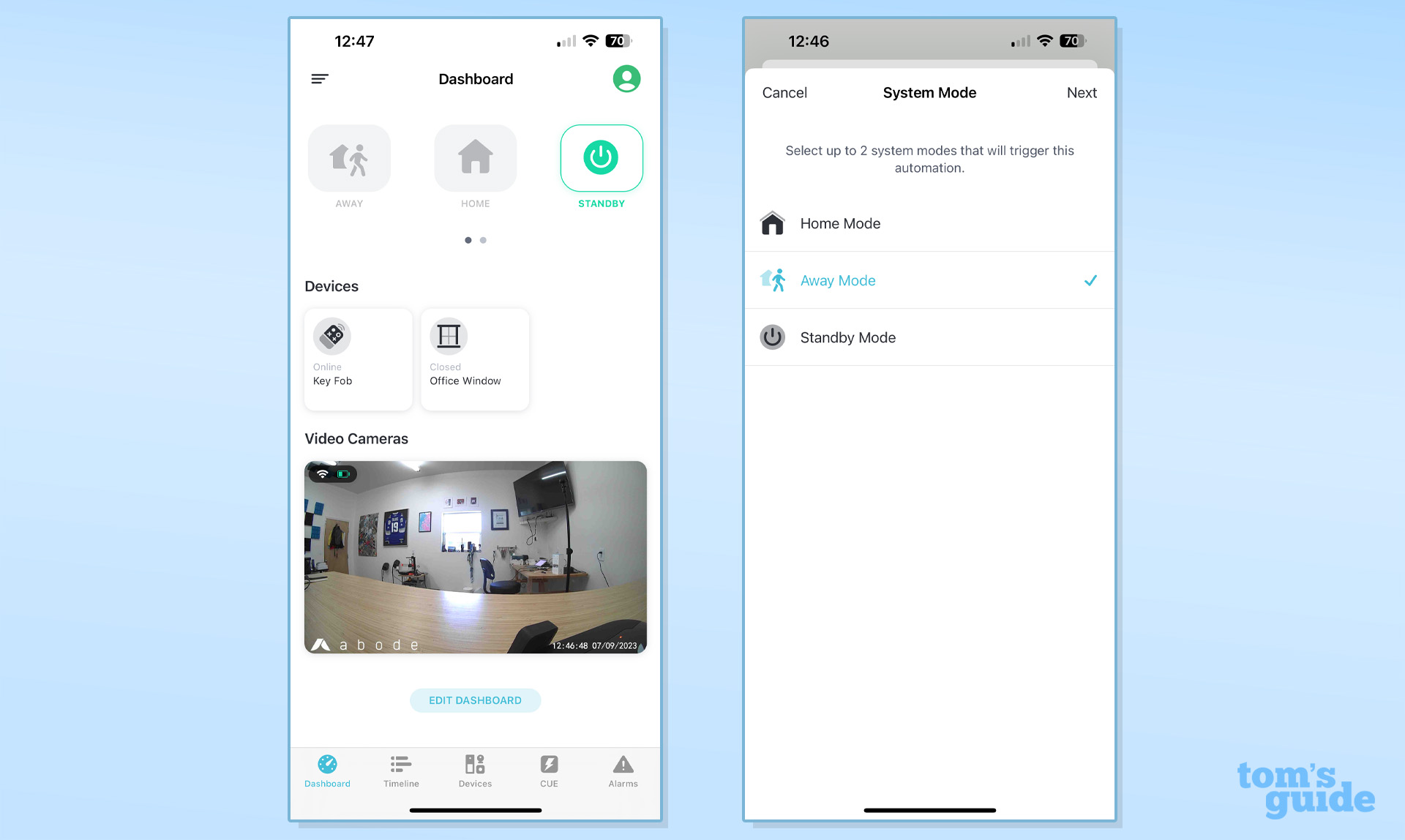 Standby mode disables all sensors but continues to play beeps whenever a door or window sensor is triggered.
Home is what you use when you're home, but don't plan on leaving. For instance, overnight. The system will activate your door and window sensors, and if any of the door or window sensors are triggered, you'll hear a beeping countdown for 30 seconds from the hub. During that time, you can use the app or the key fob to disarm the system. When the time expires, the hub's siren will sound until the system is disarmed. If you pay for professional monitoring, Abode will also contact authorities and let them know something is wrong.
Away mode will arm all sensors attached to your system. If any of them are triggered, you'll hear a series of beeps counting down until the siren is played and authorities are alerted (again, if you pay for a professional monitoring plan).
My favorite part of any home security system is the fact that door or window sensors trigger a sound from the hub whenever they're opened. While testing the Abode Security Kit in my home office, which is in a detached building, I installed the sensors on two doors – one that goes into the main building my office is in, and then the other on my office's actual door – along with a sensor on the lone window in the building.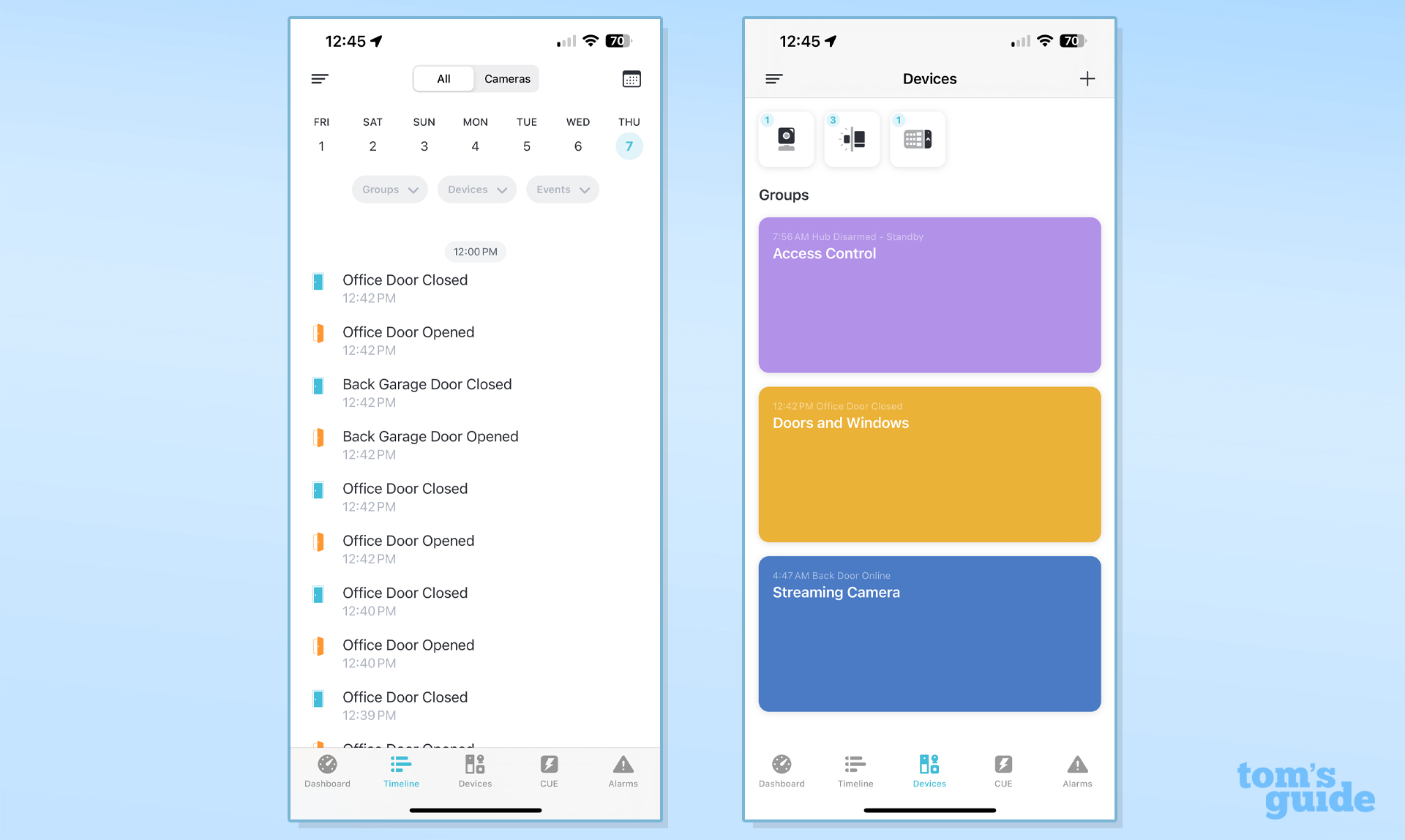 Every time someone opened the door going into the building where my office is located, I'd hear an audible beep from the hub. That beep is plenty loud when I'm in the same room, but also loud enough that I can hear it through my closed office door as I open the door leading into the building. However, when I'm leaving at the end of the day and close the second door – so the sound has to travel through two different doors now – I can no longer hear the beep. The speaker on the Ring Alarm Pro is much louder (granted it's also much bigger), and can be heard throughout my entire home.
The siren, however, is loud enough to be heard inside my home when it's triggered. Not only is it welcomed for my specific installation, but it should reassure Abode users who can't place the hub in a central location in their home
The time between triggering a sensor or pressing a button on the fob and hearing the chime or seeing a status change in the app was almost instantaneous, even after I moved the hub to my Wi-Fi network.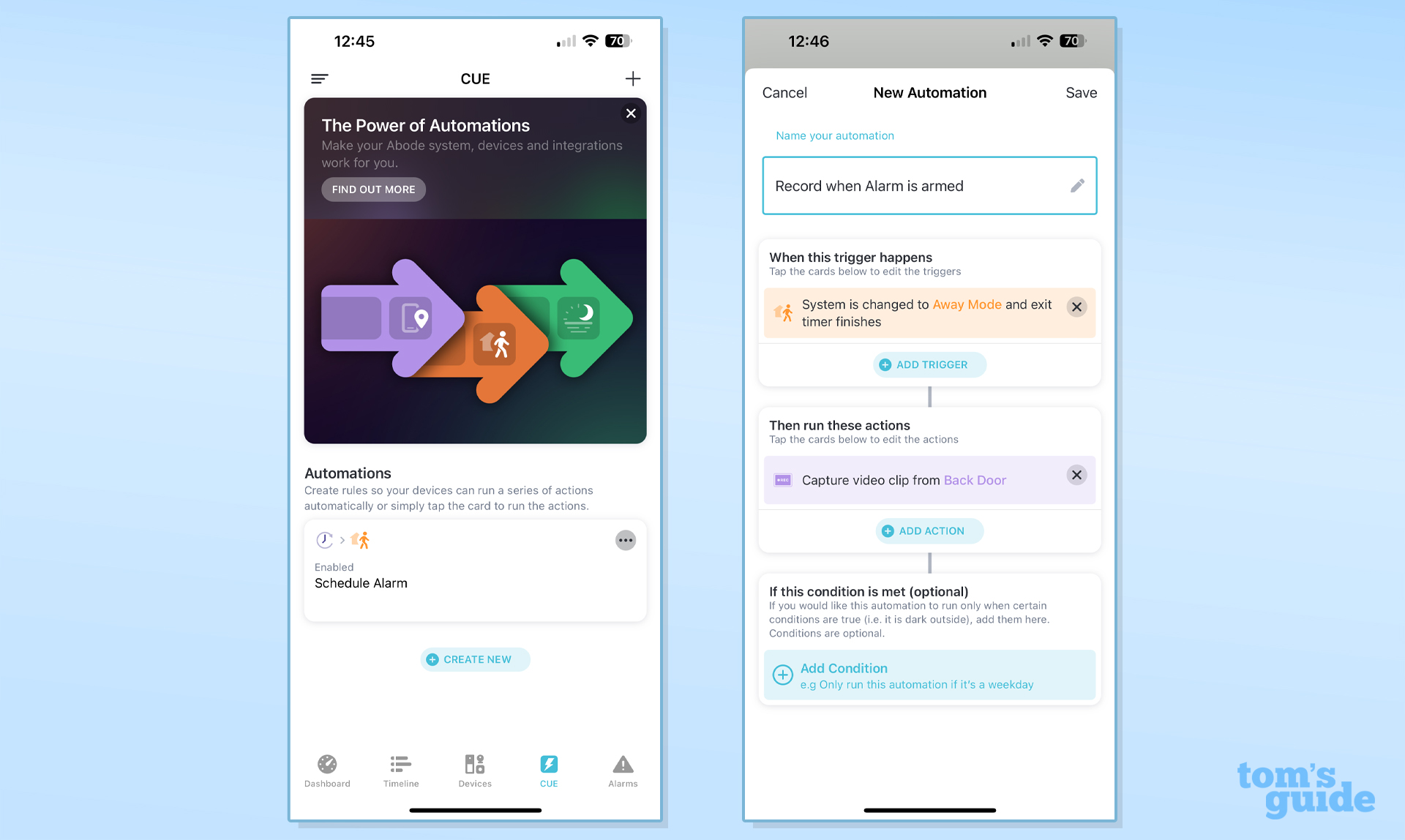 By far the most intriguing, and arguably the most advanced, aspect of the Abode app is its Cue automation feature. You can create your own automations, using your Abode devices or even your phone's location, to trigger different actions. For instance, I built a very simple automation that puts the alarm into Away mode every night, just so I don't have to remember to do it before going to bed.
But you can get as advanced as you want with Cue automations. You can, for example, set any of your Abode video cameras to turn on or off depending on the state of the alarm, or even have them record a clip when you arm or disarm the system. And if you want to get really crazy, you can set that automation to only run on the weekend. Cue is more advanced than Arlo's Routines offering, but it also requires you to be comfortable with setting up complex routines, while Arlo is easier to understand and use.
Abode Security Kit review: Smart home integration
Abode's approach to the Security Kit is to be barebones in terms of hardware and smart home support. That doesn't mean you won't be able to use Google Assistant or Amazon's Alexa to control your security system, but more specifically it means that the Security Hub lacks support for Z-Wave and ZigBee connectivity standards that a some smart home products use for communication, along with Apple's HomeKit platform. 
That means if you have smart home products that require a Z-Wave or ZigBee hub for connectivity, you'll either need to get a secondary hub such as an Amazon Echo or buy the Abode Iota or Abode Smart Security hub, both of which offer said support. 
Abode Security Kit review: Subscription options
Abode offers two different subscription plans for its Security Kit. Well, technically three if you decide you don't want to sign up for a subscription at all. 
The standard plan costs $6.99 a month or $69.99 a year, and includes unlimited cameras, live and recorded video with 10-day history, notification controls, access to Abodes home automation tools, a timeline of activity in your home, in-app panic alarms, and smart alerts for your Abode cameras. 
The Pro plan ($22.99 a month or $219.99 a year) includes all of the above, along with cellular backup for your Security Hub and 24/7 professional monitoring. That means if the security system detects a break-in, fire or medical emergency (presumably via a panic button), Abode will contact emergency services and get help on your behalf.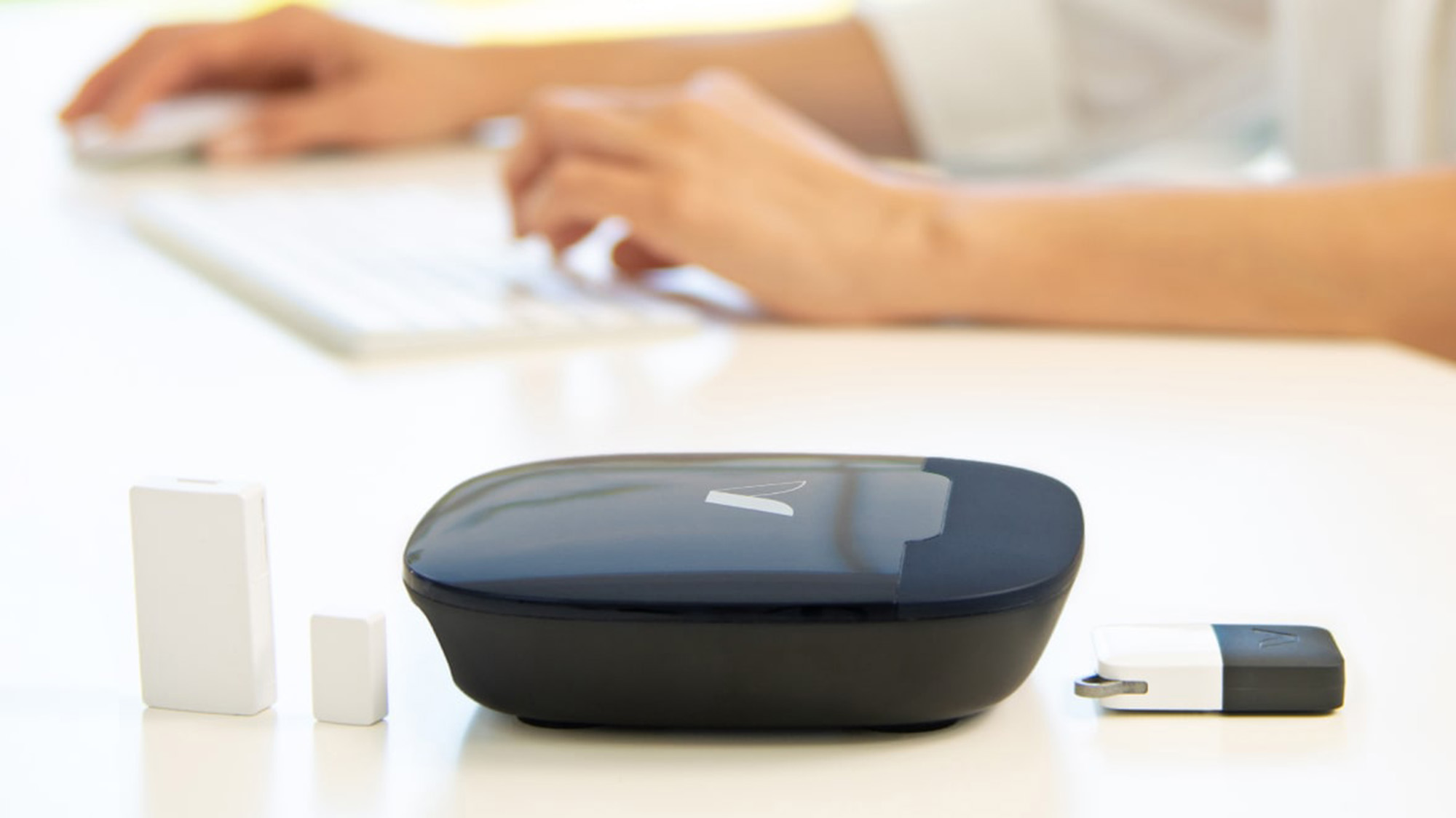 It's pricey, no doubt, but Ring's Pro plan that offers similar functionality is $20 a month/$200 a year. Arlo, on the other hand, offers professional monitoring for $24.99 a month for its Arlo Secure subscription service.
Abode Security Kit review: Verdict
The Above Security Kit is very basic, including just a key fob, sensor and the hub in the entry-level kit. That makes it a good starting point for someone who lives in a small home or apartment. You can always add more sensors to the system to monitor things like smoke or breaking glass, making its potential limitless. That is, as long as you're not wanting a security system that also acts like a hub for all of your smart home gadgets. 
At $140, it's one of the more affordable home security systems on the market, undercutting the likes of Arlo's $200 security bundle. However, Arlo's kit comes with more advanced sensors and a keypad that doubles as a motion sensor itself. 
Among the best DIY home security systems, the Wyze Home Security System starts at just $100 for the starter pack that includes the main hub, a keypad, motion sensor and two entry sensors. You can pay $10 a month for Wyze's professional monitoring service, or get a slight discount by paying $100 for a full year up front, making it the most affordable option all around. However, Wyze's system lacks cellular backup, which makes Abode the better choice if you're worried about your internet connection going down.