Wenger, FIFA's head of football development, said the 35-year-old has rediscovered his ability to hurt teams with a change of pace in Qatar.

Arsene Wenger has praised 'leader of the orchestra' Lionel Messi for a great attempt to bring glory to the Argentine side, who will face defending champions France in Sunday's World Cup final.
Two football powerhouses will face off at Doha's Lusail Stadium, each seeking a third world title.
But much of the pre-fight attention was on whether Paris Saint-Germain superstar Messi could cap his illustrious career with the one major title that has so far eluded him.
Wenger, FIFA's head of football development, said the 35-year-old has rediscovered his ability to hurt teams with a change of pace in Qatar.
"The boss of the orchestra is Messi and the music starts when Messi has the ball," the former Arsenal boss told AFP. "But the rest of the orchestra is ready to work hard.
"What surprised me about this tournament was that he rediscovered his physical ability to accelerate again at the right time.
"He played a little one-pace at Paris Saint-Germain last year, but he mastered the slow-quick again.
"He was never fast, but he was a master at turning and changing pace, and we found that again in this tournament.
"He draws his opponents in and suddenly has a little blast that makes a difference."
Wenger, 73, said Messi was like a lion tamer when he was surrounded by defenders.
"I've seen him in the middle of three players here. He's like the guy with the lion in the circus," he said. "He said to Ball, 'Listen to me my friend, I'm the boss here.
"Overall, I would say he had incredible qualities for a master dribbler. He always knew when to pass the ball. Usually when a player is very talented at dribbling , they exaggerate a little."
Mbappe threat

Messi will face France's 23-year-old attacker Mbappe head-to-head on Sunday.
Both players have scored five goals each for Qatar, topping the goalscoring chart with one game to go.
However, Wenger was wary of directly comparing the two players who play for PSG.
"You could say they are different players," said the Frenchman. "Mbappe is very flexible, has huge power and he is very smart, but in a different way.
"He uses his power, he knows how to use his physical potential, but he's also very creative in the final third.
"They both have something very hard to come by. They're not nervous about a lot of traffic in the final third. They're keeping their vision."
With France's win, coach Didier Deschamps becomes just the second person in history to lead his team to two consecutive World Cup wins, after Italy's Vittorio Pozzo in the 1930s.
However, Wenger was hesitant as to whether it would make him the greatest international boss of all time.
"Overall, he has had an extraordinary career, which is due to his extraordinary qualities and confirms that he feels he has benefited greatly from the experience," he said. Told.
Wenger, who led France to World Cup glory in 1998, learned from a tournament in which the team was inadequate.
"Somewhere along the line, it gave him a deep desire to show that he still got it," he said. "He'll never lose it."
Wenger said one of the key factors for France was having the confidence of champions, who were able to cross the line against talented England in the quarter-finals.
"This team has a good mix of rookies who have had big injuries and want to show their level, and guys who know how to win a World Cup," he said.
"So he got the right mix and has always made the right decisions since the start of the tournament."
World Cup needs risk takers, says Klinsmann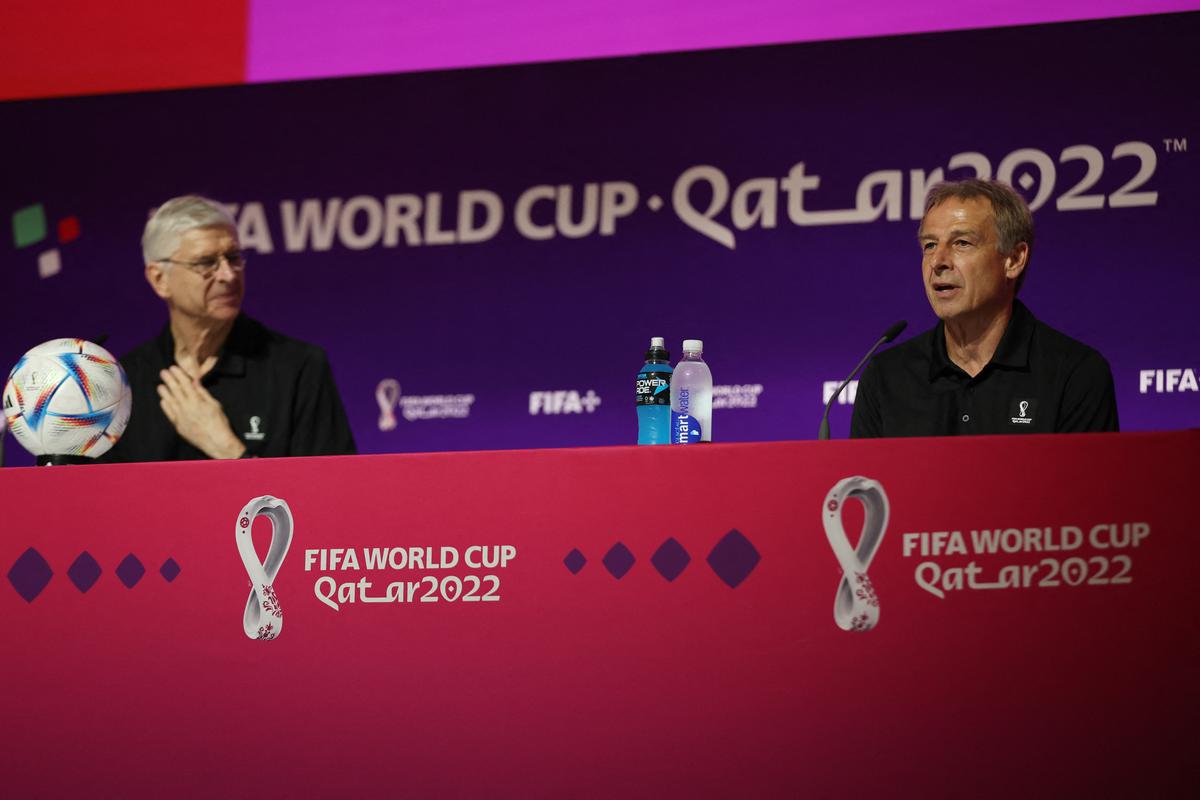 FIFA's Chief of Global Football Development Arsene Wenger and Technical Study Group member Jürgen Klinsmann during a press conference. | | Photo credit: Reuters
Former World Cup winner Jürgen Klinsmann said the tournament in Qatar showed the need for risk-takers like Kylian Mbappe and Lionel Messi.
Mbappe and Messi, who have scored five goals each, will meet at the Lusail Stadium on Sunday when the top scorers and defending champions France take on Argentina.
Klinsmann, who won the trophy with West Germany in 1990, said a player who could unleash his defense was essential.
"We need players who can play one-on-one, who can fend off defenders," Klinsmann, a member of FIFA's technical study group, said on Saturday.
"The middle of the field is very well organized, so take risks and be brave."
The tendency of teams to crowd together in the central area has led to a significant increase in goals from crosses (45), almost double the previous World Cup Russia total (24).
Klinsmann cited Spain, which has lost to Morocco on penalties in its last 16 matches, as an example of a team that has paid the price for lacking cutting edge.
Despite monopolizing possession and attempting over 1,000 passes, Spain had just one shot in 120 minutes against the stubborn Morocco.
"That style only works if you're efficient in the box and you're scoring goals," Klinsmann said.
Former Arsenal manager and FIFA head of football development Arsene Wenger says Spain lack a killer touch in Qatar.
"They have to develop in positions that are not strong enough. But Spanish football will come back," he said.
"The peculiarity of modern football is that everyone plays defense and attack. Explosive flanks…running to get behind the defensive line without having the ball is very important," he added. I was.
Wenger said France and Argentina had adapted well to the demands of the World Cup and praised South America's response after losing 2-1 to Saudi Arabia in their opening match.
"Long balls were used a lot to get past defenders and pace played a key role," Wenger said.
"France and Argentina are two teams that learned quickly.
"After losing the first game, reaching the final is never easy.The coach quickly found the right balance for the team in the second game."
mw/jw