San Francisco is a top tourist destination for a reason. The bay glistens in the morning. The city skyline sparkles at night. And even the ever-occurring fog feels romantic and mysterious, like the setting of a film noir.
San Francisco is famous for its stunning landmarks, like the Golden Gate Bridge, Coit Tower, and Alcatraz. It's renowned for its diverse culinary scene, and the city consistently impresses locals and visitors alike with art exhibits in its world-class museums. But despite the impressive notoriety, San Francisco is a city full of surprises, and not just in terms of the weather.
There is so much to do in the City by the Bay. Lucky visitors can spend mornings hiking on dirt trails with postcard-worthy views of the Golden Gate Bridge. They can spend afternoons visiting landmarks, museums, and gardens. And they can dine at some of the country's best restaurants and enjoy excellent entertainment. There's always something new to see, taste, and experience in San Francisco. Definitely a must-visit place to see in California, here is our complete travel guide and list of things to do in San Francisco, California.
Things To Do in San Francisco
A perfect blend of outdoor and indoor activities, San Francisco is a fantastic destination any time of year.
1
Go To A Giants Game
View of the San Francisco Giants baseball stadium
Cheer on the San Francisco Giants at Oracle Arena! Fun for the entire family, the ballpark offers classic American entertainment, beautiful bay views, fun activities for little ones (like a mini-field and a slide inside an enormous Coca-Cola bottle), and of course, hot dogs, cold beers, and cotton candy.
The season typically runs from April to September. Even in the summer, San Francisco can be cold. Bring a jacket to the ball game.
Address: 24 Willie Mays Plaza, San Francisco, CA 94107
Cost: As low as $7/per person
2
Walk Across The Golden Gate Bridge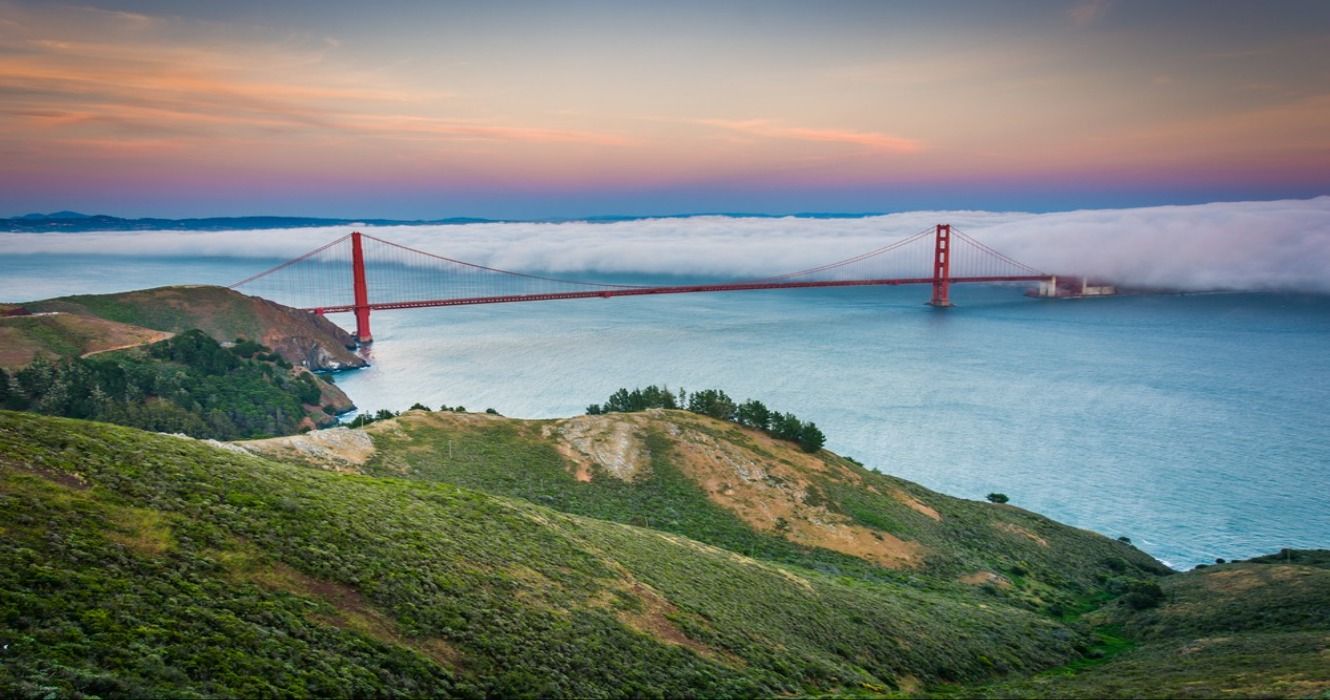 Golden Gate Bridge seen from Hawk Hill, Golden Gate National Recreation Area, San Francisco, California, United States of America
The iconic Golden Gate Bridge is a must-stop spot on any tourist's itinerary. And while it's gorgeous to look at from a distance, visitors can actually walk across the bridge and soak up stunning views from San Francisco's most famous landmark. The bridge is 1.7 miles long, with a pedestrian walkway on the city side.
For real adventure seekers, keep walking to Sausalito. From the start of the Golden Gate Bridge to the small seaside town is just over four miles. Walkers will be rewarded with tons of dining options, boutique shops, art galleries, and views of San Francisco from across the bay. And don't worry, there's no need to walk back; the Sausalito ferry runs regularly to and from the city.
The sidewalk on the east end of the Golden Gate Bridge is open from 5 AM to 6:30 PM.
Related: Buckle Up: America's 14 Scariest Bridges Look Like This
3
Explore Golden Gate Park
Japanese Tea Garden in Golden Gate Park, San Francisco
With over 1,000 acres to explore, tourists can easily spend an entire day at Golden Gate Park. Stow Lake is one of the most popular spots, and no wonder why. It's a perfect place to wander with plenty of wildlife to witness (like geese, ducks, turtles, and sometimes Great Blue Herons).
A paved path encircles the lake, but there's also a dirt path around the island in the middle of the lake. Access the island by one of the two stone bridges. Follow the dirt trail until you spot Huntington Falls. Yes, Golden Gate Park has a waterfall!
Climbing the staircase on either side offers cool views and leads hikers to the top of Strawberry Hill, an ideal location to spot butterflies.
Another remarkable spot in Golden Gate Park is Shakespeare's Garden. It's never crowded, and it showcases a wide variety of colorful flowers (some of which were mentioned in works of Shakespeare). The quiet garden has plenty of shade. Have a picnic, or just get cozy with a good book. It's a peaceful escape from the hustle and bustle of the city.
Other fun locations within Golden Gate Park include the Japanese Tea Garden, the herd of American Bison on the western end of John F. Kennedy Drive, playgrounds, museums, and even a Ferris Wheel.
4
Climb The Filbert Street Steps To Coit Tower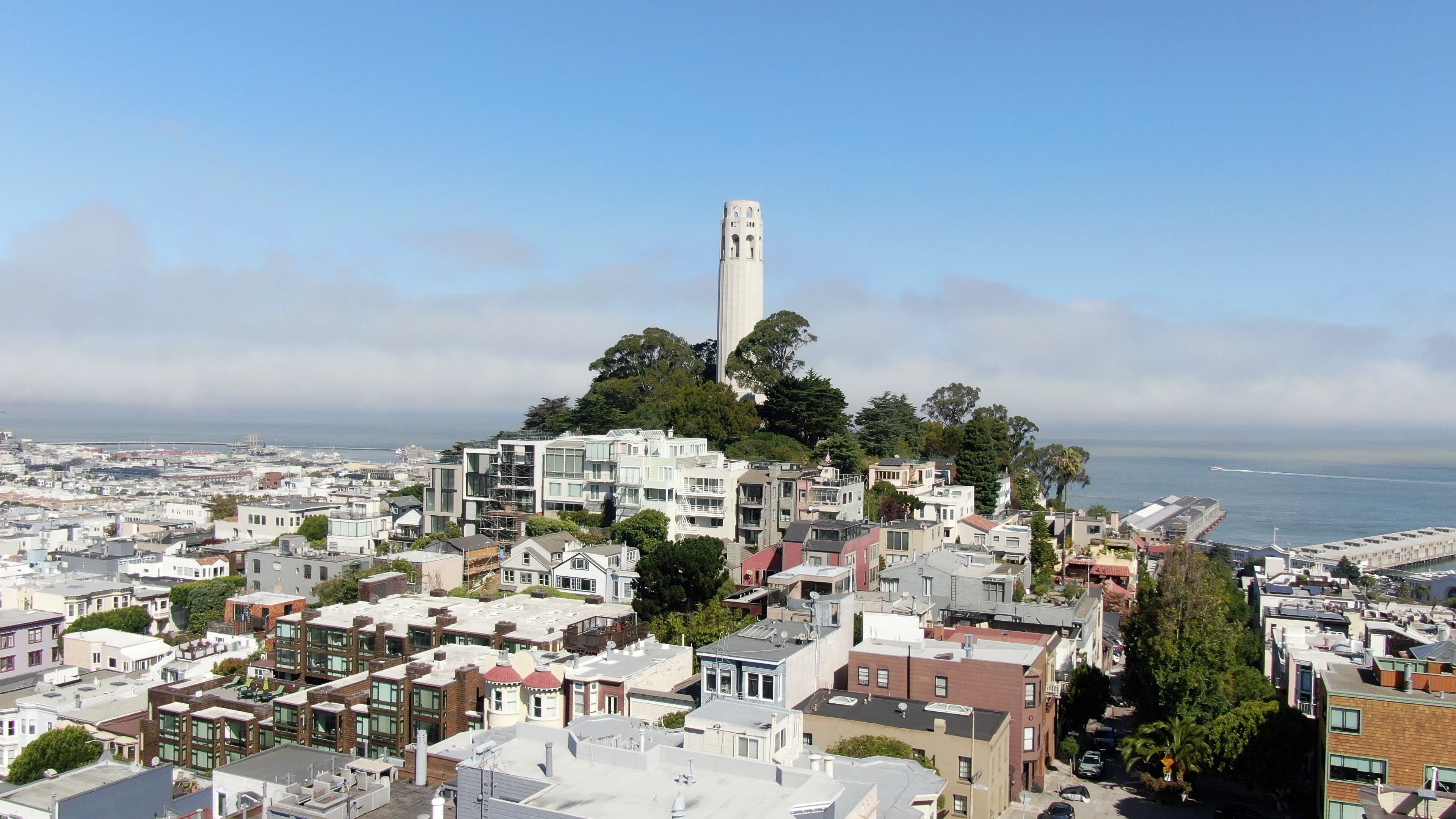 Coit Tower, San Francisco
The Filbert Street steps lead tourists past cute cottages and colorful gardens from Sansome Street to Coit Tower. The higher people climb, the better the views.
At the top, explore Coit Tower before walking down the stairs towards North Beach, San Francisco's version of "Little Italy." Tourists will get their pick of Italian restaurants to treat themselves after quite a climb.
Look out for a flock of tropical wild parrots, which sometimes call Telegraph Hill their home. In 1990, two pet cherry-headed conures escaped and settled in the wild on Telegraph Hill. More parrots joined, and the flock inevitably grew.
5
Catch A Movie At The Castro Theater
The Castro Theater in San Francisco
The Castro Theater was built in 1922 and is one of the few remaining movie theaters from this decade still showing films. A visit to the theater is a real treat for the eyes. The historic decor feels fancy and is a beautiful setting to watch any movie.
The Castro Theater offers a wide range of films; expect to find everything from film noir classics to box-office hits, sing-a-longs, and even live podcast tapings.
Address: 429 Castro Street, San Francisco, CA 94114
6
Admire Street Art In The Mission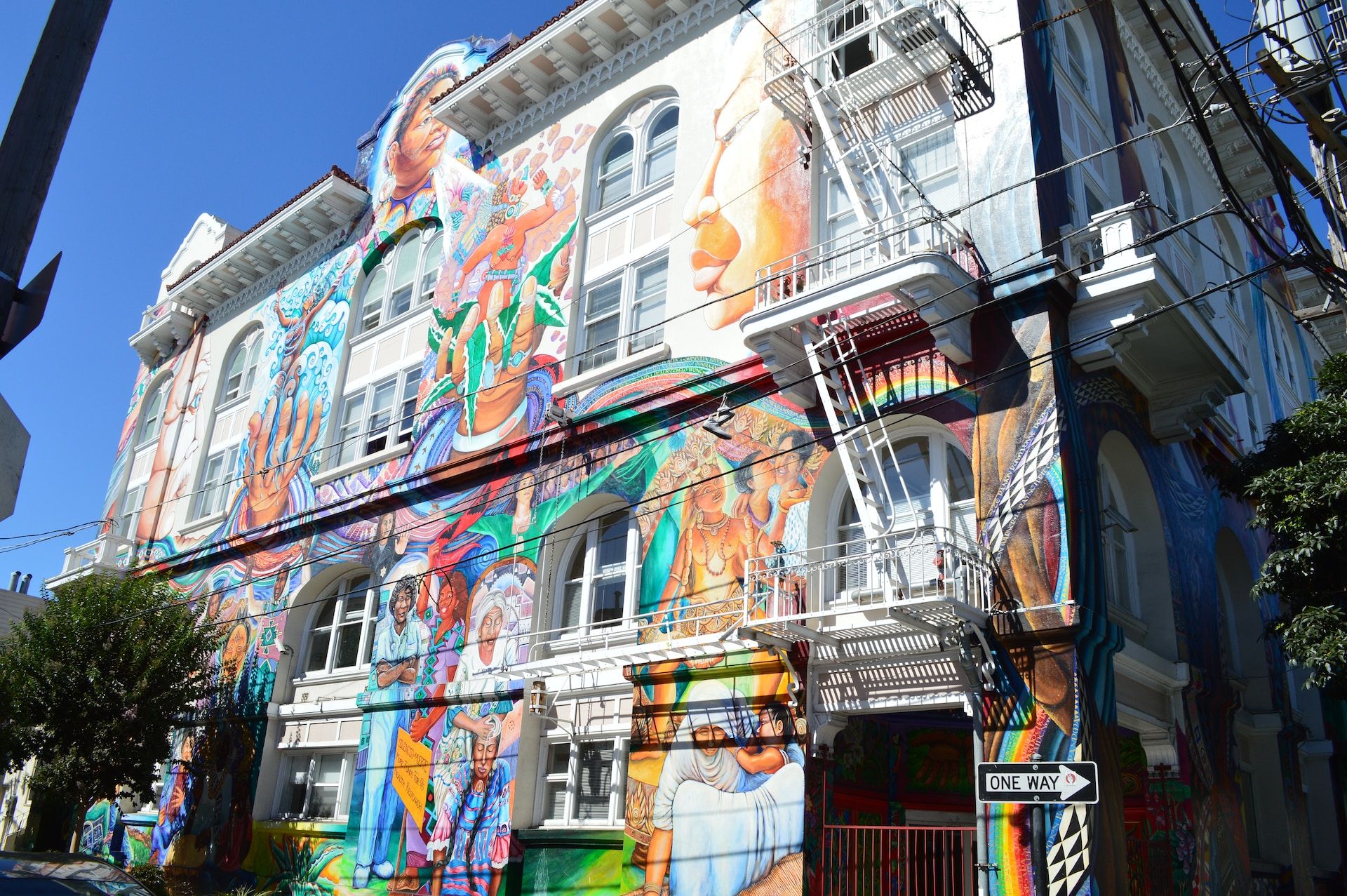 The Women's Building, Mission District, San Francisco
A stroll through the Mission District is eye-opening. Expect an outdoor art gallery showcasing stunning and eclectic murals depicting social, cultural, and political statements.
A walk through the neighborhood displays hundreds of pieces.
The best spots to see large concentrations of artwork are Clarion Alley, Balmy Alley, and 24th Street (east of Mission Street).
7
Visit Bourbon & Branch (& Take A Cocktail Class)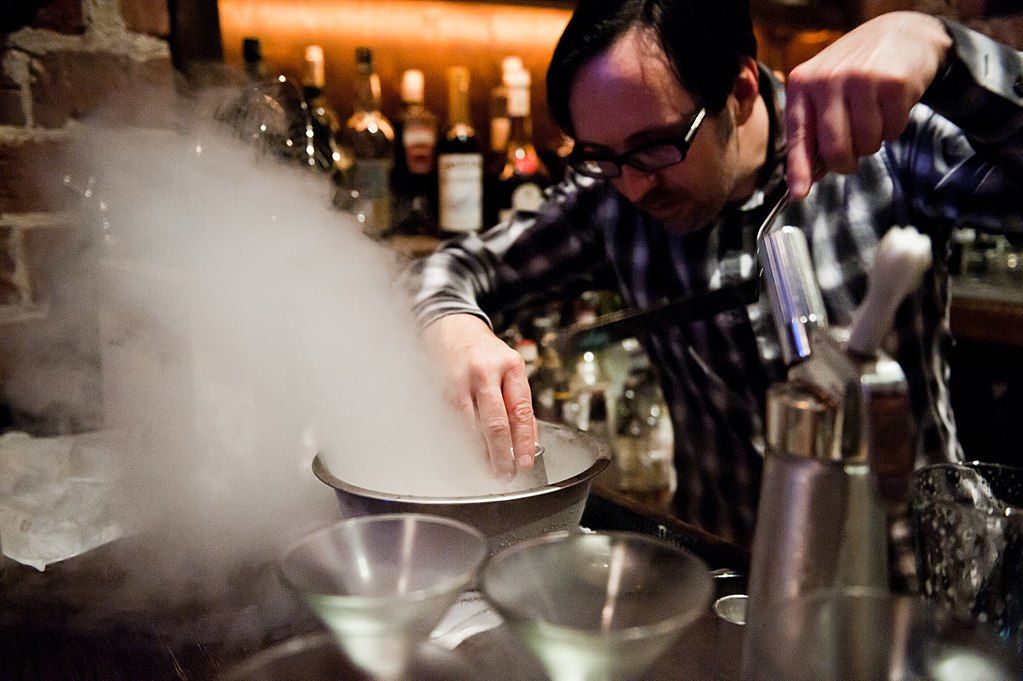 Bartender at Bourbon & Branch, San Francisco 
This speakeasy lets customers stop back in time, all the way to the 1920s. Reservations are required to visit the main bar, but if Bourbon & Branch is a last-minute plan, don't worry. The Library is open seven days a week for guests who want a cocktail.
Simply ring the buzzer and use the password "books." An employee will escort customers to a gorgeous library with floor-to-ceiling books. Just remember to follow the speakeasy's rules: no phones or photography.
And for cocktail lovers, why not take a piece of Bourbon & Branch home? Learn how to make signature cocktails from one of the best bars in the city. The Beverage Academy in the Wilson & Wilson Bar at Bourbon & Branch offers classes. It's a lot of fun for groups or private special events.
Address: 501 Jones Street, San Francisco, CA 94102
Hours: Sunday through Wednesday, 6 PM to 12 AM; Thursday through Saturday, 6 PM to 2 AM
8
Go Hiking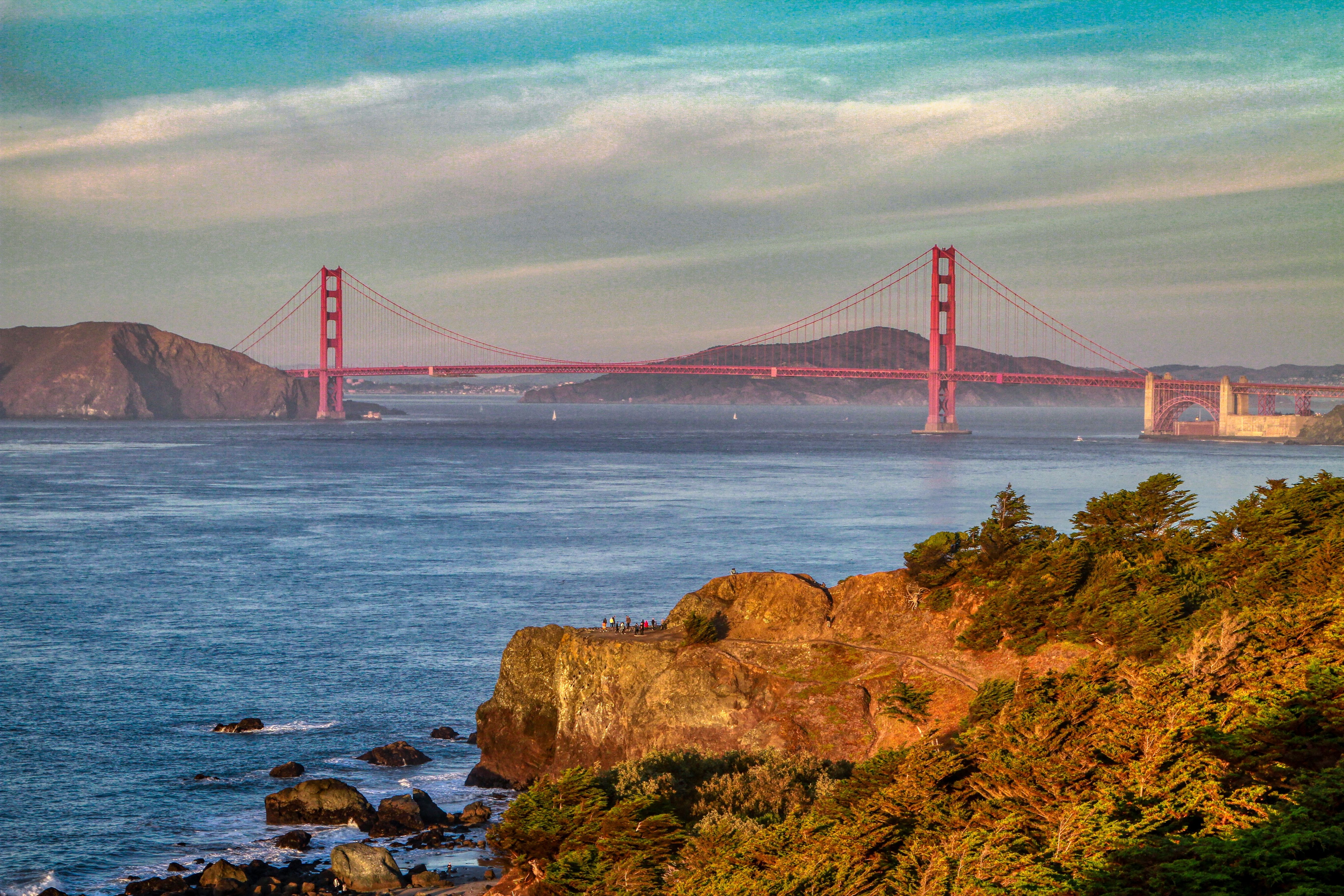 View from the Lands End Trail, San Francisco
While San Francisco might not be known for its hiking trails, the city has a plethora of fantastic hiking options. For the best views, try Lands End. Hikers can travel a dirt road atop cliffs overlooking the Pacific Ocean.
There are plenty of lookout points to stop and rest, and the views of the Golden Gate Bridge are spectacular. Hikers can also wander down the steep stairs near the visitors' center to explore the remains of the historic Sutro Baths (the large saltwater swimming pool built in 1890)
Golden Gate Park is another popular hiking spot in San Francisco. With dozens of paths, hikers are spoilt for choice in exploring waterfalls, gardens, meadows, lakes, hilltops, and even a patch of American Bison.
More hiking options can be found in Glen Canyon and the Presidio. Glen Canyon offers rock climbing, tall staircases that let you scale cliffsides, and hundreds of Eucalyptus trees. The Presidio offers 1,500 acres to explore and trails leading to the beach.
9
Learn Something New At The California Academy Of Science
The living roof at the California Academy of Science, San Francisco 
San Francisco has some of the best museums in the country, and the California Academy of Science is one of them. Featuring a planetarium, a rainforest, an aquarium, Claude (the resident albino alligator), and a living roof, this museum is one of a kind.
Guests are greeted by a giant T-rex skeleton as they walk through the doors. Perfect for kids, the museum has an indoor curiosity grove for those under five and an outdoor space for little ones to run around and get their hands dirty by building forts with sticks and leaves.
Address: 55 Music Concourse Drive, San Francisco, CA 9418
Hours: Sunday, 11 AM to 5 PM; Monday through Saturday, 9:30 AM to 5 PM
Cost: Depending on day/time, tickets start at $33.75/per adult.
For adults, themed Thursday nights at the California Academy of Science are 21+. Enjoy DJs, music, and dinner while exploring this amazing museum's wonderful nooks and crannies.
10
Alcatraz Island
Alcatraz bay, san francisco
Sure, Alcatraz is touristy. But it's also really cool. The former maximum-security prison is located in the middle of San Francisco Bay and was home to many famous criminals (like Al Capone). Tourists can catch a ferry from Pier 33 to Alcatraz Landing.
Upon arrival, opt for the self-guided audio tour. It's narrated by former guards and inmates and lets listeners in on everything from escape attempts to riots. After the tour, explore the gardens and don't miss the gorgeous views across the bay of the San Francisco skyline.
A night tour adds a little bit of creepiness to prison tours. Plus, San Francisco really sparkles at night, and the views from Alcatraz are spectacular.
11
When To Visit San Francisco
Spectacular View of San Francisco Showing the Illuminated Bay Bridge at Sunset
It might surprise some tourists, but the summer months in San Francisco are not the warmest. Fall typically offers the best weather! No matter what time of year, tourists should always wear layers.
Summer
Summers in San Francisco are crowded, especially in the tourist areas. Temperatures range in the high 60s and can feel much cooler with an ocean breeze.
The fog that rolls in during summer months is so popular that the locals gave it a name — Karl. And Karl works as the city's air-conditioning. Make sure to bring a jacket if visiting San Francisco in the summer.
Also, there are quite a few street festivals this time of year. Offering good food, drinks, and a fun time — festivals are a great way to explore San Francisco's many neighborhoods. Popular festivals include the North Beach Festival, Union Street Festival, Pride Parade and Festival, and the Fillmore Street Jazz Festival.
Fall
Fall is the best time to visit San Francisco. With mild temperatures and fewer crowds, tourists can explore the city under blue skies and in 70-degree weather (on average). Hardly Strictly Bluegrass (October) is a free fall concert in Golden Gate Park worth checking out!
Winter
Winter is a wonderful time to visit San Francisco. It's chilly but not as cold as most of the country this time of year. Temperatures average in the 50s. Hotel prices are lower, and the city streets, hotels, and stores are decorated for the holidays. Ice skating in Union Square is a popular thing to do in winter.
Spring
Temperatures average in the mid-60s, making it easy to explore the city on foot. Spring offers fewer crowds before the summer surge, and there are a few fun events at this time of year.
The St. Patrick's Day Parade (March) and the Bay to Breakers running race (May) are two popular celebrations worth attending.
12
How To Get Around San Francisco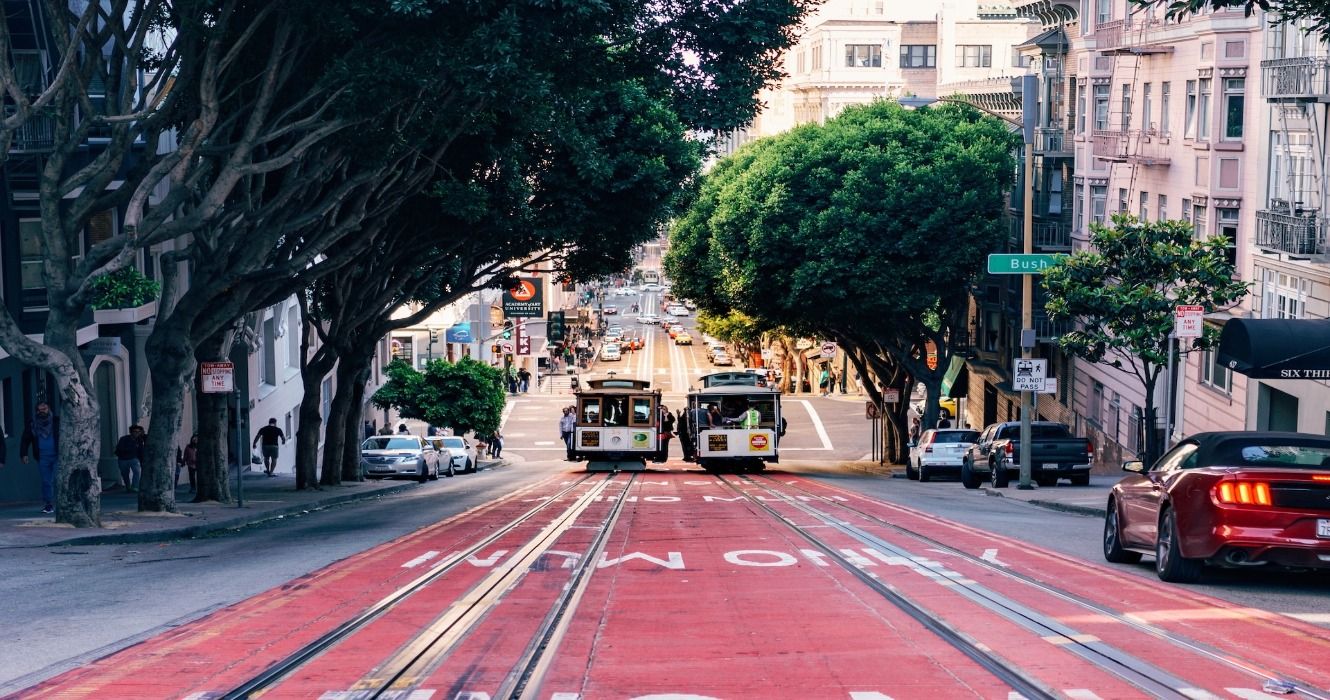 Cable cars on the corner of Powell St and Bush St, San Francisco, United States
Despite its many hills, San Francisco is a walkable city. But if walking isn't appealing, don't worry — plenty of other transport options exist.
Walking
San Francisco is 7 miles wide by 7 miles long, but the most popular attractions are pretty close together. There are a few steep hills, but nothing tourists can't handle!
Car
Driving is a simple way to get around SF, but it's not always the most affordable option, and parking can be hard to come by depending on where tourists are headed.
Public Transportation
The San Francisco Municipal Transportation Agency offers different transport options: bus, streetcar, rail, and of course – the iconic cable car. Inexpensive and readily available, they're all excellent options for getting around the city. Tourists can use the trip planner to find the best mode of transportation for their journey.
Cost: Bus and rail, $2.50 per person per ride; Cable Car: $7 per person per ride.
Taxi
Like most major cities, taxis, Uber, and Lyft are readily available. Uber and Lyft are easier to come by. For those looking for a traditional taxi, try searching near hotels.
Related: 13 Of The Most Livable Cities In The U.S. & What They Offer Future Travelers
13
Where To Eat In San Francisco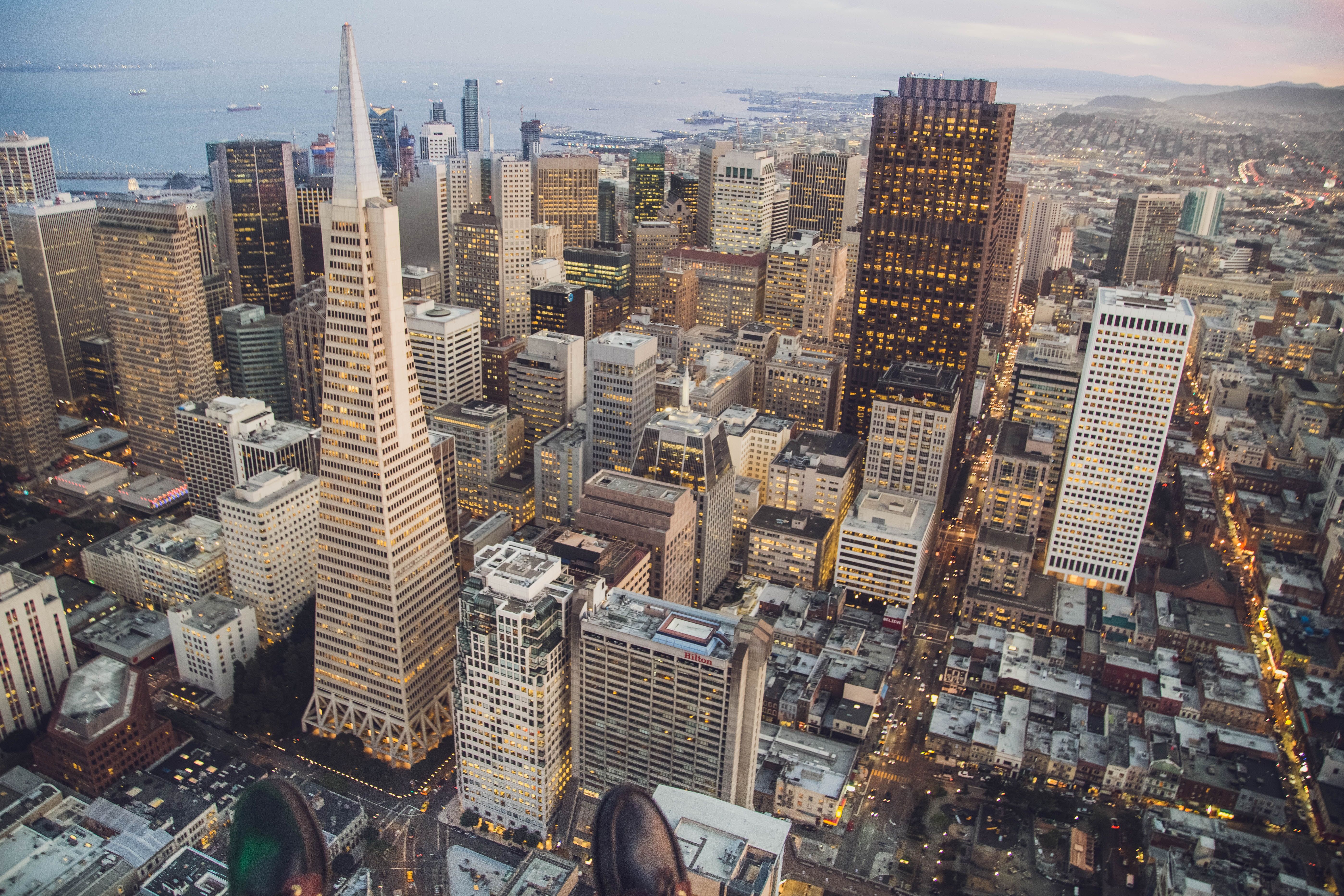 An aerial view of San Francisco
San Francisco's thousands of diverse eateries are a big part of the city's appeal. From traditional American restaurants to South American, European, Asian, and African, tourists have their choice of culinary delights. And tourists traveling with dogs are in luck! There are lots of fun dog-friendly restaurants in San Francisco, too!
Breakfast
Arizmendi Bakery
There's a reason why there's always a line at Arizmendi Bakery. Located in the Inner Sunset near Golden Gate Park, the variety, quality, and cost of the treats at this neighborhood hot spot is hard to beat.
Address: 1331 9th Avenue, San Francisco
Hours: Tuesday through Sunday, 7:30AM to 6PM
Recommended: The scones are a fan favorite, but other tasty treats to try include baguettes, cheese rolls, vegan muffins, and ricciarelli cookies.
Mama's on Washington Square
For delicious traditional breakfasts and a few unique items (like eggs dishes stuffed with Bay Shrimp), Mama's is the place to be. Expect to wait in line. You won't be sorry.
Address: 1701 Stockton Street, San Francisco, CA 94133
Hours: Tuesday through Friday, 8AM to 2PM; Saturday and Sunday, 8AM to 3PM
Recommended: The Monte Cristo, made with Mama's homemade jam.
Lunch
Beach Chalet and Park Chalet
The upstairs/downstairs restaurants sit across the Great Highway from Ocean Beach. Upstairs, Beach Chalet is a little fancier. It faces the water, offers beautiful sunset views, and serves a varied menu of soups, salads, sandwiches, and seafood. Downstairs is more casual with outdoor seating. It's the perfect spot for a burger and a beer.
Address: 1000 Great Highway, San Francisco, CA 94121
Hours: Sunday, 10AM to 8PM; Monday, 11AM to 8PM; Tuesday, Wednesday, Thursday, 9AM to 8PM; Friday, 9AM to 9PM; Saturday, 10AM to 9PM
Recommended: Seafood!
Reds Java House
The waterfront views near the Bay Bridge don't get much better than this. For almost 70 years, Red's Java House has offered excellent food at great prices.
Address: 30 Pier, San Francisco, CA 94105
Hours: Saturday & Sunday, 9AM to 6PM; Monday through Friday, 7AM to 6PM
Recommended: Burgers and beers!
Dinner
ROOH
With colorful decor, friendly staff, a creative cocktail menu, and delicious meals from a progressive Indian menu, dinner at ROOH is a real treat. And Executive Chef Pujan Sarkar's presentation of plates is as impressive as the food itself.
Address: 333 Brannan Street, Suite #150, San Francisco, CA 94107
Hours: Sunday through Thursday, 5PM to 9:30PM; Friday & Saturday, 5:30PM to 10PM
Recommended: Green Pea & Goat Cheese Kulcha, Tandoori Octopus, Traditional Butter Chicken.
Waterbar
For fresh and sustainable seafood and beautiful bay views, the Waterbar is an excellent choice.
Address: 399 The Embarcadero, San Francisco, CA 94105
Hours: Sunday through Thursday, 11:30PM to 9PM; Friday & Saturday, 11:30AM to 9:30PM
Recommended: Oysters and the Oven Roaster White Sea Bass.
Drinks
Top of the Mark at the InterContinental Mark Hopkins
For a classic San Francisco evening, head to the 19th floor and sip cocktails while savoring 360-degree views of the San Francisco skyline and the beautiful bay.
Address: 999 California Street, San Francisco, CA 94108
Hours: Sunday & Monday, 3:30PM to 10:30PM; Tuesday, Wednesday & Thursday, 4:30PM to 11:15PM; Friday & Saturday, 2:30PM to 12:30AM
Related: 10 Incredible Skyline Views In California That Will Have You Mesmerized
Charmaine's Rooftop Bar & Lounge
The chic terrace at Charmaine's Rooftop Bar & Lounge is the perfect place for happy hour.
Address: 45 McAllister Street, San Francisco, CA 94102
Hours: Sunday, 11AM to 11PM; Monday through Thursday, 5PM to 11PM; Friday, 5PM to 12AM; Saturday, 11AM to 12AM
14
Where To Stay In San Francisco
The Palace Hotel sign through the buildings of San Francisco
San Francisco has a variety of accommodation options, and prices vary widely.
Luxury
Palace Hotel, a Luxury Collection Hotel, San Francisco
The historic Palace Hotel, originally built in 1875, is a San Francisco landmark and local treasure. With a storied past and luxurious offerings, the Palace Hotel is as interesting as it is beautiful.
Address: 2 New Montgomery Street, San Francisco, CA 94105
Amenities: Indoor pool, restaurant, bar/lounge, room service, fitness center, valet parking.
Cost: $$$
Mid-range
Marines' Memorial Club & Hotel Union Square
Centrally located, the Marines' Memorial Club & Hotel Union Square offers spacious rooms in a historic building and an excellent happy hour!
Address: 609 Sutter Street, San Francisco, CA 94102
Amenities: Rooftop restaurant, bar/lounge, free Wi-Fi, library, fitness center, and an on-site theater.
Cost: $$
Budget Friendly
Coventry Motor Inn
Located in San Francisco's Marina District and walkable to shops and restaurants, the Coventry Motor Inn is an excellent choice for budget travelers.
Address: 1901 Lombard Street, San Francisco, CA 94123
Amenities: Free Wi-fi; free parking; 24-hour front desk; flat screen TV
Cost: $
Related: Top 10 Affordable & Highly Rated Hostels For Backpacking In California
15
Tips To Know When Traveling To San Francisco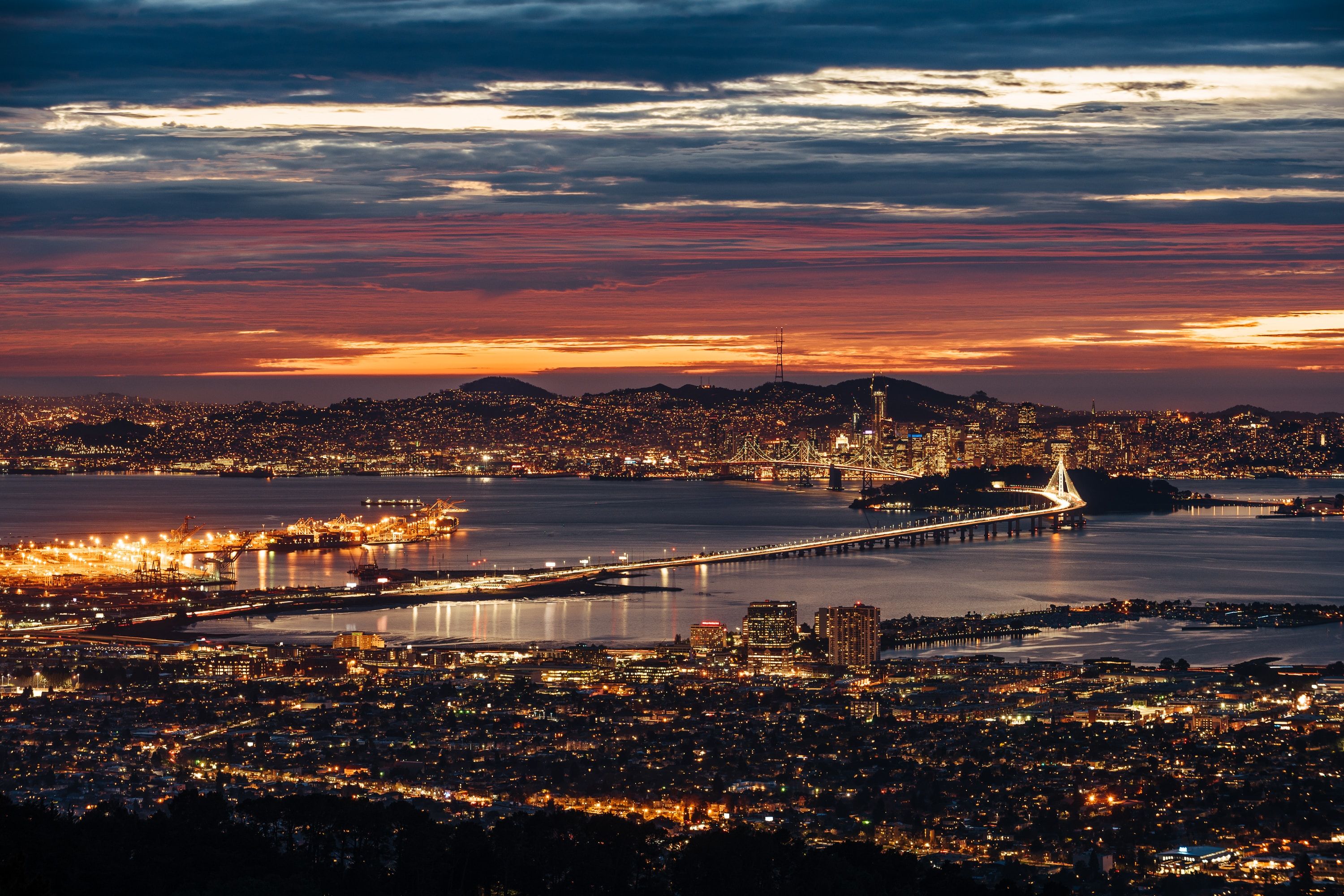 Aerial view of lighted city buildings near the river in the Bay Area, San Francisco.
There are many tips for first-time visitors to San Francisco, but here are a few highlights.
Popular restaurants book up quickly. Make reservations well in advance.
The same goes for events, popular attractions, sports games, and theater tickets. Book everything in advance.
San Francisco's weather can be unpredictable. Layering is advised.
Wear comfortable shoes. San Francisco is a very walkable city, despite all the hills. Tourists will travel quite a bit around popular tourist attractions and from one location to the next.
Use common sense. If you're unfamiliar with your surroundings after dark, take a taxi. And keep smartphones and wallets tucked away in a safe place. Avoid whipping them out on the streets unnecessarily.
16
How To Spend A Perfect Day In San Francisco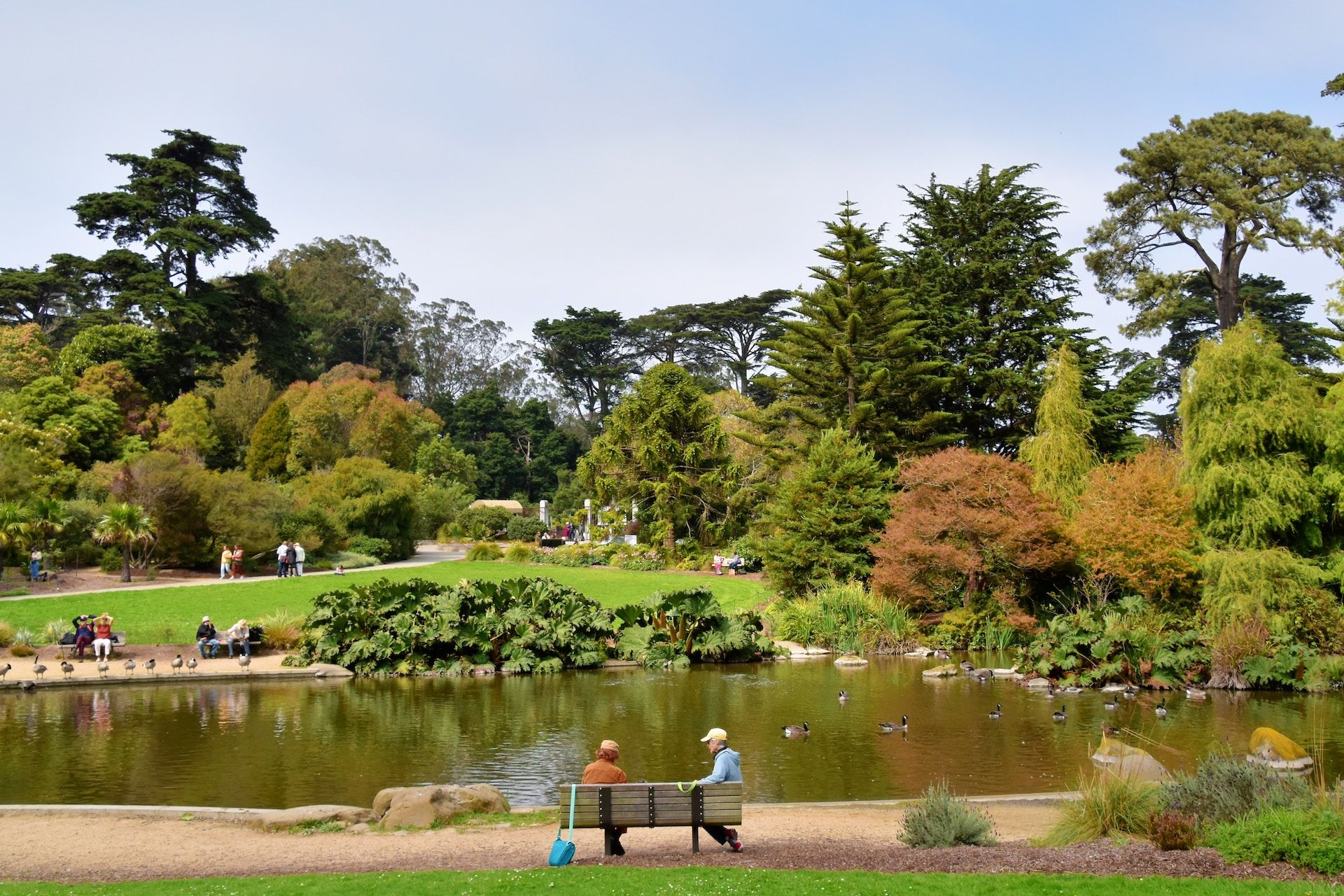 People and ducks around a pond at Golden Gate Park in San Francisco, California, USA
Start the day on the right foot with a Scone of the Day and a hot cup of coffee at Arizmendi Bakery. Head down 9th Avenue into Golden Gate Park. Explore the park, making sure to stop off at Stow Lake. This is the perfect place to find a bench and watch the ducks and other wildlife while enjoying that scone!
Tourists should make their way to the Music Concourse, where they can choose between two museums. For science lovers, try the California Academy of Science. Art lovers will prefer the De Young Museum. While it's easy to spend the entire day wandering around Golden Gate Park, there are so many more things to see and do in San Francisco.
In the afternoon, go sightseeing. The Golden Gate Bridge, Alcatraz, Union Square, and Fisherman's Wharf are all popular places for a reason. The Golden Gate Bridge is even more beautiful in person.
Alcatraz is a great opportunity to learn more about the city's history and see San Francisco from a unique vantage point. Union Square is ideal for shopping. Fisherman's Wharf is fun for those traveling with kids and for finding fresh seafood!
Dinner in the city is the main event. With so many restaurants to choose from, the options are endless. Also, make time for an event. Fancy a baseball game, a comedy club, live music, or maybe the theater? With so many fantastic opportunities for fun and entertainment, it's easy to plan more than one perfect day in beautiful San Francisco.
FAQ
Q: Is Chinatown San Francisco worth visiting?
Absolutely! There are so many fun things to do in San Francisco, and a visit to Chinatown is one of them. In fact, Chinatown is a popular spot for tourists and locals alike. Take time to stroll through the streets and alleys, pop into unique shops, and taste authentic Chinese cuisine.
Q: What is the cheapest month to visit San Francisco?
January. After the holiday rush, January is a quiet time to visit San Francisco. The perfect month for the budget-traveler, hotels and airfare will likely be cheaper. The weather is chilly with a possibility of rain, but those that brave the cold are rewarded with fewer crowds.
Q: Is San Francisco expensive as a tourist?
It can be, but a trip to San Francisco doesn't have to break the bank. There are many ways San Francisco can be a budget friendly destination. From luxury hotels and Michelin-starred restaurants to dive bars and cheap eateries, travelers in San Francisco have the option to splurge or save.